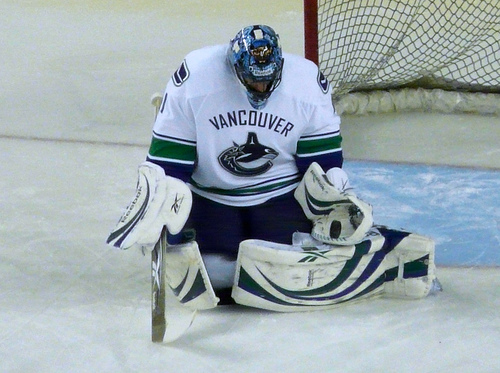 Heading into the lockout Toronto Maple Leafs general manager Brian Burke was said to be considering acquiring Vancouver Canucks goaltender Roberto Luongo.
While there has been no confirmation from Burke or Canucks general manager Mike Gillis that the two sides have attempted to consummate a deal, Gillis has admitted there are several teams interested in the services of Luongo.
Looking at the current NHL landscape, the Maple Leafs, Chicago Blackhawks and Luongo's preferred destination of the Florida Panthers seem to be the three most likely landing points for Luongo's services.
Chicago would seem to be the most unlikely of teams to bid for Luongo as they already employ Corey Crawford between the pipes who, while not an all-star caliber netminder yet, is more than adequate given Chicago's strong offensive lineup.
Florida employs a combo of veterans Jose Theodore and Scott Clemmensen to man the pipes, both of whom may have already have played their best hockey already. With that in mind, the acquisition of Luongo makes sense on some level, and the fact that Roberto wants to play for the Panthers is undeniable.
In Toronto, Burke looks willing to start the season (if there is one) with James Reimer and Ben Scrivens between the pipes. Despite a clean bill of health this summer some experts still wonder if Reimer will have any lingering effects from his early season neck injury sustained via a collision with forward Brian Gionta versus the Montreal Canadiens in October of 2011-12.
On the flipside, Ben Scrivens had an excellent season with the Toronto Marlies of the AHL last season, leading his team to a Calder Cup Final and putting together some exceptional numbers along the way.
While Scrivens looks to have all the tools to be an NHL goaltender, his numbers have slipped early on in the 2012-13 season with the Marlies. Scrivens' early season struggles, combined with the very ordinary numbers he produced with the Maple Leafs last season, creates a measure of doubt as to whether or not he could get the job done, or at least they should.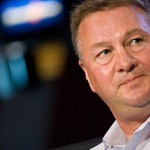 Two stumbling blocks look to be standing in the way of Burke acquiring Luongo. First, Gillis is said to be asking for a king's ransom in return for Luongo. Second, Luongo, 31, has 10-years remaining on his 12-year contract, which will carry a cap-hit of some $5,333,333 in each of the next ten seasons.
On the surface, Luongo's contract looks to be a tad inflated. While there is nothing Burke can do about the term, there is reason to believe that Luongo's cap hit could soften over time with increased revenues and a subsequent increase in the salary cap.
As it stands right now, the NHL and NHLPA are fighting over a number of issues. The most important one, and the one that is causing most of the bad blood between the two sides, is how to get to a 50-50 split of Hockey Related Revenues.
Tuesday, Joe Thistel and Boomer Gordon of XM radio's "The Point", discussed the merits of Boomer Gordon's very own CBA proposal.
In it, Boomer, a trusted NHL personality, detailed both sides of the ledger, explaining in detail what was at stake for both sides and how they could get to the magical 50-50 split the NHL and NHLPA seem destined to reach.
While there is not enough time to detail the entire proposal, a few things stood out which may help Burke make up his mind on Luongo.
Boomer's proposal was based on an eight-year CBA which indeed would see the NHL and NHLPA achieve a 50-50 split.
One of the key observations was that the NHL (Owners) estimated revenue growth to be around five percent for the coming years. The NHLPA (Players) feel revenue will grow as much as 7.1 percent.
Boomer's proposal used a six percent increase as a median and detailed what the expectation of revenue growth would be over the next eight years using the current level of $3.3 billion as a baseline.
When everything is said and done the NHLPA and NHL are looking at somewhere in the neighborhood of $34-$37 billion in revenues coming in over that eight-year period.
At a six percent revenue growth rate the NHL stands to bring in around $3.501 billion in revenues if an 82-game season was played this year (year one of the contract).
Under the terms of a 50-50 split, this would mean players and owners would each bring in about $1.75 billion in revenues.
Over the eight years of the agreement, with that same six percent rate of revenue growth, revenue would increase to $5.264 billion dollars, which would likely equate to $2.632 billion for each side based on a 50-50 split.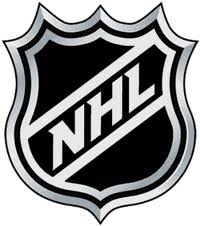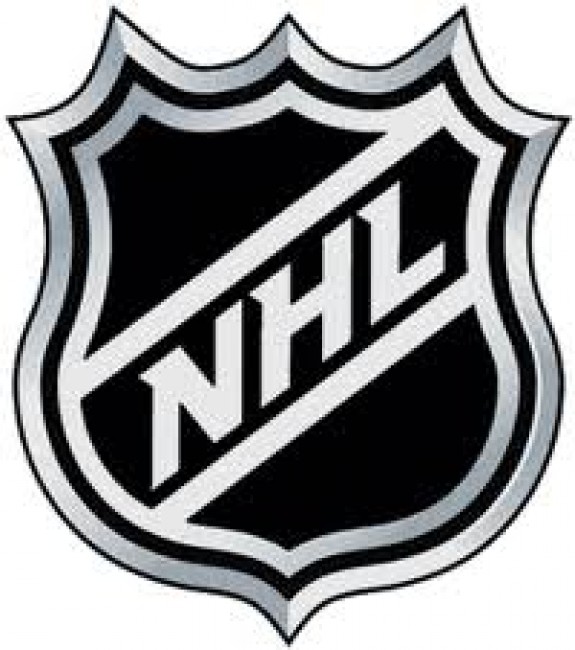 Based on a 30-team NHL, this would equate to approximately a cap ceiling of $87.73 million for each team. What the cap floor would equate to is anyone's guess, but $87.73 million is a substantial cap ceiling for any NHL club, even if it did take eight years to get there.
If we used the players estimate of 7.1 percent growth over the eight year term of the deal total revenue would hit $5.718 billion, which would equate to a $98.1 million cap ceiling. But I digress; let's stick with the six percent!
If these numbers stand up, the average NHL salary would be approximately $3.65 million, which would be a huge raise by today's standards.
When you put an average salary of $3.65 million up against Luongo's $5,333,333 cap hit, it makes Luongo's deal look like a bargain, or at least very reasonable.
The numbers look even better when you consider that Luongo's salary actually decreases over the span of the ten years that remain on his ten-year deal. In 2012-13 through 2017-18 Luongo's salary is set at $6.714 million. In 2018-19 that number drops to $3.382 million, $1.618 million in 2019-20, and $1 million in the 2020-21 and 2021-22 seasons, respectively.
Of course, under Boomer's proposal (which was exceptional by the way), there would be concessions on both sides, including taking the year-one salary cap down to $66.0 million from its current $70.2 million level. But, over time, it is very clear that the players and owners will both be winners financially.
Consider that the 2012-13 seasons' salary cap was set to be $70.2 million. Again, over that eight year span the cap would rise to a handsome $87.73 million, an increase of just over $17.5 million per team.
By no means would this mean every NHL franchise would be profitable, but it would help create a business model that every NHL franchise could work with.
None of this takes into account any of the other issues such as term of contracts, the "cap floor", entry level deals, making "whole" on the players current contracts, minimum salaries (which need to go up), revenue sharing (which is a must) and the like. That said, as the saying goes, "money makes the World go 'round", and if the NHL and NHLPA could get anywhere near $5.264 billion in revenue over the next eight years it would appear as if there will be enough money for both sides to co-exist in a fair and equitable manner.
Given the modest revenue growth numbers of six percent per year, getting to that $5.264 billion in HRR over the next eight years looks like a real possibility. That's good news for the owners, players and fans alike!
This would also mean that Luongo's deal was nothing short of affordable, especially for a team like the Maple Leafs that are capable of spending right up to the cap limit.
With a 50-50 split and an agreed upon six percent increase in revenue in each of the next eight years, Luongo's gaudy contract suddenly no longer looks like a deal breaker.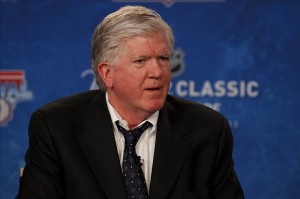 In my mind all that remains is for Burke to pick up the phone and find out which combination of players and/or prospects Gillis wants and this deal should be as good as done.
It makes sense on so many levels. With Luongo in toe the Maple Leafs immediately go from also-rans to playoff contender. While Luongo has had his fair share of playoff struggles, his overall resume (personal awards, Olympic Gold Medal, career goals against average and save percentage, etc.) is as impressive as any goaltender out there.
Luongo would bring a measure of confidence to potential free agents to sign with the Maple Leafs, something the Leafs lack at this point and time. This could serve Burke well when he looks to augment his current roster over the next few seasons and continues down the road of building a Stanley Cup contender in Toronto (insert the haters' laughter here).
Go ahead Burkie, make the call. It looks like the numbers will work themselves out!