American author and motivational speaker Hilary Hilton "Zig" Ziglar has been quoted as saying, "Sometimes adversity is what you need to face in order to become successful." If that is a definite truth, then no one will become more successful than Jhonas Wiik. A goaltender with the Lidingö Vikings in Sweden's Division 2 league, Wiik has found that, in only 25 years, he has had to overcome some significant adversity to be where he is today. He has found that life is not always easy and not always fair but, if one is determined and strong, anything can happen. Wiik's willingness to do whatever he can to make his dream come true of becoming a top-notch goalie, hopefully one day in North America, is so admirable and he will stop at nothing to make it become a reality. To make it even more remarkable, Wiik has only been playing on a competitive level for only two years. That's right… only two years. Sadly, there have been some bumps in the road along the way, ones that could have easily damaged his spirit. Like a trooper, Wiik has continued to steam ahead, showing that he is as resilient as one can be, taking every tragedy and using it as motivation to ameliorate himself, both as a player and a person.
Jhonas Jan-Erik Wiik was born on August 21, 1987, in Jakobsberg, Sweden, a suburb fifteen minutes away from the heart of the national capital of Stockholm. His father Jan was a teacher and his mother Ewa was a stay-at-home mom, both working hard to support their family of four children, which also include his three older siblings: sisters Therese and Marie, and brother Thomas. Wiik was the 'love child' of the family, born when his mother was 39 years old. To put that into perspective, Therese was fourteen years of age when baby brother Jhonas was born. Growing up, Wiik's family was not exactly the richest. In fact, they were considerably poorer than most of the people in their community. The Wiik family got by with what little they had, cramming six people into a three-bedroom apartment. Therese and Marie shared a room until Therese moved out, while Thomas and Jhonas shared another. Despite the fact that his family was not the most affluent in their neighbourhood, Wiik wanted to play hockey. He watched as his neighbours' son got to play hockey and Jhonas wanted to play, too, but his parents could not afford it. (Wiik believes that this is one reason why many young wannabe hockey players never get the chance to fulfill their dreams since it is very expensive to play the sport on a regular basis.)
Growing up, it was not only the socioeconomic adversity that made things difficult for Wiik. In addition, he was bullied a lot when he was at school. The bullying did not come from his being poor but mostly because of just how cruel kids can be to someone who just looks different. Up until pre-adolescence, Wiik was admittedly overweight, not athletic at all, and he had to wear glasses. As a short, chubby child, kids were quite cruel and it did not help his confidence. Once he entered seventh grade, things changed, especially Wiik's appearance. He had an unbelievable growth spurt and he blossomed from the small, stubby kid to a tall teenager, eventually growing to be 6'4". High school, thankfully, was not as unkind to Wiik as elementary school. He made a lot of friends and he enjoyed himself. Wiik graduated from high school in 2006 and he wondered what to do next. He was still not sure.
*
After high school, Wiik, by this time now 19 years old, found work as an automotive technician. Even though it was not exactly what he wanted to do in life, it helped him get some money for himself. He was still living at home, all three of his older siblings already moved out on their own. Wiik worked steadily, putting in ten-hour days, hoping that he would eventually think of a suitable career path. Unfortunately, life was about to take a tragic turn. In August of 2008, Wiik's mother Ewa suffered a horrible stroke without any warning whatsoever. It was shocking to see a normally healthy woman have such an incredible medical emergency. On August 21, 2008, which was Wiik's 21st "födelsedag" (birthday in Swedish), his mother passed away; she was only 60 years old. After losing his mother, Wiik did not change much about his daily life. He continued working as a mechanic and stayed at home with his father. Unfortunately, tragedy and adversity reared their ugly heads once more not even a year and a half later. In December of 2009, his father Jan, by now retired and 63, was diagnosed with Alzheimer's disease. This pair of tragedies profoundly impacted Wiik. He began to considerably think about what mattered in life, just how fragile and precious it is. He started suffering from anxiety, not just for his father but also for himself, and he knew that things had to change. Not long after his father's diagnosis, Wiik quit his job as a mechanic, realizing that it was not worth it to spend ten hours a day in a workplace where he was the youngest person on the payroll, especially with other mechanics being up to 30 years older than he. By the turn of the new year in 2010, he also sold his car and he used some of the money to take a trip to Thailand, just to think things through and try to find himself.
When Wiik returned to Sweden in mid-February 2010, he was still unsure about what his future held. He was still depressed with his situation and it was so bad that he actually could not picture himself finding any enjoyment in life. After much contemplation, he started to think about what he wanted to do when he was a child but his family could not afford: Becoming a hockey goalie. By Wiik's own estimation, it seemed like a pipe dream. He was 22 years old and he had never worn a pair of skates in his life. Despite his considerable inexperience, he was determined to make it happen. He was positive that no team would ever take a chance on him, especially considering the depth of talent in goal in Sweden.
*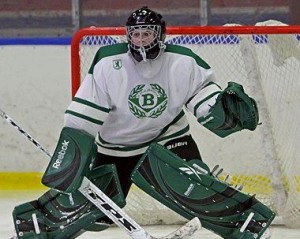 In the summer of 2010, Wiik surveyed his options. He realized that, if his dreams of becoming a professional goaltender were dashed, he always had the opportunity to attend college and get a decent career. That was not on his mind, though. Wiik wanted to be a goalie. He was hoping to find a team who, by some miracle, would take a chance on him. It did not matter if it were a veteran team or a semi-professional team. He just wanted to play. By virtue of his own initiative, he emailed twenty teams all over Sweden, hoping to get a response. Finally, one of them answered his email. In the message, Wiik was given the name and email address of a coach with an under-20 team in Sweden's Division 4 league, the lowest junior division in the country. Ecstatically, he emailed this other coach and he explained his situation. Wiik told him that he had never played hockey before but it had been his dream since the age of eleven to become a goalie. He also told him that he did not even know how to skate.
Wiik got an answer back almost immediately saying, "Welcome to our next practice."
Not long after receiving that email, Wiik bought himself an old, used set of TPS equipment. He took to the ice at his first-ever hockey practice on September 6, 2010, at the age of 23. It was his first time ever on the ice and he immediately enjoyed it. By his own admission, Wiik cannot describe how horrible he was at playing but, at the same time, how much fun he was having. During the 2010-11 season, Wiik spent the campaign with Bele Barkarby IF, a team based out of Järfälla, five minutes away from Jakobsberg. In 20 games, he let in 560 goals but, as dissatisfactory as his 28.00 goals-against average could be, he was facing nearly 100 shots per game.
*
Wiik truly enjoyed himself in his first year of playing hockey. He made a lot of new friends and he had a lot of fun. Also, he learned a lot about nutrition and training that would help ameliorate his playing abilities. Wiik looked for more ways to improve his game and that is when he got in contact with Björn Bjurling; the former Swedish Elitserien and Norwegian GET-ligaen goaltender is also a former Edmonton Oilers draft pick and he has helped cultivate the talents of young goalies such as Filip Alexander Hammarlund and Johannes Rohrmüller, among others. Bjurling invited Wiik to his camp for a two-day skill cultivation, where he also met two goalies signed as free agents by NHL teams: Eddie Läck (Vancouver Canucks) and Niklas Svedberg (Boston Bruins). Wiik was nervous because he knew that most of the goaltenders there were very talented and he felt as though he was going to be outclassed; as well, he did not know anything at all about proper goaltending whatsoever. He did not even know what a T-push was. After the two-day camp was over, Wiik felt like a completely new person and a more confident goalie. He also developed something else, a significant friendship with Bjurling, who he has felt has become a mentor and is probably one of the newest, biggest influences on his career, on and off the ice.
With this newfound confidence, Wiik looked for a new team. He went to several tryouts, including one with Tullinge TP, a team then in Sweden's Division 4 professional league. Tullinge was a bit further away from home than his previous team, this time nearly 45 minutes away. He eventually got signed as their backup netminder. Wiik was one of four goalies used by Tullinge TP in 2011-12, the others being #1 puckstopper Rikard Kjellin and third-stringer Martin Mannerstråle. He played in four exhibition games and one regular season game for Tullinge TP in 2011.
As time progressed, though, Wiik realized that he had a short-term goal of getting to play in the Swedish Division 3 league. He trained more with Bjurling on and off the ice. By Christmas 2011, he learned that one team in that league, Solna SK, really needed a goalie. Wiik emailed their coach and, not long after, he was brought in for a tryout. Almost immediately, he signed with them, making his short-term goal a reality. Just like when he was with Tullinge TP, he was in a goalie carousel, one in which he was the oldest goaltender; the team also utilized the services of one 1993-born goalie, Emil Östberg, and one 1994-born netminder, Fredrik Lindbergh. Despite how hard Wiik was working, things were not going well in Solna. The team lost several times during the course of the season and, due to the unsatisfactory campaign in progress, many players left due to a lack of interest to sign with other squads. Wiik also left, registering a 1-6 record during his tenure.
*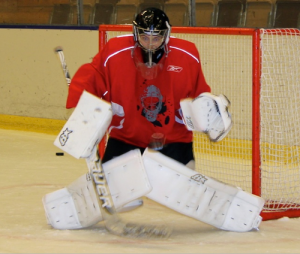 After his season with Solna ended, Wiik decided to aim a little higher with the next team he was to play for. He decided that the next step was Division 2 hockey. The fourth-highest professional league in Sweden, Division 2 — especially in Stockholm — is akin to semi-professional hockey, much like the Central, Southern Professional and Federal Hockey Leagues here in North America. Wiik felt that the time was right to show that, despite the fact that he had only been playing hockey for nearly two years, he could compete with goaltenders who had been playing hockey for their whole lives.
Wiik contacted Per Wirén, then the coach of the Lidingö Vikings, omitting how short of a time he has actually played, and he was brought in for a practice. He went into the dressing room and he met all of the other players hoping to make the 2012-13 roster. First and foremost, however, he met Wirén who was very stern and direct. Wiik remembers him saying, "Hi and welcome. Find a seat and get ready for warmup. Oh, by the way, here in Lidingö, you have one chance and one chance only. I'll let you know after practice." Wiik knew that, from here on in, it was serious. After the warmup and practice were over, he was called in to Wirén's office. He told Wiik that he liked him and that he will be able to stay, becoming the oldest of the team's three goalies, joining 1989-born Fredrik Hasslebrant and 1992-born Gustaf Huth. This year, Charles Franzén has been named the new head coach of the Vikings and he is oblivious to the fact that Wiik has only played hockey for two years.
*
While in preparation for the 2012-13 season to begin, Wiik kept himself busy. The first thing he did was attend a camp with the Sweden Hockey Institute. One of the key instructors at that camp was Stefan Ladhe. Ladhe is one of the most renowned goalie coaches in all of Sweden, serving as the national team's top men in that regard. In addition to working in the Elitserien and the HockeyAllsvenskan, he has considerable international experience, serving as the goaltending coach at eight World Junior Championships, two Men's World Championships (as well as a third for Denmark) and one World Under-18s. At SHI, Wiik met and befriended several other young goaltenders, including up-and-comers Andreas Zetterqvist, Ludvig Kullén Dansarie and Max Andersson.
Additionally, Wiik found himself with an opportunity that he never imagined, especially for a goaltender who had only been playing hockey for less than two years. He came across the Atlantic Ocean for his first-ever trip to North America but it was not just for pleasure. Wiik made his way to the rookie camp of the ECHL's Elmira Jackals. The Jackals were looking for a new start after head coach Pat Bingham resigned his post shortly after camp. (He is currently the head coach of an under-16 team in Colorado.) Despite that, Bingham, who also had coached the AHL's Bridgeport Sound Tigers, was still watching the prospective players and he was completely blown away by Wiik, both in terms of his work ethic and his obvious talent. His bewilderment was further intensified when Wiik informed him about the short length of time he had been a competitive goaltender. Bingham told Wiik that, if he wants to make his way to playing in North America, he should get an agent who can help him in getting a tryout with another team in the ECHL or a team in the Central Hockey League; at this time, Wiik is heeding to Bingham's advice and he is looking for one. Even better is the fact that Bingham is going to help Wiik, as well; he sent him an email that read, "You do your part by working hard. Send me updates with stats and I will provide that information to the agent." Wiik knew that this could help him to make his absolute biggest dream come true: Become a top-notch North American professional goaltender.
The 2012-13 season has not started the way that Wiik would have hoped. For the first month of the season, he has been battling a pair of ailments that have kept him sidelined. For three weeks, he suffered from the flu and he could not even practice with the team because he was feeling so sick. Not long after he recovered, another setback occurred when he was diagnosed with an eye infection. For a goalie who usually wears contacts while at practice, he has resorted to wearing his glasses until the infection goes away. From a team standpoint, there was yet another detour when the Vikings signed a fourth goaltender; Martin Sophy has transferred to the team from Botkyrka in an attempt to solidify things between the pipes.
*
When Wiik comes back to Lidingö's lineup, he will be a man possessed, kept going by the notion that he now knows what it takes to make it to where he wants to be. He realizes that if, by some unfortunate mishap, he cannot make it to where he wants to be, he will have to go back to school, get a college education and find a career path for himself that does not involve becoming a professional goaltender. He does not want that. He has come so far in just a little over two years, going from being someone who had never put on skates to now playing semi-professional hockey, remarkable by anyone's admission. Wiik also recognizes the fact that there have been many goaltenders who have had long careers in the game and he hopes to be one of them, hopefully in North America. There is no telling what the next five, ten or even twenty years will hold, but he knows what he wants and he will stop at nothing to get there.
Through it all, it has seemed that everything Wiik has done to be where he is today has made him stronger, both on the ice and off of it. There have been times where he could have just given up on his dream but he has decided to go for it instead. The fact that this young man has gone from being a depressed, overworked auto mechanic to being a happy, professional hockey goaltender — and in only two years — is just proof that people are never too old to follow their dreams, as long as they keep working for it. With his happy-go-lucky attitude and his desire to keep improving, there is no reason not to believe that Wiik will find that elusive agent who can help him make his dream of playing North American hockey become a reality.
Jhonas Wiik has definitely faced adversity in order to become successful… and he also knows that he is going to make it. All he needs now is a chance to prove it.