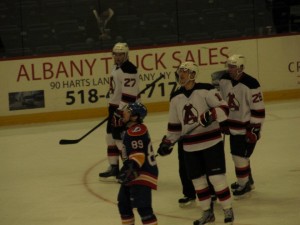 Lightning prospect Cory Conacher is making his case to be in Tampa Bay when the lockout is over. Conacher, a 5'8" forward, continues to impress for the Syracuse Crunch of the AHL. He is third in the entire league in points with five goals and six assists for 11 points in just seven games. He only trails Justin Schultz of the Oklahoma City Barons and Alexandre Bolduc of the Portland Pirates.
The Burlington, Ontario native is currently 22 years old and seems to really be maturing as a player. He spent four years at Canisius College in Buffalo, New York, compiling 62 goals over those four years, including two 20+ goal seasons. Conacher was undrafted after his four years at Canisius, but was signed to amateur tryout contacts with the Rochester Americans, Cincinnati Cyclones, and the Milwaukee Admirals. After spending time with all three of those teams during the 2010-11 season, Conacher was signed by the Lightning and suited up for the Norfolk Admirals during the 2011-12 season. It was during this season that Conacher estalished himself as one of the top prospects in the Lightning organization. He posted 39 goals and 41 assists for 80 points and a plus 19 rating in his first full AHL season.
After the 2011-12 season the Anaheim Ducks and the Lightning swapped AHL affiliates which meant that Conacher and his teammates would find a new home playing for the Crunch this season. It seems to be working out just fine for Conacher. Conacher's team success is coming along with his individual success. The Crunch currently sit in fourth place in the Eastern Conference with a 4-1-1-1 record. Conacher is getting help from other top prospects in the Lightning organization, including Tyler Johnson and Brett Connolly, who are each averaging at least a point per game so far this season.
Conacher is often criticized for his size, only being 5'8" and 175 lbs. However, he has proven people wrong, excelling at every level that he's played at thus far. Not only does he use his dynamic speed to his advantage, but he is strong on the puck and gritty, registering 114 penalty minutes last season, showing that he won't back down from anyone.
Tampa Bay definitely has this kid on their radar for the next NHL season. They'll have to make room for him because, with the way this kid is playing, he definitely deserves a shot at the next level.
Follow me on Twitter: @Matt_Metcalf