With the influx of NHL-caliber talent that hit the AHL this year due to the NHL lockout, it quickly became apparent that this season was going to become an incredibly competitive one, where no wins come easily.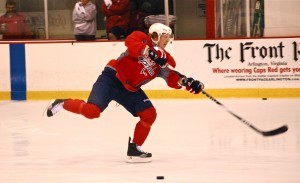 The Texas Stars are experiencing that first hand so far.
With a new, rookie head coach and seven prospects currently embarking on their first full professional seasons,  the Stars are experiencing some early growing pains as they face off against stiff competition. Texas started the year well, going 3-0 in the preseason and winning their first two in the regular season, but they now currently sit 11th in the AHL's Western Conference, with a humble record of 3-4. The team's most recent game came this past Sunday, when they dropped a 4-2 decision to the Oklahoma City Barons, the affiliate of the NHL's Edmonton Oilers.
With a league-wide 24th ranked offense and a 21st ranked defense, it's safe to say that the struggles thus far have been spread throughout the team. Special teams have also proven problematic, as unsuccessful penalty kills and and an inability to convert on important powerplays have played large roles in the team's four defeats.
Still, the season is young, and with only one game in the next nine days (Saturday, November 3, versus the Grand Rapids Griffins) it will give the Stars plenty of time to regroup and focus on the tasks ahead.
Below is a quick rundown of some of the most notable stories related to the team's players:
-Many Dallas Stars fans were skeptical of the 2012 draft day trade that sent popular longtime center Mike Ribeiro to the Washington Capitals in exchange for youngster Cody Eakin, a player with only 30 NHL games under his belt, and a 2nd round pick. The trade is starting to look a lot more promising lately given Eakin's play in the AHL lately, as he leads Texas in goals with 4 and in points with 7. The tenacious center has been using his speed and determination to make things happen offensively, and is forming a formidable tandem with winger Tomas Vincour on what is currently Texas' top line. Vincour is second on the team with six points in seven games. If the duo continues to develop chemistry they might not only stick together in the AHL, but they could also find themselves playing on the same line at the NHL level when the lockout ends.
-Although the pairing of Eakin and Vincour is leading the way offensively right now, the Stars need more contribution from their other dynamic forward duo, center Travis Morin and left wing Matt Fraser. The two were hot all of last season for Texas, with Fraser finishing second in the league in goals with 37, and Morin finishing eighth in points with 66. However, the two have struggled thus far into 2012-2013: Morin has two goals and no assists, while Fraser has one goal and no assists. More production is needed again from the two if Texas is to run with some of the more offensively powerful AHL teams this season.
-Scott Glennie, Dallas' 8th overall draft pick in 2009, has yet to dress for any of the team's games so far. Though the organization has remained tight-lipped on all the details, it appears that Glennie injured his wrist during Dallas' summer development camp, was not fully ready for action when AHL training camp began, and has been working hard to catch up to the readiness of the rest of the team. It was announced that he was going to debut in Texas' game versus Milwaukee on October 24, but he's still yet to see action. Glennie had 37 points in 70 games for Texas last season, and played in one game for Dallas.
-2007 5th rounder Austin Smith, one of last year's finalists for the Hobey Baker award as the NCAA's top hockey player, played in one of Texas's first four games before being sent down to the Idaho Steelheads of the ECHL to get more playing time. Smith is starting to catch fire offensively, with three goals and one assist in the three games at that level, and might carry that momentum with him when he comes back to the AHL.
-2011 1st rounder Jamie Oleksiak is transitioning well to the professional level, with three points in seven games. His first professional goal was the game-winner in Texas' 3-1 win over the Milwaukee Admirals on October 24.