NHL coaches spend a lot of time constructing line combinations and defensive pairings. They consider size, complementary skillsets, chemistry, and even whether a player shoots right-handed or left-handed.
After the Pittsburgh Penguins traded Zbynek Michalek this summer and promoted Simon Despres to the NHL club in training camp last week, there were important coaching decisions to make on defense.
Is Despres ready to be paired with Norris Trophy candidate Kris Letang, who typically plays 25 minutes or more per game?
Who will help Paul Martin revive his game after a disappointing 2011-12 season?
Which pairing should face the top lines on opposing teams?
Based on this weekend's games against Philadelphia and New York, here are the combinations the Penguins coaching staff plan to deploy in order to answer those questions:
Brooks Orpik – Paul Martin
Matt Niskanen – Kris Letang
Simon Despres – Deryk Engelland
Despres averaged just 10:33 in ice time and looked tentative in both games. It was obvious Philadelphia and New York were targeting him physically on the forecheck.
On the second pairing, Kris Letang was strong, composed, and quite possibly the Penguins' best player in both games.  Josh Yohe at the Tribune-Review wrote that Letang's play is also bringing out the best in Matt Niskanen:
Unlike most right-handed defensemen, Niskanen prefers playing on the left side of the ice. The reason for Niskanen's preference to playing the left side is noteworthy because it coincides with the other aspect that makes him an intriguing match with Letang.

During his rookie season in Dallas, Niskanen was paired with star defenseman Sergei Zubov, who always played the right side. This forced Niskanen to adapt to playing on the left side, which he did seamlessly. That season in Dallas also taught Niskanen to play with a star, and the parallels between Letang and Zubov are difficult to ignore.
It usually takes a number of strong years for a defenseman to work his way into the Norris conversation and Letang could be a favorite if he can stay healthy this season.
But the most important development for coach Dan Bylsma and his staff was the play of top pair Paul Martin and Brooks Orpik.
"I think from a defensive standpoint, it was a good start for our team and Paul anchored that heavily with his play in Philadelphia," Bylsma said after practice on Monday. "In a 2-1 game, having to kill penalties in the third period, and him and Brooks being out there for the majority of that I thought was excellent."
Orpik also delivered a massive open-ice hit on New York's Chris Kreider Sunday evening that left the rookie dazed on the ice:
The hit was an exclamation point late in the Penguins' 6-3 victory, but it also revealed two interesting developments in Orpik's game this season.
For the first time in three years, Orpik didn't have to deal with offseason surgery limiting his physical training this summer.  He told Seth Rorabaugh from Empty Netters during the lockout that back-to-back hernia surgeries didn't allow him to play the way he was accustomed to:
"I think just the way I play, my conditioning and strength-training is a huge part of it. I didn't feel like I had any power last year. I remember doing rehab the last couple of summers, I was doing stuff that seems silly with the lack of strength I had the last couple of summers."
Orpik, 32, also said that the lack of power was a season-long problem:
"Once you get going in the season, you're not really making any gains strength-wise or conditioning-wise. You're playing so much and practicing so much, it's tough to work on your conditioning and speed in season. That was something I struggled with throughout the year. I think you try to find ways to compensate for those deficiencies and that takes away from other things."
A lengthy offseason — thanks to the Penguins first round playoff exit — and a three month lockout allowed Orpik to finally get back to 100 percent and it's showing in his game.  His turns are tighter, his first step is faster, and he's stepping up on opponents with confidence:
The added strength is noticeable in Orpik's ability to level the 6-foot-7, 245 pound Brian Boyle, but just as important to the play is the presence of Paul Martin.
Last season we discussed how Orpik's defense-first mentality allowed Kris Letang to wander in the offensive end and do what he does best.  Those roles rarely allowed Orpik to step up on forwards and use his body though.
That's exactly what he's able to do alongside Martin.
"I really haven't played with Paulie much the last couple years," Orpik said this weekend.  "They threw us together this week and I think we both communicate and read off each other well.  For only practicing together for a week I felt really comfortable playing with him.  Hopefully as we go on that gets better and better."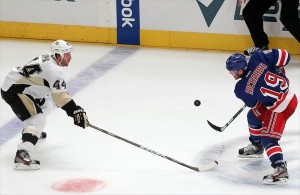 In order to make the combination work, Martin had to switch from left defense to right defense.  This may not seem like a big adjustment, but from a defenseman's perspective it makes a world of difference.
Both Martin and Orpik are left-handed.  This means they carry their sticks in their right hands.
When players come up the ice on Orpik, he'll probably tend to steer them towards the boards where he can quickly swing into a hipcheck (see image).
For Martin, it's the opposite.  His stick is closer to the boards and it's easier for him to steer players towards the middle of the ice…and right into Brooks Orpik.
It's more challenging for Martin on breakouts though.  Coming up the right boards from behind the goal line, his stick is closer to the middle of the ice and more likely have an opposing player's stick in his passing lane.  At times this might force him to make a pass on his backhand, but Martin is far more likely to make an accurate backhand pass on the breakout than Orpik. I think the tradeoff makes sense.
Where I also think this pairing works well is how effectively they read off each other.  Most of their breakouts were seamless this weekend which is surprising for a duo that hasn't really played together.  Perhaps it's simply due to communication, as Orpik alluded to above.
Let's look at an example.
Penguins defensive coach Todd Reirden likely wants all of his defensemen to be aggressive at their own blueline.  Once forwards can "gain the blueline" — as you'll hear commentators refer to it — a ton of new options open up.  In both Orpik photos above and below, you'll notice him within a sticklength of the other player, denying him space in that area of the ice.
What you may or may not be able to see is Orpik is also focused on the chest of the opposing player, not mesmerized by the puck or some nifty stickhandling move.  Orpik's goal is to not let the opponent around him and force him to dump the puck.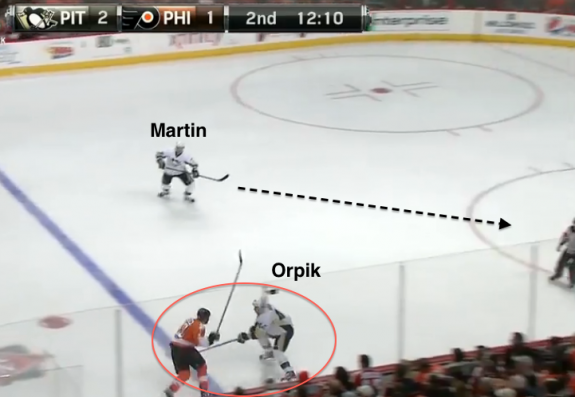 Seeing that Orpik is playing tight defense at the blueline, most forwards will softly chip the puck into his corner.  Martin's job is to retrieve the dump and either bring it back up the boards on Orpik's side or skate around the net and bring it up the right side.  Since he'll typically have his back to the Flyers' forecheck, it's important for goalie Marc-Andre Fleury to tell Martin which way to go.
It can take weeks or months to get the timing and communication smooth on breakouts like this.  Success or failure on such a simple play can mean the difference between transitioning the puck back to offense or spending the next 40 seconds defending your own goal.
Quick breakouts are also the backbone of the Penguins gameplan.  They're one of the fastest north-south teams in the league — along with San Jose, Vancouver, and St. Louis who play a similar style — and the ability to move the puck up ice quickly forces opponents onto their heels.  This is why mobility is so important on defense in Dan Bylsma's system.  (It's also why I don't think Hal Gill will ever make a return to Pittsburgh)
Maybe teams will gameplan a way to pick apart the Orpik-Martin pair and force Bylsma and Reirden to try new combinations.  But for now it looks like a formidable tandem, and if this weekend was any indication, that's not good news for the rest of the Eastern Conference.
___________________________________________