Brendan Gallagher was selected 147th overall in the 2010 NHL draft by the Montreal Canadiens. At just 5'9″, the Edmonton, Alberta native is an offensive spark plug that does not let his lack of size effect his play on the ice. He's physical and plays the game with a fearless edge. He's the new "Little Ball of Hate".
Like Pat Verbeek (the original "Little Ball of Hate") and Theoren Fleury, Gallagher is an ice-warrior. He's a small feisty winger with very good hands and an accurate shot that is quickly released.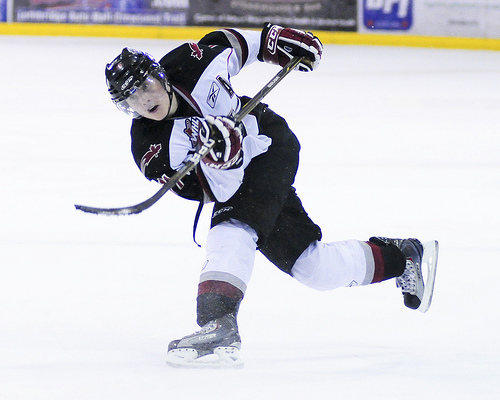 2011-12: A season to remember for Gallagher

2011-12 was a very special season for "The Little Ball of Hate". Gallagher potted 44 goals and registered 77 points in a very physical Western Hockey League. In fact, he finished the year as the all-time franchise leader with the most goals and points in the Vancouver Giants history. Gallagher was also a key member of Team Canada at the 2012 World Junior championship held in Alberta, Canada. He finished the tournament with three goals and three assists, tying for fifth in team scoring.
[Also: Should Alex Galchenyuk Stay with Mtl. All Season?]
Gallagher had an outstanding training camp with the Canadiens in 2011, even seeing some action in NHL pre-season games. Management then rewarded the diminutive forward with a three-year contract a couple of months after his eyebrow-raising performance with the big club.
Next stop: La Belle Province
Gallagher is definitely one of the most intriguing prospects in the Montreal system. With Blake Geoffrion on the shelf since November, Gallagher has stepped up as the best player in Hamilton of the AHL this season during the lockout.
It's hard to say exactly when we will see "The Little Ball of Hate" donning a Habs jersey on a consistent basis, but it will probably happen during the 2013-14 season. It could even also be as soon as this season if the Canadiens' struggle in this shortened 48-game campaign.
However, if Gallagher is to play in the show this year, it has to be as a top-9 forward. In fact, the fourth line needs to be a rotation of Travis Moen, Colby Armstrong, Branden Prust and Ryan White. None of these players should ever be on the third line.
Gallagher has the work ethic, mean streak as well as solid offensive skills to be a factor in the NHL someday.