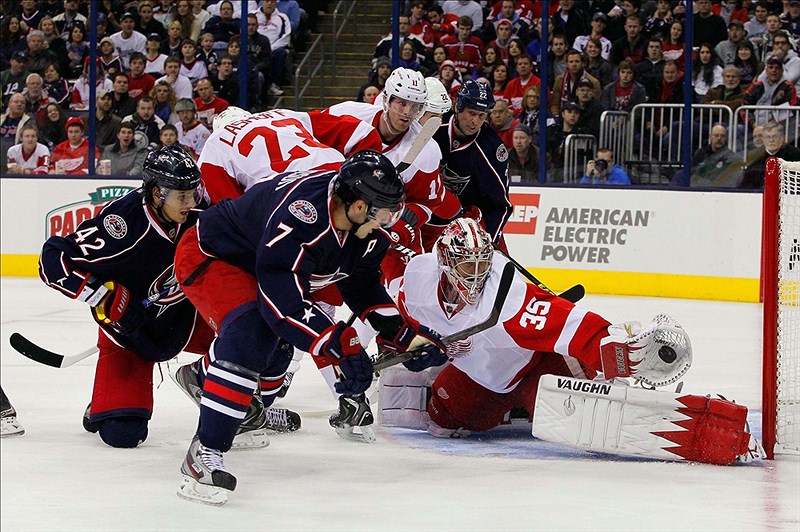 Detroit Red Wings fans may be caught up in the euphoria of Damien Brunner's nasty shootout goal that earned the Wings two points and their first win of the 2013 campaign, but game two of the regular season showed that the Wings have more work to do and that they should not be satisfied with how they played in Columbus.
The team responded well in the first period against Columbus, showing no after effects of the drubbing they received from St. Louis two nights prior.  The ice was tilted in their favor during the first frame where they outshot Columbus 13-5.  The unfortunate aspect of this is that a trend from last season seems to be bleeding through into this condensed season, something that should concern fans. Does dominating an opening period and coming up empty handed sound familiar to any Wings fans out there? The Wings all too often allow a team to hang around, a trend that repeatedly ends up biting them in the butt.
You could almost hear the collective gasp of Red Wings nation after allowing a two goal lead built in the second period to evaporate and become a one goal deficit midway through the third.  For now, the notion that a Wingnut's worst fears are materializing can be put on the back burner as the Wings did ultimately secure a victory, however it cannot be ignored that there are some glairing issues with this team.
After only two games, the Red Wings have already been decimated by injuries. While this is not under their control you figure something has got to give. It has reached a point that you almost laugh when someone gets hurt. Can anyone say they didn't last night when Colaiacovo quickly skated of the ice clearly favoring his shoulder? Or after Mike Babcock was quoted as saying Colaiacovo will miss significant time.  The infirmary is probably the most popular place in Detroit right now or at least the most populated.
As reported by Helen St. James of the Detroit Free Press:
Babcock says Colaiacovo will be out a while

— Helene St. James (@HeleneStJames) January 22, 2013
If you are looking for a  silver lining, there is one, and that is call up Brian Lashoff who played in his first ever NHL game and scored his first ever goal. He saw time on the penalty kill and didn't look out of place by any means. If he can carry the momentum into the next game and continue his solid play then they Wings might be just a little stronger on the back end. The entire Red Wings as well as its fan base needs to be more confident with their defence as it was exposed yet again with Cam Atkinson's breakaway goal where he split the D and scored a beauty on Jimmy Howard.
An area of major concern for the Wings is special teams. The power play is currently 0-11 (0-4 vs. STL and 0-7 vs. CLB) with one shorthanded goal against and to top that off, the penalty kill is currently sitting at an abysmal 50%. (6-12). You can be certain that the Wings coaching staff have these statistics on their mind and are going to be working very hard to remedy this. Assistant coach Tom Renney was brought in to work with the power play and thus far only two games into the season he is failing at his job. We should not judge him yet as its early and he still has a little bit more time to sort out these issues before 21 straight seasons in the playoffs starts to feel like the end of the streak
The Wings cannot allow themselves to get too high or too low this early is the season as they need to focus on refining their game and put each game behind them regardless of the outcome. The Wings will be back at it tonight for their home opener against the Dallas Stars. Look for the Wings special teams to perform much better, it can only improve right?