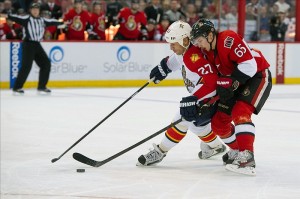 The Panthers opened their season on Saturday to a sold out crowd at the BB&T Centre against the newly revamped Carolina Hurricanes. Many predicted a tight game between the two teams, taking Carolina as the favourite. Things don't always go to plan, and the Panthers won their home opener by a score of 5-1.
It was a clear indicator that the Panthers can compete with the elite teams in their division, just like they did last year. The biggest contributors to opening night on the ice were two new faces. Alex Kovalev and Jonathan Huberdeau really put on a show.
There were reasonable expectations for both forwards coming into the season. Kovalev feeling the itch to end his career with an NHL season, albeit a 48 game season, and Huberdeau just starting his career are great examples of hockey excellence.
Kovalev's return to the NHL after playing in the KHL with Moscow Oblast Atlant in the 2011-12 season has made sceptics slight believers. I said myself I didn't know if the Panthers really needed him considering his age and his desire to finish his career in the NHL. looking at his production, the last NHL team he played for was the Penguins. He played 20 games totalling 7 points. With Moscow Oblast Atlant he played 22 games recording 1 goal and 5 assists. I think there was room for scepticism considering his stats, and the ability he showed earlier in his career to be a deadly shooter.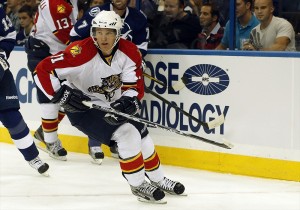 Now signing a one year deal with the Panthers, Kovalev is showing (although only two games in) the type of player he can be. With 20 NHL seasons under his belt, there is no question he is an elite player that is valued around the league. He wouldn't have stayed in the league for 20 seasons if he had nothing to offer.
In only two games with the Panthers, this acquisition seems to be paying off as he is tied with rookie Jonathan Huberdeau in points with 3. The value of Kovalev is not only in his ability to play make and score goals; he is a mentor to the kid he is tied in points with. This can be an invaluable signing for the Panthers as a veteran mentor like Kovalev can teach Huberdeau a lot, and become priceless to his development.
As Huberdeau expressed his excitement to come to camp and get the NHL season started, it seemed as though the World Junior Championship had been put behind him. There was an inkling that his confidence may be jolted from the sting of 4th place, but the Saint John Sea Dogs captain seems to be fitting in quite nicely.
Shaking off any nerves, Huberdeau recorded three points in his first game with the Panthers. He is getting a chance to really show his growth and development since his 2011 draft class. Recording an average of almost 15 minutes of ice time, head coach Kevin Dineen is giving him the nod of approval to go out there and make the most of the opportunity he's seizing.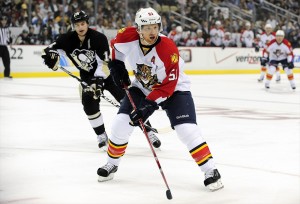 Veteran defenseman Brian Campbell can't be over looked either. With his two goal performance Saturday night, it solidifies him early as a point producing defenseman much like his days in Chicago. His assist totals are always high, and his career high 53 point season last year was no fluke. His goal total last season was 4, he's halfway there already and he's only two games in.
I wouldn't underestimate this team. Two unlikely producers very early on in Kovalev and Huberdeau are justifying their spots on the Panthers roster. Brian Campbell is on his way to a career year, and the hasty analysis of this team is justified because in a 48 game season, every game means something. You could consider this the "playoff run season". We are all too aware unlikely heroes emerge during playoff runs; for the sake of Panthers fans, let's hope this team gets rolling.