written by Marc Lapierre (@MarcLapi)
Alex Galchenyuk has been an absolute force in the OHL this season and is officially attending the Montreal Canadiens' compressed training camp this week in Brossard, Québec.
Let's get one thing out of the way, it will be very hard for the 18-year-old to crack a roster spot with the big club for the upcoming shortened 48-game season. However, with Scott Gomez now out of the picture, one has to wonder if his roster spot will go to Galchenyuk. One thing is certain: Gally will get a long look from management in camp.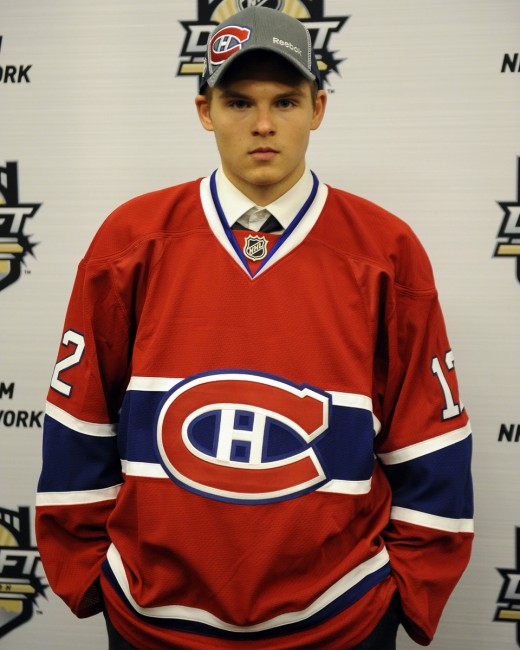 Pros
Quite simply, the Canadiens would be a better team this season with Galchenyuk in the lineup. Playing on an offensive line with Tomas Plekanec for example would add some desperately needed punch on one of the first two lines. Moreover, Pleky would finally be able to play with a talented winger that can put the puck in the net.
With Plekanec currently out with a rib injury, early report coming out of training camp is that Galchenyuk has been skating on a line with Lars Eller and Brian Gionta. He will also get some looks at the center position later this week.
The Canadiens will try the 2012 draft's third overall selection on the wing at first, but the long term plan for him is to play at the center position. Montreal has been searching for that elusive world-class center for years now and their hope is that he can develop into that guy.
Cons
On the flip side, there is no compelling reason for Galchenyuk to play right away with the Canadiens this year. Let's not kid ourselves here, Montreal has no chance to win the Stanley Cup this year and will be hard pressed to even make the playoffs. Gally is a phenomenal talent, but if the Habs don't need to rush him, why would they?
After an ACL injury that kept him out all season last year, it may be best for his development to play a full year down in Sarnia and a possible playoff run in the AHL with the Bulldogs. He could then start the 2013-14 season as the first or second line center of the team.
Because of the lockout-compressed season, the NHL has adopted a six-game rule for players with entry-level contracts (ELC). Underage junior-level players like Galchenyuk can play six games in the NHL without burning a year of their ELC, but if they play in that seventh game, they lose that first year.
Is it really a wise move for the Habs to burn a precious year of his ELC on a shortened 48-game season where they basically have no shot at the cup? From a business point of view, I don't see it being worth it.
The Verdict
I believe Gally will at least get a six-game tryout with the Habs in this shortened season. Montreal head coach Michel Therrien insisted that Galchenyuk will need to play a minimum of 12 minutes per game in order to stay with the big club, which is the right thing to say. However, I'd be very surprised to see him spend the whole year in the show.