The Minnesota Wild captured the offseason headlines with the signing top free agents Zach Parise and Ryan Suter to 13-year deals worth around $98 million each. Suddenly, the Wild, who haven't reached the postseason since 2008, were catapulted amongst the league's premier teams in terms of expectation and salary expenditure. Minnesota's traditionally tight purse strings had been unleashed as the franchise aimed to live up to its location in 'Hockey Town'. The pressure is on the Minnesota Wild like never before in franchise history. The puck drops on Saturday night in Minnesota against the Colorado Avalanche. It's time for the 2013 NHL preview of a Minnesota team that is set to receive a lot of scrutiny over the next five months of NHL ice hockey.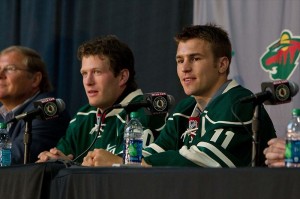 Forwards
Parise is the big addition to this forward group. The 28-year old has scored 30+ goals in five of the last six seasons only missing out on that total in 2010-11 when he skated in only 13 games due to injury. This is a strong all-round player who can suit up on the penalty kill and is versatile in being able to play in all three forward positions. Parise has been skating on a top line with Mikko Koivu and Dany Heatley, which has the potential to be one of the most effective in the Western conference.
The success of this group could be dependent on other players though. Rookie Mikael Granlund recovered from a tough injury in time for training camp after being impressive early in his AHL stint. He looks set to be relied upon in a crucial second line pivot role playing between Matt Cullen and Devin Setoguchi. Kyle Brodziak, Cal Clutterbuck and Pierre-Marc Bouchard look set to form arguably the best third line in franchise history. This group offers offensive depth and strong two-way play for Mike Yeo as a third line group.
Not to be under-estimated is the value of Minnesota's fourth line, which should provide a legitimate energetic presence with free agent additions Torrey Mitchell and Zenon Konopka suiting up alongside Darroll Powe.
The Wild will be reliant upon Bouchard returning successfully from injury. It will be reliant upon rookie forward Granlund stepping immediately into a #2 center role. But for the most part this group looks to be the deepest and most talented in Minnesota Wild history.
Defense
Parise might be an impact presence for the forwards, but defenseman Ryan Suter is even more crucial in improving this team's blue-line. Suter has been as consistent as any blue-liner in the NHL since the 2004-05 lockout as a shutdown player, puck move and offensive contributor. There shouldn't be any questions surrounding his ability to perform without playing alongside Shea Weber, because he will perform.
Suter looks set to be partnered by 23-year old Jared Spurgeon, who impressed in 2011-12 scoring 23 points in 70 games. Spurgeon took on responsibility and showed plenty of potential before missing the end of the season through injury.
Tom Gilbert saw a lot of ice time after being traded to the Minnesota Wild last season and is now looks set to anchor the team's second pair. Gilbert should be a favorite to bounce back this season playing in a less central role after being asked to play as a #1 role in previous seasons. Gilbert isn't a #1 blue-liner, but he is a good top four defenseman.
There's plenty of competition for the other blue-line places. Physical young blue-liners Clayton Stoner, Marco Scandella, Justin Falk and Nate Prosser look set to battle it out for the final three places along with the more diminutive Steve Kampfer and 2012 first round draft pick Mathew Dumba. Another recent draft pick Jonas Brodin is also expected to compete for a roster spot when he returns from injury.
This blue-line will be a young one, but they mostly have NHL experience already under their belts and will have to compete to earn their roster spots. Yeo will be feeling a lot more confident about his blue-line in his second season.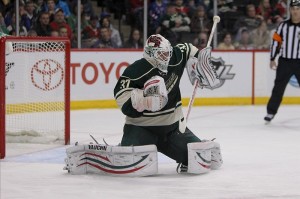 Goaltending
Matt Hackett's chance to disrupt the goaltending position was lost with a slightly below par performance for the Houston Aeros in the AHL this season. Instead, Niklas Backstrom and Josh Harding look set to return as the team's tandem.
Backstrom is a veteran who has been as consistent as any goaltender in the league over the past six seasons. Still, injuries have disrupted him over the past couple of years and the Minnesota Wild will be looking for him to perform more consistently in 2013.
28-year old Harding fizzled out in 2011-12 after a fast start. However, it should still go down as the best season of his career so far. He will be needed to start his fair share of games this season once again with a denser than usual schedule.
This team should be pretty confident about its goaltending situation in both the short and the long term.
Special Teams
Minnesota's power-play was poor in 2011-12. They ranked 27th last season converting on just 15.1% of their opportunities with the man advantage. That will improve this season. Regardless of whether Parise spends the season on the team's top line at even strength, he will be on the team's top power-play unit and he will have a major impact alongside Koivu and Heatley on that unit.
More importantly, this team has better options from the point positions. Suter has a heavy shot and is capable of running the power-play unit. Last season's addition Gilbert should perform more effectively after his 20-game tryout spell last year, and Spurgeon's power-play game should only continue to improve.
The Minnesota Wild should be able to roll out a pair of strong power-play units this year.
Suter and Parise should also play a major role in improving the team's middle-ranking penalty kill. Parise scored three short-handed goals with New Jersey last year and is a disruptive forward presence. Suter will anchor the penalty killing units and takes important penalty killing responsibility away from the team's young players, who have the skill and potential to be effective short-handed.
The big free agent additions of Suter and Parise could have the most impact on the team's special teams, which desperately needed improving after the disappointment of 2011-12.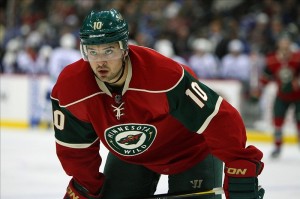 X-Factors
Devin Setoguchi – The 26-year old forward once again left coaches and fans wanting just a little bit more in 2011-12. At times he showed the skills that helped him to score 31 goals in 2008-09. However, he failed to top the 20-goal mark for the first time since 08-09.
This is a young player who will likely play alongside a talented playmaker in either Koivu or Granlund. He has had a season to adapt to his new franchise and the addition of Parise will take some of the heat off of the Taber native. This could be a great chance for Setoguchi to provide valuable depth scoring for this team in the form of 25-30 goals.
Clayton Stoner – 27-year old Stoner could be the player that changes the dynamic on this blue-line. Injuries have limited him to 57 and 51 games in the last two seasons, but the big blue-liner demonstrated his potential as a top four defenseman in each of those two seasons.
He has good reach and strength to be a factor on the team's penalty kill and he could be an excellent balance for Gilbert on the second pair. Yeo seems to have recognized that potential in putting the two players together over the past couple of days. If Stoner is able to be an effective members of the top four, then the pressure will be reduced for some of the younger players lower down on the defensive depth chart.
Prediction – The Minnesota Wild are definitely an improved team compared with one year ago. This is arguably the strongest and deepest team in franchise history, it is certainly the most expensive. However, it is still hard to see them supplanting the reigning President Trophy winning Vancouver Canucks at the top of the Northwest division. A more likely scenario is that the Wild finish second in their division and finish in the #6-#8 playoff seeding range. A solid season of that nature could sow the seeds for a serious runs at the Stanley Cup in the following seasons.