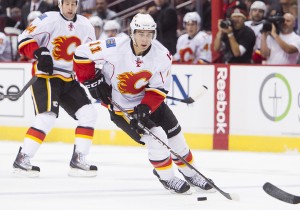 The second day of 2013's Calgary Flames training camp was jam-packed with on-ice activities.
Roughly 28 of the club's 32 invitees hit the ice for a 90-minute practice under coach Bob Hartley. Notably out of commission for the Flames are captain Jarome Iginla (day-to-day with a sore groin), newcomer Roman Cervenka (likely week-to-week as he awaits a consult with a blood specialist to resolve a clotting issue), veteran Jiri Hudler (heading back to the Czech Republic due to his father being hospitalized) and defensemen Anton Babchuk (expected out three-to-four weeks with a shoulder injury).
Regarding Hudler's absence, Hartley explained to the media following practice that it was all about setting priorities.
"Hockey really is important in everybody's life, but your family always comes number-one. I told the players that we want to be a big family. If that's the case, each individual in this organization has to take care of his own. So he came in, and left and went back and he's on his way back to Prague now," said Hartley. He noted that no time-line exists for Hudler's return to the Flames.
Meanwhile, the Flames split into two teams (Red and Black) and had a roughly 40-minute scrimmage following practice. A trio of players from the University of Calgary men's hockey team filled out the ranks, with the Flames missing three forwards. Team Red, featuring strong netminding by Miikka Kiprusoff and great forechecking from Curtis Glencross, won by a 2-1 margin. Glencross and Matt Stajan scored for Team Red, while Mikael Backlund – who was notable due to him driving to the net rather than using his speed around the perimeter – had Black's lone goal.
Training camp continues all week, with the Flames opening the regular season on Sunday evening at the Scotiabank Saddledome against the San Jose Sharks.
—
QUICK QUOTES
"Every year it gets a little easier to figure out what you have to do to be a good player. Last summer I really took some good strides towards improving my game and improving my mental ability on the ice. Also, I mean, contract year. It's a bit of a reality check on your first time you see guys in the summer and they don't know if they're going to have a contract next year or anything. It kind of wakes you up a little bit. I think going into the year that helped me focus and understand what I really had to do."
-Chris Breen, Abbotsford Heat defenseman and Calgary Flames prospect, on his impressive turn-around this season that earned him a spot at training camp.
"It's a sprint right from the start. It's basically a play-off race. I think we're doing a great job so far paying attention to every little detail, video and practices and all that. We just have to move forward like that and we have a good opportunity to get off to a good start, so hopefully we do that."
-Mark Giordano, Calgary Flames alternate captain and defenseman, on the challenges of a 48-game NHL season
"I think I still have to get more physical and harder on my stick. Harder over the puck, don't lose it so much as I did last year. That's what I'm trying to work on. You know, to be an everyday NHLer you have to be consistent. You can't have one game off and one game on. You gotta bring it every night. That's the main difference."
-Roman Horak, Abbotsford Heat forward and Calgary Flames prospect, on the things he needs to work on to become an NHL regular this season