After over a year of rumours and speculation, Ottawa Senators general manager Pierre Dorion finally landed coveted centre Matt Duchene by completing a blockbuster three-way trade with the Nashville Predators and Colorado Avalanche. The deal, which sent Kyle Turris to the Predators and an assortment of picks and prospects to the Avalanche, has been the subject of intense scrutiny since it went through on Sunday night.
On the surface, you can make a strong case that the Senators won this deal. Dorion was able to trade a player with an expiring contract for a star player signed for an extra year and did so without parting ways with one of his top three prospects. However, the deal has already become a point of controversy among Sens fans because Turris was more than just a number one centre in the eyes of the Ottawa faithful.
While Sens Army has seen many beloved players leave, the Turris trade is still difficult to accept.When the team was offloading as many veteran contracts as they could in 2011, fan favourite Mike Fisher was traded to the Predators. Even more shocking was Daniel Alfredsson's decision to sign with the Detroit Red Wings in 2013. While Turris was in Ottawa for a considerably shorter period of time than both Fisher and Alfredsson, he's left an undeniable mark on the organization.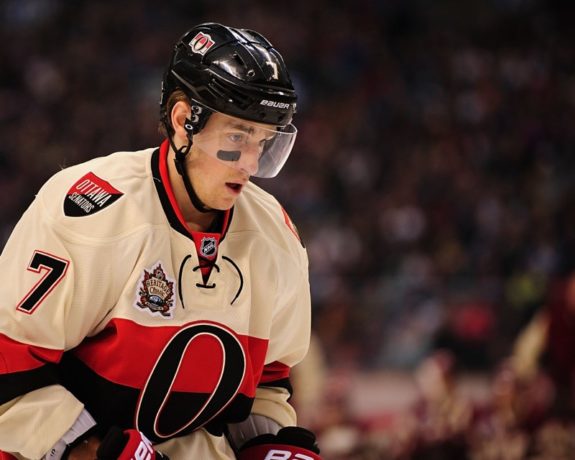 A Gamble That Paid off
It's fitting that a controversial trade ended Turris' time in Ottawa since a similar trade is what brought him to the Senators in the first place. On December 17, 2011, the Sens sent promising defensive prospect David Rundblad and a second-round draft pick to the Coyotes in exchange for Turris.
It was a classic Bryan Murray deal, a move whose potential reward was just big enough to outweigh the risk. The former Senators general manager had been interested in adding Turris since training camp, but as a 22-year-old with high draft pedigree, he drew interest from general managers around the NHL. Murray was finally able to outbid the Calgary Flames, Columbus Blue Jackets, and a few other teams to add the young centre before the league's Christmas break.
Immediately, some fans were worried that the Sens had given up too much to acquire Turris. There were also some concerns about character issues because he held out after contract negotiations with Coyotes general manager Don Maloney went sour. But once Turris arrived in Ottawa, it didn't take long for these concerns to be put to rest.
Turris had a solid first season with the Senators, notching 12 goals and 17 assists in 49 games. His play helped the surprising team make the playoffs in a year when most hockey experts predicted they'd be a draft lottery team. The finest moment of Turris' first season in Ottawa is one of the most memorable moments in team history.
His game-winning goal against the New York Rangers in Game 4 of the Eastern Conference Quarterfinals was also a sign of things to come. Turris has become known as a clutch performer, scoring two other playoff game-winners for the Senators—an impressive feat for a player whose team has struggled to consistently make the playoffs.
The Daniel Alfredsson Effect
Murray added Turris to give the Senators some depth at centre behind Jason Spezza, and not long after he landed in Ottawa, he found a home on the team's second line alongside Alfredsson. The pair quickly developed chemistry and gave the team two good scoring lines. In the coming seasons, they also shared time on the power play, with Turris taking Alfredsson's old spot as the shooter on the left circle. This meant that Ottawa had another solid shooting option on the man advantage, and gave Alfredsson a chance to show off his playmaking skills.
Turris and Alfredsson helped the Senators achieve some unexpected success in the shortened 2013 season. They were required to do much of the heavy lifting offensively after Erik Karlsson and Spezza suffered long-term injuries early in the year.
The Sens managed to convincingly beat the Montreal Canadiens in the first round of the playoffs before bowing out to the Pittsburgh Penguins in round 2. Following the departures of both Spezza and Alfredsson, Turris became a bigger part of the team's leadership group and eventually developed chemistry with young winger Mark Stone during Ottawa's improbable march to the postseason in 2015.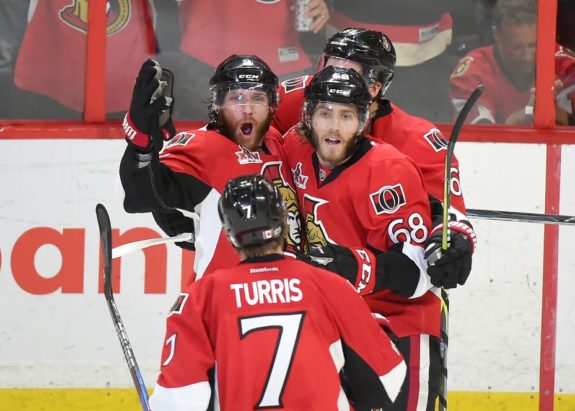 Much like Alfredsson, Turris was also known for his contributions off the ice. Kyle and his wife Julie are heavily involved with the Capital City Condors, a non-profit organization that gives people with developmental disabilities a chance to play hockey. After scoring the game-winning goal in Game 5 of Ottawa's second-round playoff series against the Rangers in 2017, Turris famously headed straight to the Condors' end of year banquet to surprise everyone in attendance.
Parting Ways
Turris now has a chance to win it all on a team that was even closer to a Stanley Cup than the Senators were last season. In Turris, the Preds are getting a reliable two-way centre with a knack for coming up big when his team needs him. This trade makes a deep, playoff-tested team even better.
The Senators traded for Turris in the first year of what was expected to be a traditional rebuild. With the two parties going their separate ways, the Sens expect to be contenders while Karlsson, Duchene and Stone are still on reasonably small contracts. While Turris' time with the organization didn't end the way many fans had hoped, his transformation from a disgruntled prospect to a pillar of the community was truly amazing.