When it comes to the NHL entry draft, selecting star players is easy. When you get the first overall pick and have the chance to draft guys like Sidney Crosby, Alex Ovechkin, and Mike Modano, it's usually a doubt-free decision.
Of course, there are the busts like Alexandre Daigle in 1993 or Patrik Stefan in 1999, but for the most part, teams are quite confident in their early picks. Heck, teams often pick great players throughout the first three rounds of the draft.
But it's those late picks – the guys that are chosen in the sixth and seventh rounds – that often make a difference in a team's lineup. For years, the Detroit Red Wings have specialized in late-round drafting – taking players like Pavel Datsyuk and Henrik Zetterberg late in their respective years. But here's a look at some of the best picks in the last 10 years that have been drafted in the fourth round or later.
2011 NHL Entry Draft (St. Paul, Minnesota)
In 2011, the draft was remembered for the Oilers' jump to first overall where they drafted Burnaby-native Ryan Nugent-Hopkins. But it was in the later rounds, that two teams with bright futures already, added to their prospect pool.
In the fifth round, among players that have yet to make appearances in the big leagues, the Chicago Blackhawks drafted Andrew Shaw with the 139th overall pick. A team that was coming off three straight playoff appearances, including a Stanley Cup win in 39-10, the Hawks already had a good core in place.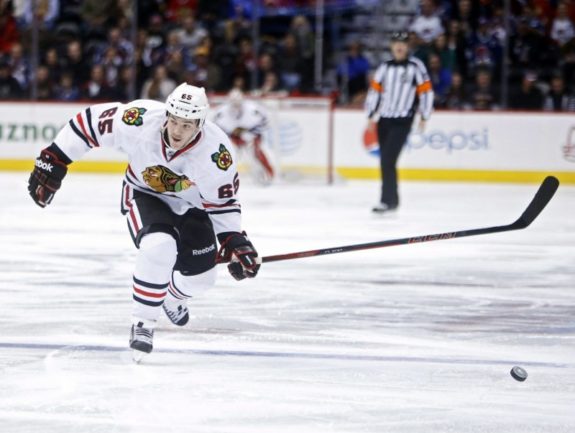 Now, some will argue that Shaw is not a great player, but it's the role he plays for Chicago that's put his name on this list. He's an agitator with hands – a goal scorer that finds his way under the skin of his opponents. And he knows his role on an already talented squad.
In 165 career regular season games, Shaw's recorded 77 points (41g-36a) and added 164 penalty minutes. He also played a role in Chicago's last Cup run recording nine points (5g-4a) in 23 games in 2012-13 as they went on to raise Lord Stanley's Cup.
Now, Tampa Bay also found a gem within the rough in 2011. The Lightning drafted Ondrej Palat in the seventh round with the 208th pick overall. While some will argue that it's too early to determine his worth, consider what he's done so far.
Without Steven Stamkos this past season, Palat jumped up to the top line and had a Calder-calibre season. In fact, he's a finalist for the top rookie award along with teammate Tyler Johnson and superstar rookie Nathan MacKinnon.
TBL Ondrej Palat, 7th rd pick in 2011, is 6th leading scorer of that draft year. http://t.co/abA8DuPUm3

— Kevin McGran (@kevin_mcgran) April 9, 2014
While Palat did play in 14 games in 2012-13, it was this season that many view as his coming out party. He played in 81 of his team's 82 games and recorded 59 points (23g-36a) while posting a plus-32 rating.
Overall, he has 63 points (25g-38a) in 95 career games and three points (2g-1a) in three career playoff games. It's certainly a great pick if Palat continues his torrid pace.
2010 NHL Entry Draft (Los Angeles, California)
Many of us won't forget the 'Taylor versus Tyler' debate in 2010, when the Edmonton Oilers went with Taylor Hall first overall. But what many do forget are the names that were called following those first few players.
Former Vancouver Giant, Brendan Gallagher, won't forget the fifth round of the 2010 NHL Entry Draft. That's when the Montreal Canadiens took the undersized forward with the 147th overall pick – a player who has since proved his value in their lineup.
https://twitter.com/News1130Sports/status/292290343381118977
While the feisty young Hab has only played in two seasons with the Montreal franchise, he's made left an impression on his teammates and the opposition. In 125 regular season games, Gallagher has recorded 69 points (34g-35a) and is a force in front of the net.
While he has picked up more than a few goalie interference penalties, his annoyance of the opposition has been what his team's needed to win games.
2007 NHL Entry Draft (Columbus, Ohio)
In 2007, it was two American who were taken first and second overall. The Blackhawks took Patrick Kane with the first pick and Philadelphia followed that up by taking James van Riemsdyk with the second overall pick.
But it was a Canadian that the Dallas Stars took in the fifth round who broke into the league and has become one of the most dangerous offensive threats. In fact, this player cemented his spot on the 2014 Canadian Olympic team with his play early this season.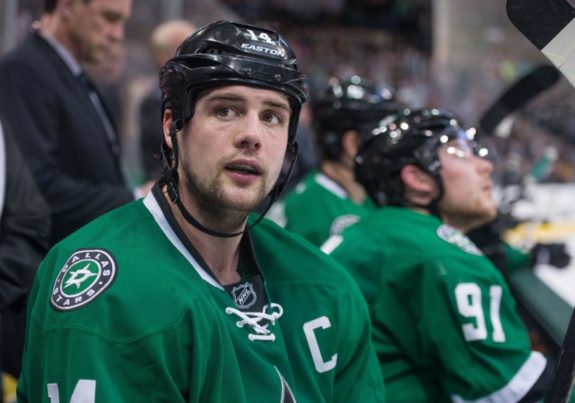 Dallas took Jamie Benn with the 129th overall pick in 2007 – a late pick that has paid dividends for the Stars. Benn's proven to be an extreme offensive threat over his five season in the NHL recording 272 points (116g-156a) through 344 career regular season games.
This season (2013-14) marked the first time Benn saw playoff action and the 24-year old didn't disappoint. In six first-round games, he recorded five points (4g-1a). With the addition of Tyler Seguin to Dallas' lineup, Benn's offensive output soared and it should continue for the fifth-round pick.
2005 NHL Entry Draft (Ottawa, Ontario)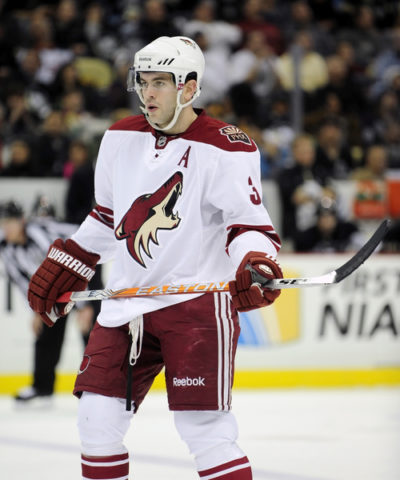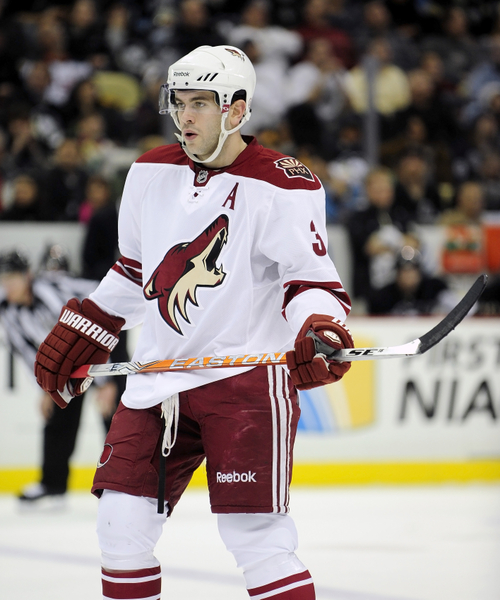 The 2005 draft was all about Sidney Crosby – who would get him and how they'd determine the draft order following the cancelled NHL season in 2004-05. What's lost in the Crosby talk is all the players that followed the first overall pick.
But in the fourth round, Phoenix took a stab at a young defenceman. They drafted Keith Yandle with the 105th pick overall and did they ever make a good choice. Yandle has since been the anchor on their blue line and continues to lead the team on the ice through their ownership issues.
Yandle's offensive side has placed him among some of the best scoring defensemen over the past eight seasons in which time he's recorded 270 points (61g-209a) in 495 regular season games. Although the team hasn't had much playoff success, Yandle always seems to find his way onto the score sheet with 19 points (3g-16a) in 27 games. On most teams, he could be a huge positional upgrade for a franchise looking to make a push for a Cup.
2004 NHL Entry Draft (Raleigh, North Carolina)
The 2004 draft went to the Russian's – at least the top two picks did with Alexander Ovechkin and Evgeni Malkin going one, two. But both Montreal and the New York Rangers made interesting picks late in the draft that would prove to be quite valuable.
The Rangers picked future captain Ryan Callahan in the fourth round with the 127th overall pick. While Callahan isn't considered an 'elite' scorer, his leadership and ability to be a role player made him a big part of the Rangers' lineup before he was traded to Tampa Bay for Martin St. Louis.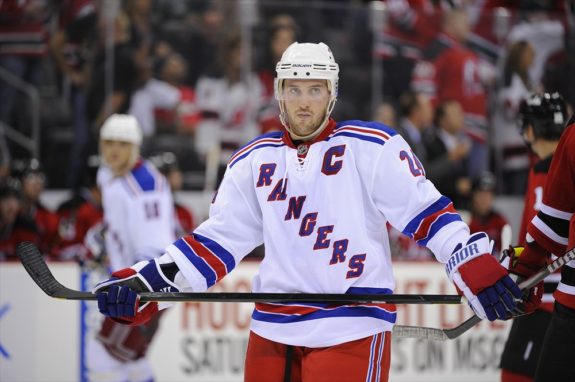 Now, while his not the greatest scorer, Callahan's offensive numbers are still quite impressive. In 470 regular season games, he's recorded 265 points (138g-127a). He's also put up 24 points (14g-10a) in 63 career playoff games. While he has yet to win a Cup, his leadership should prove to be helpful if the Lightning choose to hold onto him.
Montreal also draft a defenceman in 2004 who didn't remain in Montreal for long. In the ninth round, the Canadiens picked Mark Streit with the 262nd overall pick. While he only played three seasons in Montreal, Streit has come to be one of the more underrated offensive defensemen.
In 573 career regular season games, he's recorded 332 points (75g-257a) – with 40 of his goals coming on the powerplay. While his plus-minus rating can be questioned, he played for a struggling Islanders team prior to the Tavares-era.
2003 NHL Entry Draft (Nashville, Tennessee)
There were three very late picks in the 2003 NHL entry draft that have all proven to be quite successful in their NHL careers. In fact, this is where you'll find the only goaltender to make the list. But first, it was San Jose who found a player in the seventh round that would prove to be a dominant scorer.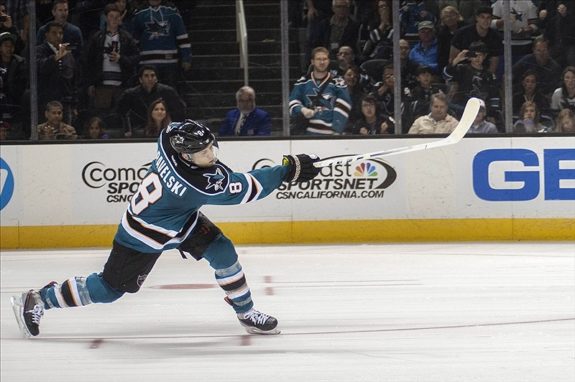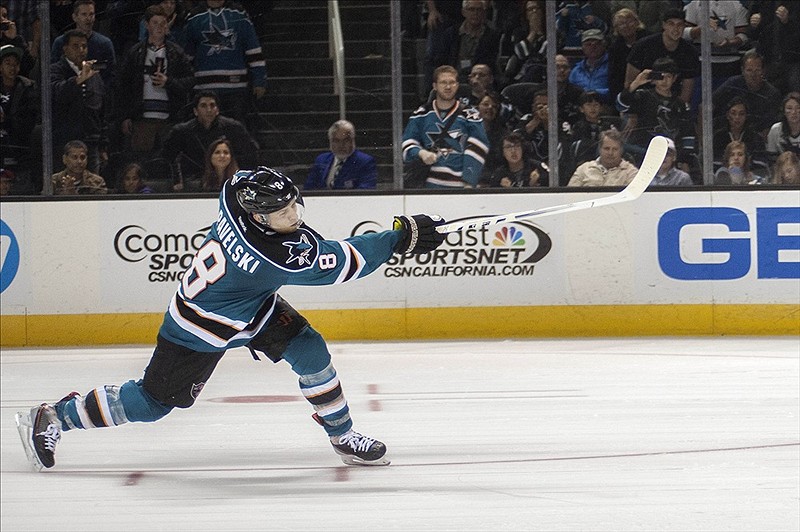 With the 205th overall pick, the Sharks drafted Joe Pavelski – a pick that they certainly don't regret making. In eight seasons with the Sharks, Pavelski's played in 561 career regular season games recording 415 points (191g-224a). It doesn't stop there.
Pavelski's seen playoff action in all of his eight NHL seasons. Over that time, he's recorded 56 points (26g-30a) in 81 games, but is yet to engrave his name on the Cup.
Like San Jose, the Chicago Blackhawks found a game changer in the late rounds of the 2003 draft. It was the eighth round, the 245th pick, and the Hawks decided to take Dustin Byfuglien. Buff would spend parts of five seasons with Chicago before he moved on to the Atlanta Thrashers (who later became the Winnipeg Jets).
But in 528 games, the multi-positional player has recorded 299 points (115g-184a) and is a franchise player for the Jets. He was also a huge part of the Blackhawks Cup-winning team in 2009-10 when he recorded 16 points (11g-5a) in 22 games including five game winners.
Finally, it was Montreal who saw potential in a goaltender out of Slovakia. The Canadiens took Jaroslav Halak in the ninth round, 271st overall. Now, Halak became a household name after he took over for the young Carey Price in Montreal's playoff run in 2009-2010. That year, he played in 18 playoff games and recorded a 9-9 record .923 save percentage and a 2.55 goals-against average.
Of course, these 10 players aren't the only ones to be drafted late and find success in the NHL. But it's important to note that sometimes the best role players aren't the ones taken in the first, second, or even the third round. In fact, like Callahan and Shaw, sometimes the best players or leaders are found in later rounds – waiting to prove that they are NHL-ready.
This article was originally published in May, 2014.