Things might not be running so smoothly for the Edmonton Oilers, but their minor league affiliate is starting to enjoy some success. The Bakersfield Condors are on a 2-0-1 run in their last three games. They've picked up five of a possible six points and moved into fourth place in the AHL's Pacific Division. Under head coach Gerry Fleming, the Condors are the least penalized team in the division with just 105 minutes in the box.
The most significant contributor to Bakersfield's current streak is their offense – the Condors have scored 11 goals in their last three games, scoring five goals twice in that stretch. Ty Rattie has started to come on recently as well – the 24-year-old now leads the Condors in scoring with nine points in ten games. He also leads the way with a team-high six goals.
In this week's Condors Report, we take a look at all the moves, hot streaks, and another update on Jesse Puljujarvi. More importantly with the Oilers struggling to score goals, is there a solution worth exploring from their farm team?
Ty Rattie Leads Condors in Scoring
As mentioned, the Oilers are struggling to score goals and need help. They called up Condors forward Brad Malone earlier this week after sending Kailer Yamamoto back to junior. Malone showed to be a useful depth player for Edmonton during his previous three-game stint in October. That said, Malone isn't the scoring forward the Oilers need to help get them out of this funk. Ty Rattie, however, could be of some help.
The 24-year-old scored a hat trick last week against the Texas Stars in a 5-2 win. His six goals this season are tied for eighth in the AHL, and he's third on the Condors in shots on goal (24). Rattie, 24, was brought in to Edmonton's organization for this reason – offensive depth. He was a prolific scorer in junior averaging 1.29 points-per-game (P/GP) in 269 WHL games. He's bounced around, but if we're talking internal options to help the offense, Rattie is that guy right now.
Jesse Puljujarvi Generating Offense
When the Oilers sent Yamamoto down to the WHL's Spokane Chiefs, a lot of people were clamoring for Edmonton to recall Puljujarvi. The 19-year-old has one goal and five points in ten games in Bakersfield this season. He's also leading the Condors in shots on goal (31), he's just not converting on those chances. His lone goal of the year was a redirection off a Rattie shot. Turned out to be the game-winning goal against the Manitoba Moose last week.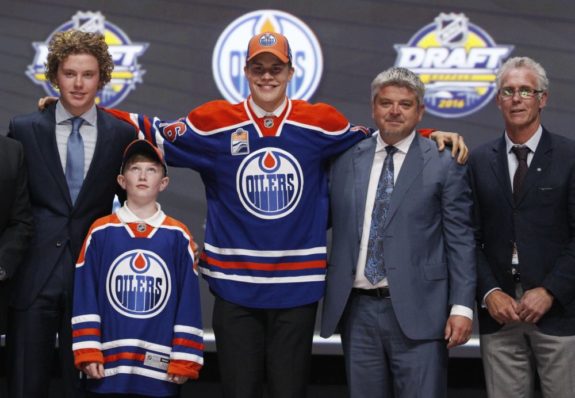 Right now, if we're looking at options to help Edmonton, Puljujarvi is generating chances. He's just not converting. Some fans might be already growing frustrated with the young Finnish forward. After all, it comes with the territory of being a fourth overall pick. An interesting notion is that the year Edmonton recalled Leon Draisaitl from Bakersfield, he wasn't exactly lighting it up either. The similarity was that both players were generating scoring chances and were arguably amongst Bakersfield's best forwards on a nightly basis.
Don't Count out Joey LaLeggia
Joey LaLeggia has been an interesting story since converting from defense to left wing. He's been amongst Bakersfield's most consistent scoring forwards over the last two seasons. LaLeggia, 25, now has three goals and six points in ten games for the Condors. He's a smaller forward at 5'9″ and 183 pounds, but he's a solid skater and has a decent hockey IQ. LaLeggia always finds himself in scoring positions and finds ways to be effective.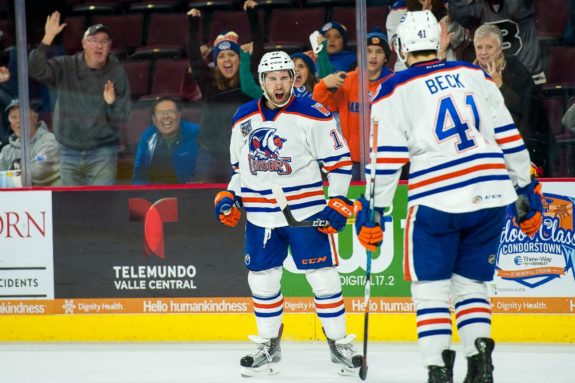 He's one of the reasons why Bakersfield's power play has been so hot in the last few games. LaLeggia is a fixture on the first power play unit, and they've scored on five of 14 chances (35.7) in their previous three games. It's not the conventional choice, but if the Oilers are looking for some offensive help from the farm, LaLeggia's worth looking at.
Kyle Platzer Recalled, Ethan Bear Injured
Kyle Platzer, Edmonton's fourth-round pick in 2013, was reassigned to the Condors this week. Platzer, 22, started the season with the ECHL's Wichita Thunder. He scored five goals and 14 points in nine games and is on his way back to Bakersfield. Since turning pro, Platzer has struggled to carry over that offensive output he had in junior. He put up 81 points in his final year in the OHL, but injuries have stalled his pro career thus far. Now healthy and focused, Platzer is looking to become an AHL regular.
Platzer was named the ECHL's Player of the Month for October and was named Player of the Week that month as well. In 103 AHL games, Platzer has just nine goals and 28 points.
Tonight's @3WayChevyCad Lineup rolling out on Patriotic Night against Manitoba. #Condors20 🇺🇸 pic.twitter.com/T0kS3Sn85o

— Bakersfield Condors (@Condors) November 4, 2017
Ethan Bear is currently day-to-day with an injury and didn't play in Bakersfield's last two games. He has two goals and five points in eight games in his rookie year. Ziyat Paigin is currently playing in Bakersfield's top six now. It's possible Bear suits up for the two-game series this weekend against the Tucson Roadrunners.
Related: Ty Rattie Deserves His Oilers Debut
Nick Ellis, Ed Pasquale Provide Timely Goaltending
Lastly, the Condors are getting some timely goaltending from Nick Ellis and Ed Pasquale. The pair has allowed just five goals over the last three games. Ellis has a sparkling 2.26 goals-against average (GAA), and a .929 save percentage (SV%) through six games this year. Ranked against goalies that played at least five games this year, Ellis has the fifth best GAA in the AHL right now. His SV% is fourth amongst that same group. Last month Ellis was named AHL Player of the Week.
| # | GOALIES | GP | MINS | W | L | SOL | SO | GA | GAA | SVS | SV% |
| --- | --- | --- | --- | --- | --- | --- | --- | --- | --- | --- | --- |
| 34 | Nick Ellis | 6 | 319:16 | 3 | 2 | 0 | 1 | 12 | 2.26 | 157 | 0.929 |
| 40 | Eddie Pasquale | 5 | 277:34 | 2 | 2 | 0 | 0 | 14 | 3.03 | 115 | 0.891 |
| | Totals | 10 | 601:42 | 5 | 4 | 0 | 1 | 27 | 2.69 | 272 | 0.910 |
*Goaltending statistics courtesy Bakersfield Condors website.
That's it for this week's edition of the Condors Report. The Condors play twice this weekend against Tucson, and, the week after, they'll go head-to-head against the Stockton Heat. They haven't beat Stockton all year so that that series will be a doozy.