The Edmonton Oilers continue to shuffle the deck chairs on the Titanic for this 2017-18 season. Everything that can go wrong has gone wrong for this year's Oilers – this was a team that, last season, was one win away from making the Western Conference Final for the first time since 2006. Now, the wheels have completely fallen off the bus, and the team is going back to the drawing board.
As predicted, the Oilers re-assigned Kailer Yamamoto to the WHL's Spokane Chiefs. In Yamamoto's place, the Oilers have recalled Brad Malone from the Bakersfield Condors. With the roster slide, Edmonton now has 48 of 50 contracts. Chris Kelly has been practicing with the Oilers since his professional tryout (PTO) ended in training camp. It's expected an announcement about the Oilers signing Kelly happens any minute now.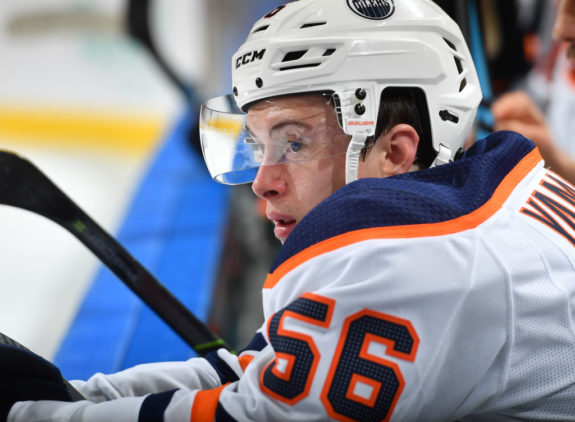 Edmonton general manager Peter Chiarelli might've made some moves, but he hasn't addressed the Oilers most significant weakness. This team can't score goals to save their lives. Until that's resolved, Chiarelli is merely shuffling the deck chairs on the Titanic.
Kailer Yamamoto Re-Assigned to WHL
It was just a matter of time until the Oilers pulled the trigger on this move. Yamamoto might've had three assists in his nine-game NHL audition, but his game was incomplete. He was often seen floundering on the ice but would play well in spurts. Overall, as Ryan Rishaug put it best, as a 19-year-old, you need to excel, not just survive. Yamamoto wasn't excelling and wasn't able to convince anyone he could be the second-line right wing on a nightly basis.
From a cap perspective, it makes sense not to burn a year off his entry-level contract (ELC) and to not give him a year towards eligibility for free agency.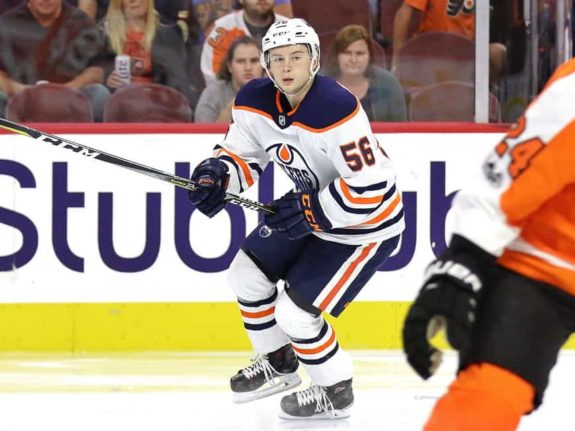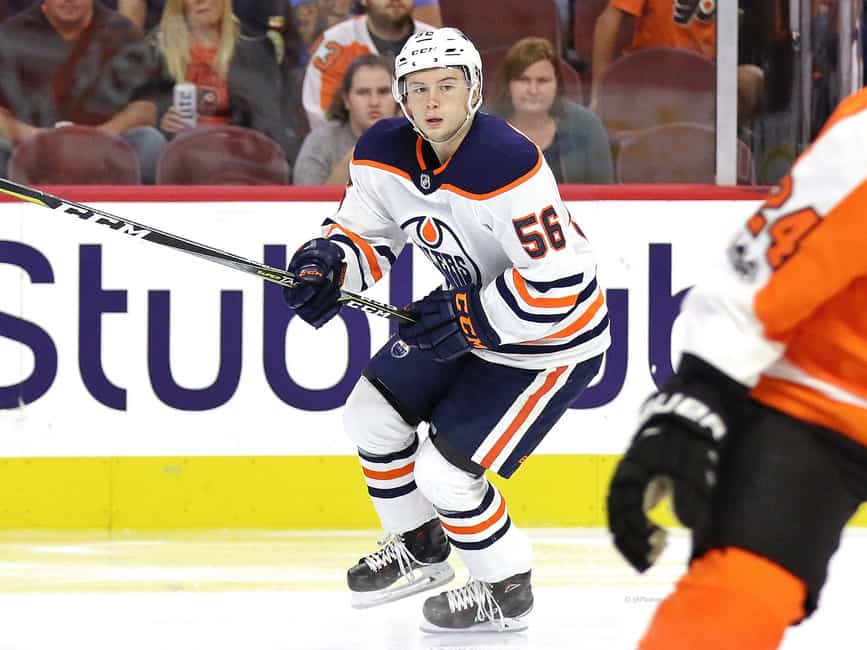 It's not a bad thing for Yamamoto to be going back to junior. In fact, this is a win-win for everyone, except the Oilers anemic offense right now. Yamamoto will join a Spokane team that already boasts Ty Smith (potential Top 10 pick 2018), Jaret Anderson-Dolan (41st overall, 2017, Los Angeles) and Hudson Elyniuk (74th overall, 2016, Carolina). Adding a Yamamoto could put that team near the top of the WHL's US Division.
Related: Oilers Need Offensive Depth From Within
Going to Junior Is the Right Move for Yamamoto
Another aspect of this move that looks well for Yamamoto is Spokane's new coach. As pointed out by fellow THW Contributor Larry Fisher, Dan Lambert used to coach the WHL's Kelowna Rockets when Leon Draisaitl played there. Edmonton must take some solace in knowing how Draisaitl turned out under Lambert. Maybe he can work some of that magic on Yamamoto. Either way, Chiarelli, and McLellan can know their youngster is in good hands.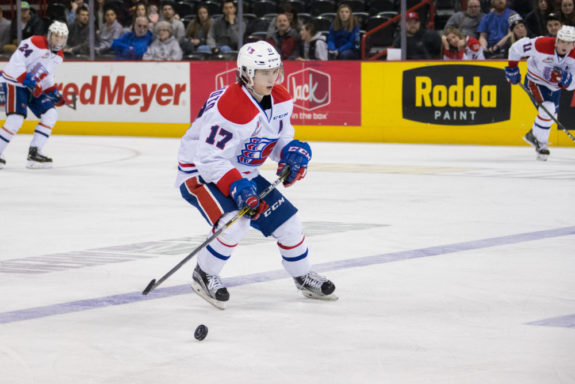 The 19-year-old will also be a star for Team USA at the upcoming World Juniors in Denmark. During the Summer Showcase, Yamamoto was deadly on a line with Logan Brown (11th overall, 2016, Ottawa) and Casey Mittelstadt (8th, 2017, Buffalo). The trio could potentially dominate the upcoming tournament. It could be a stellar year in growth for Yamamoto. Next season the Oilers can start over and get a more dynamic player to help their top six.
Brad Malone Addresses Compete Level, Not Offense
Now the question is how do the Oilers improve their offense. For all of Yamamoto's inadequacies, he was generating scoring chances. He was second on the Oilers in five-on-five shots per 60 (5v5 S/60) with 11.3. Now take that with a grain of salt because he had two games where he had more than six shots on goal and three where he didn't net a single shot. He was also scratched three times before being sent to junior.
So what's the plan here? Edmonton is dead last in the league with just 30 goals in 13 games. Sending a guy like Yamamoto down will have some ripple effect on the lineup. In the short term, Chiarelli has re-called Brad Malone from Bakersfield. Malone, 28, is a versatile forward who plays a hard-nosed, never give up style. He's looked good on the Condors and has been their top center.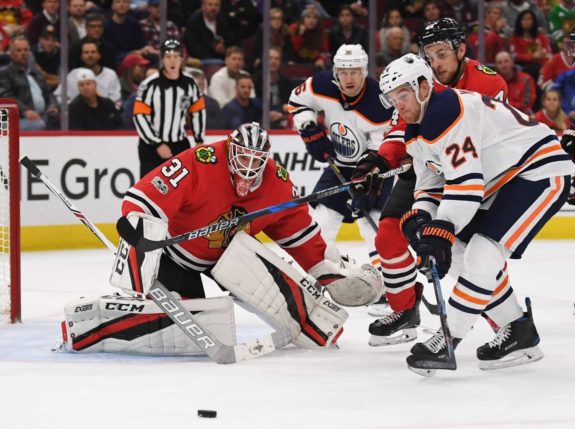 That being said, at the NHL level Malone is a fourth-line grinder, not a scoring forward. He addresses the Oilers inability to compete, not their inability to score. There are two other forwards down in Bakersfield that are starting to percolate offensively. One is the obvious choice in Jesse Puljujarvi who has a goal and five points in ten games. Another is the Condors' leading scorer Ty Rattie, who has six goals and nine points in ten games.
Puljujarvi, 19, might need more time to grow his game, but a guy like Rattie can help the Oilers right now. Rattie, 24, was brought in to Edmonton's organization for this reason – offensive depth. He was a prolific scorer in junior averaging 1.29 points-per-game (P/GP) in 269 WHL games. He's bounced around, but if we're talking internal options to help the offense, Rattie is that guy. He's also scorchingly hot right now.
For Better or Worse, Oilers Will Sign Chris Kelly
If we're talking external options on the market, there's a limited option. Edmonton's also not dealing from a position of strength either. Drake Caggiula, Anton Slepyshev, Ryan Strome and defenseman Matt Benning are all trade chips. Unfortunately, those guys have three goals between them, and Benning has been a disaster defensively. This isn't exactly a group of players that other teams would be interested in right now.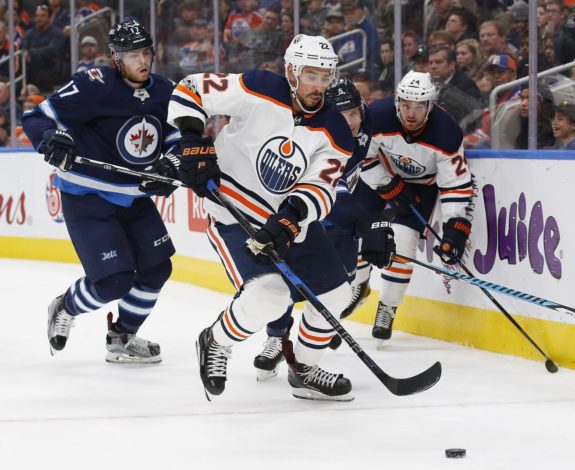 The Oilers are on the verge of signing Chris Kelly any minute now. He doesn't address the offense, but maybe he addresses the compete level. Kelly, 37,  goes way back with Chiarelli and the two have a relationship that spans two decades. They've been together with the Ottawa Senators and eventually won a Stanley Cup with the Boston Bruins. The hope is that Kelly can help stabilize the NHL's worst penalty kill (67.4%) and give them another valuable faceoff asset.
Related: History Isn't on Oilers Side Regarding Slow Start
How Will Edmonton Address Scoring Woes?
These recent moves might help kick-start the compete level, but Edmonton still needs to address their scoring woes. One guy who could be of help is Vegas Golden Knights forward Jonathan Marchessault. The 26-year-old is an unrestricted free agent this summer and has nine points in ten games. It's likely he's shopped around the trade deadline, but maybe Edmonton can make an early phone call?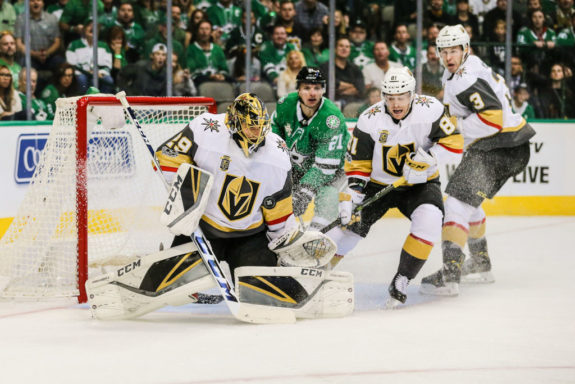 Toronto Maple Leafs forward James van Riemsdyk has yet to come to terms on a long-term extension. He's a winger with size, strength and a scoring penchant. The 28-year-old scored 27 goals and 56 points in 2016-17. van Riemsdyk has five goals and ten points to start the year and has an expiring $4.25 million cap hit. Like Marchessault, van Riemsdyk could be a UFA this summer.
Another Trade Target for Oilers
Cam Atkinson was just placed on injured reserve (IR) by the Columbus Blue Jackets. The 28-year-old is coming off a career year where he scored 35 goals and 62 points. Atkinson also represented the Blue Jackets at the 2017 All-Star Game. Columbus is a cap team and has numerous players looking for raises this summer. Matt Calvert, Boone Jenner, William Karlsson, Jack Johnson and Ryan Murray are all up for extensions. The Blue Jackets can't sign everyone.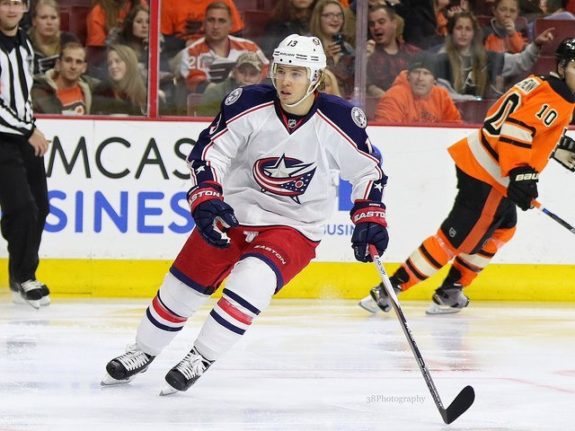 Maybe the Oilers can squeeze Columbus into letting go of Atkinson. Regardless, a lot of this is probably wishful thinking. The fact of the matter is Edmonton needs to find a way to get goals and start winning games. This current stretch before the 20-game mark is the most pivotal stretch of the season. If the Oilers somehow start winning at the .628 winning percentage (W%) they had last year, they could still finish the year with 95 points.
Still, the Western Conference is pacing itself to the point it could take that many just to get into the playoffs. Suddenly, Edmonton needs to play better than last year for the remaining 69 games to have a shot at the playoffs. The longer this slide goes, the Oilers slip further outside the playoff conversation. Something has to change; otherwise, Chiarelli and McLellan are just shuffling the deck chairs on the sinking Titanic.
Edmonton Oilers regular contributor providing insight on all things Oilers including club history, prospect profiles, trade breakdowns, and everything else in between. Check back regularly for new and exciting content. Follow on Twitter @SanderTHW.