Defense wins championships, or so the saying goes. For the Los Angeles Kings, defense was certainly the backbone of the team this past season. They allowed the fewest goals in the league while also having the league's top penalty kill. While it may not have led them to a championship, it did help them take a step forward after missing the playoffs in 2016-17. There were many strong individual performances in goal and in front of it that resulted in such a strong team result.
Quick As Solid As Ever
For any defense as strong as the Kings, the main reason is usually having an elite performer between the pipes. That was definitely the case for the Kings as they relied heavily on Jonathan Quick. After missing 59 games in 2016-17 because of a groin injury he suffered in the season opener, Quick came back strong, going 7-2-1 with a 1.89 goals against average and a .942 saves percentage in October. He rode that hot start to a solid season, starting 63 games and posting a 33-28-3 record with a 2.40 GAA and .921 save percentage, the second-best of his career.
More than just the numbers he put up, simply having him in goal night in and night out gave his teammates a lift. "It's hard to put a figure on or quantify his leadership," coach John Stevens told gathered media after the team's season-opening win over the Philadelphia Flyers. "But I think just his presence in the room, it has a real calming effect."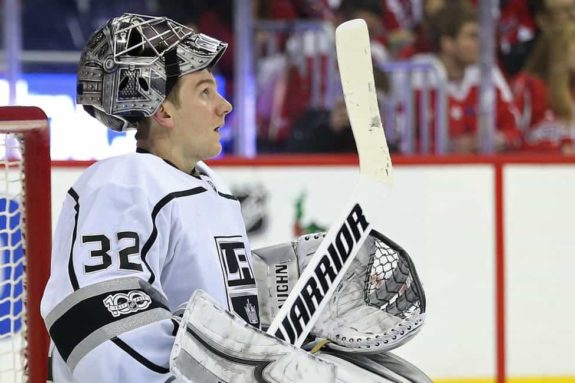 While most of his teammates struggled to find ways to put the puck past Vegas goalie Marc-Andre Fleury during their first-round playoff match-up, Quick did his best to match Fleury save for save. Quick posted a 1.55 GAA with a .947 saves percentage, numbers that rivaled his 2012 Conn Smythe performance of 1.41 and .946.
With another five years left on his contract and no heir apparent currently in the Kings system, keeping the 32-year-old Quick healthy is vital for the Kings success in the coming seasons.
Trade Gives Campbell a Shot
When primary backup Darcy Keumper was dealt to the Arizona Coyotes just before the trade deadline, it gave Jack Campbell his first real opportunity at the NHL level. After appearing in just two games prior to this season, Campbell started four games for the Kings down the stretch, doing a very admirable job. He recorded a 2.47 GAA and .924 saves percentage while going 2-0-2. Whether Campbell can turn this opportunity into the full-time backup job in 2018-19 is yet to be seen but, at 26 years old, it may be put up or shut time for him. The recent acquisition of Peter Budaj gives Campbell some stiff competition and might indicate the Kings aren't quite sold on Campbell just yet. A strong showing in training camp would go a long way towards giving him that shot.
Doughty Raises His Game to Another Level
As for those playing in front of the netminders, at the top of the list of contributors to the Kings success defensively is Drew Doughty. As strong as he has been year after year since being selected second overall in the 2008 NHL Draft, he elevated his play even higher this season. In Stevens' new style of play that allowed players to be more creative with the puck, Doughty was able to use his ability more effectively in all three zones of the ice.
Offensively, Doughty was able to jump up into the play more often than under Darryl Sutter's heavy style of dump and chase and taking the body at every opportunity. That translated to him setting career highs with 50 assists and 60 points while also tallying 10 goals, the seventh time in his career he's reached double figures.
While offensive numbers garner so much attention, even for a defenseman, it is still playing stellar defense that drives Doughty's play every night as he matches up with the opponent's top line more often than not.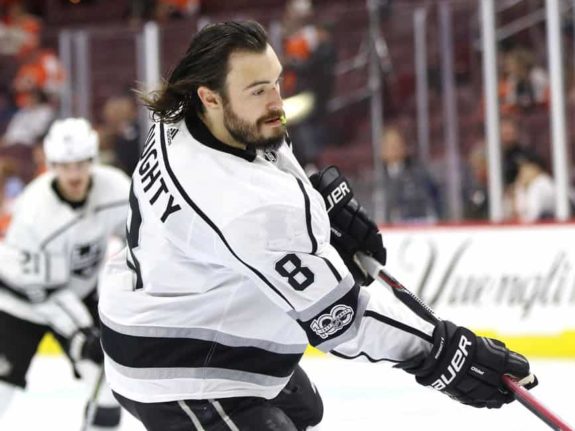 "I love the defensive part of the game. When I'm going up against a team that has a few star players and I know I have that match up like I always do, I'm excited for it," Doughty said. "A lot of times I play my best games in those and maybe I don't come away with any points or anything like that but, in my mind, those are some of my best games."
For all the positives Doughty brings to the ice, there are still times when his intensity and competitiveness get the better of him. On three different occasions this season, Doughty took penalties only to compound the situation by arguing with the refs and getting assessed an unsportsmanlike conduct penalty on top of the initial call.
While Doughty has these momentary lapses in judgment, they are far outweighed by his moments of pure brilliance which resulted in him being named a Norris Trophy finalist for the fourth time. With his contract set to expire at the end of the 2018-19 season, Doughty's name is at the top of the Kings priority list this offseason. The window to negotiate a contract extension opens this summer and how successful the Kings are at getting Doughty signed long-term will go a long way towards determining if they can once again be legitimate Stanley Cup contenders.
Return to Form for Muzzin Stabilizes Kings Blueline
Despite playing in all 82 games for the second straight season, the 2016-17 campaign was a very forgettable one for Jake Muzzin.  Tallying just 28 points, his lowest total since his first full NHL season in 2013-14, Muzzin always seemed to be on the ice for the goals that turned Kings wins into losses. His minus-21 rating was by far the worst of his career with his previous low being a minus-four rating in 2014-15.
Muzzin appeared to put those struggles behind him this season setting career highs with 34 assists and 42 points while once again being a plus player with a plus-10 rating.  An upper body injury cost him seven games late in the season, but Muzzin was still able to lead all Kings defensemen in hits with 170.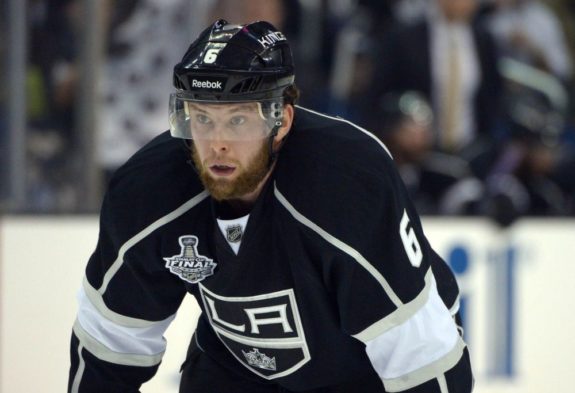 Muzzin's absence for the first two postseason games, along with that of Derek Forbort, forced the Kings to go deep down the depth chart to find a healthy defenseman.  Given that the Kings lost four one-goal games, it's possible having Muzzin's presence in those first couple games might have changed the outcome of the series.
Under contract for two more seasons and only 29 years old, Muzzin could be a very attractive commodity to teams if the Kings look to the trade market to fill their need for secondary scoring. If he's still in a Kings uniform his continued steady play at both ends of the ice will be needed for the Kings to maintain their spot among the top defenses in the NHL.
Martinez Brings Steady Presence to Kings Backline
Muzzin's defense partner for most of the season was the ever-steady Alec Martinez. The now 30-year-old Martinez has slowly grown over the years to be one of the more consistently reliable blueliners for the Kings. Playing a career-high 22:52 per game, he ranked second on the team in ice time behind only Doughty.
Known primarily for scoring the clinching goals in both the Western Conference Final and the Stanley Cup Final in 2014, Martinez has started making a name for himself as someone who will give up his body to make a play. With 206 blocked shots, Martinez led the team for the third straight season and ranked second in the NHL in that area.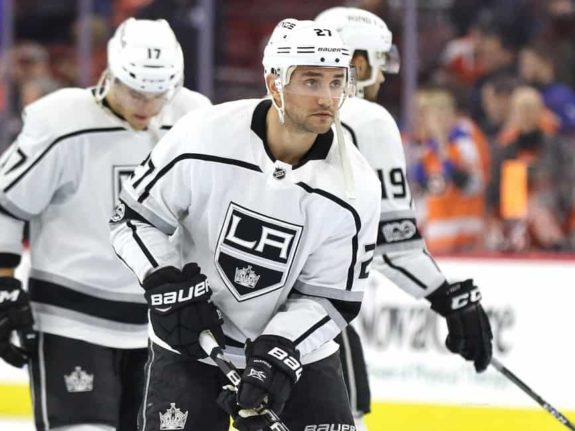 The big question for the soon-to-be 31-year-old is how will quickly his skills will diminish as he gets deeper and deeper into his 30s. With that context in mind, it makes the fact that Martinez extended his season with a stint playing for bronze medal-winning Team USA at the World Championships a somewhat curious decision. It's hard to fault someone for wanting to play for their country, but given that Martinez is under contract for another three seasons with a cap hit of $4 million, the Kings hope that decision doesn't contribute to any acceleration in that decline.
Forbort Holds His Own Paired With Norris Trophy Winner
For some players, being paired with one of the best defensemen in the league might be somewhat intimidating. But, Kings defenseman Derek Forbort has held his own while being paired primarily with Doughty during his first two full seasons in the NHL. His role as a stay-at-home defenseman has given Doughty the freedom to push the play knowing that, more often than not, Forbort will be in the right spot to cover for him.
Standing at a team-high 6-foot-4, Forbort has learned how to best use his size to his advantage. This season it allowed him to block 156 shots, second on the team behind Martinez. It also helped him to rank fourth on the team with 142 hits.
The question that has kind of dogged Forbort is whether his play, especially his statistics, are truly indicative of what he is doing on the ice or more because of his being paired with Doughty. There might be some basis for this as the Kings possess the puck 53.2% of the time with Doughty on the ice and only 49.6% of the time with Forbort on the ice. However, to counteract that, Forbort still recorded a plus-18 rating. Even though they may not have the puck most of the time with Forbort on the ice, they are still able to prevent the other team from scoring.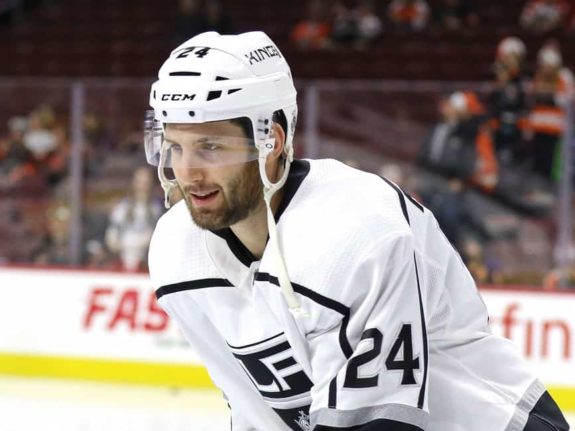 At just 25 years old and under contract for the next two seasons, Forbort's ability to continue to grow and learn from veterans like Doughty, Muzzin and Martinez will go a long way into determine his future with the organization and whether he is a part of the next core of the Kings as they push to regain they standing among the elite teams in the NHL.
Phaneuf Energized by Late Season Trade
On Feb. 13, Dion Phaneuf was traded along with Nate Thompson to the Kings from the Ottawa Senators, and, in the process, went from a team playing out the string to a team in the thick of the playoff chase. This leap up the standings seemed to elevate Phaneuf's play as he netted goals in three of his first four games with the club.
However, he failed to keep the momentum going as those would be the only three goals he would score in a Kings uniform. Over his final 22 games of the season, he tallied just seven assists. His presence in the lineup did add one more veteran influence to both the on-ice play and in the locker room as the Kings made their final push to grab a wild-card playoff berth.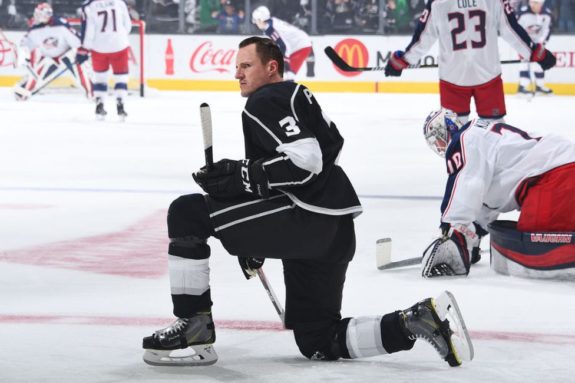 While one of the main results of the acquisition of Phaneuf was to rid the Kings of the atrocious contract owed to Marian Gaborik, Phaneuf himself has three years at $7 million per remaining on his deal. The biggest question for the Kings moving forward is how much the 33-year-old has left in the tank. If he continues to be the player that ended up with a minus-seven rating after the Kings acquired him, he might be a prime candidate to be traded to free up salary to bring in the forward this team is searching for.
Unsung Contributions Round Out Kings Defense Corps.
While not garnering the attention or playing time of the bigger names on defense, Christian Folin, Oscar Fantenberg, Paul LaDue, and Kevin Gravel shuffled in and out of the revolving door that was the Kings' third defense pairing. Folin was the most consistent member of the unit appearing in 65 games and registering 13 points. While all contributed in a variety of ways to the Kings' success defensively, for Fantenberg, it's unfortunate that the lasting memory of him for most fans will be how he got beat on the game-winning goal in overtime of Game 2 of the playoffs versus Vegas. With five of six spots apparently filled already, it will be interesting to see which players will battle for that last spot as Folin and Gravel are both unrestricted free agents.
The Kings defense as a group was very strong during the 2017-18 season. Their continued cohesiveness and effort will be counted on to keep the Kings on an upward trajectory towards recapturing the glory of a few seasons ago. But, as the core of that defense gets into their 30s it will be imperative for management to find new blood that will continue the legacy this group has built – one that is second to none in the NHL.