The Edmonton Oilers have a lot of questions to answer as they prepare their roster this summer. The team needs to improve in several areas and might be willing to move the 10th overall pick in the 2018 NHL Entry Draft to address one of those needs. They also need better production out of their forward group as well.
That means two things: 1) they need cheap production on low-cost contracts, 2) they might need to free up some cap space by moving a bigger ticket like Milan Lucic. The seven-year, $42-million contract Chiarelli gave to Lucic already looks like an albatross, and the club is just wrapping up the second year of that deal.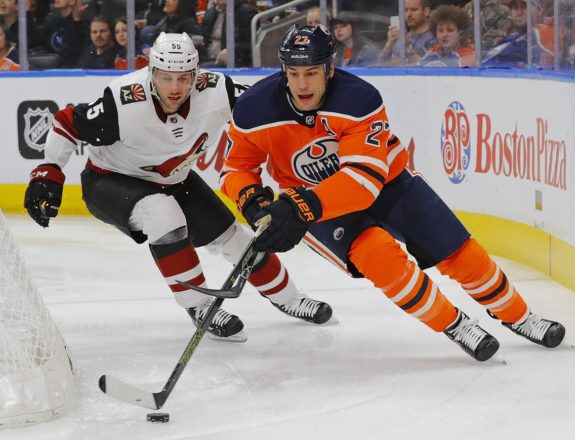 Lucic will now find his name in the rumor mill as some folks believe the Oilers are shopping him behind closed doors. Moving Lucic in year two of seven would cause Chiarelli to swallow his pride knowing full well that signing was a mistake. After all, they moved out Taylor Hall to make space for Lucic, and that didn't go over well with fans.
Lucic also managed just one goal from Dec. 23 until the end of the season. After posting 23 goals and 50 points in 2016-17, Lucic put up 10 goals and 34 points in 2017-18. So is Lucic a declining asset, or can he bounce back to score 20 goals in 2018-19? Lots of folks are talking trade, and this is what they're saying.
Matheson Weighs in on Lucic Trade Rumors
Jim Matheson of the Edmonton Journal believes any deal would mean an admission of error on Chiarelli's part. The 30-year-old is still second on the left-wing depth chart behind Ryan Nugent-Hopkins, and the club could give Lucic another year to rebound. Matheson also believes the Oilers are going to have a tough time buying out the remainder of his deal.
The buyout cost after the 2018-19 season would be equal to $16 million over eight years, which would be double of the remaining term (four years). Edmonton might be able to get creative if the league announces a Seattle expansion. Chiarelli could find himself in a position to package Lucic to Seattle along with a more desirable asset.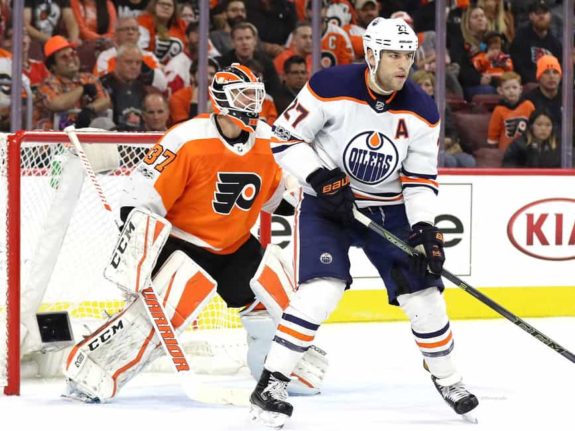 Vegas did it, so why can't Seattle take advantage of the expansion draft process and all its loopholes? One trade proposal Matheson also makes is moving Lucic to the Montreal Canadiens for Andrew Shaw. Would you rather have Lucic at $6 million with five years remaining or Shaw at $3.9 million with four years left?
Related: What Exactly Is The Chiarelli Plan?
If Edmonton retains salary, is that a deal worth doing? Shaw put up 10 goals and 20 points during an injury-plagued season (equal to 39 points over a full season) where he played just 51 games. Shaw has also missed 45 games over the past two seasons while Lucic hasn't lost any. In fact, Lucic has missed only four games over the past four seasons.
Rishaug Finds Middle Ground on Lucic Talk
TSN's Ryan Rishaug downplayed the recent uptick of Lucic trade rumors through a series of tweets. Rishaug also believes the contract will be difficult to move without Edmonton having to take back, once again, something undesirable. He does, however, point out a few things that might make the maneuvering of contracts easier for Chiarelli and his staff.
The salary cap is expected to rise to between $78-82 million for the 2018-19 season. That'll create a nice cushion for teams to go out and land a Lucic-type player on a big ticket that might need a change of scenery. Rishaug also points out how players similar to Lucic's ilk (Devante Smith-Pelly, Tom Wilson, and Ryan Reaves) were effective in the playoffs.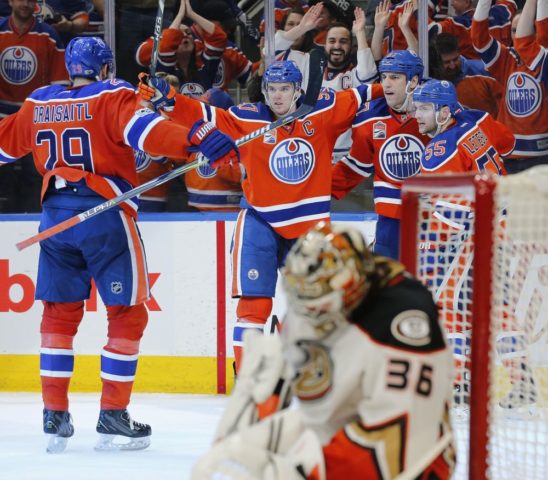 Heavy hockey might be out, but having a guy or two that can throw their weight around come playoff time still has value. Rishaug also points to the fact many believe there's a general perception that Lucic will rebound in 2018-19, and his presence in Edmonton is a deterrent for opposing players to take runs at Connor McDavid.
Related: Filling A Need – Best Defensemen Available At 10th Overall
There's also, again, the possibility of retaining dollars and maybe taking a questionable contract back in return. However, Rishaug expresses caution in giving up too much regarding assets in a short-sighted deal just for the sake of getting rid of the Lucic cap hit.
Lucic's Value & the No-Movement Clause
No player is safe from a trade, but being armed with a no-movement clause (NMC) and having the dollar figure that Lucic has makes him arguably the most difficult player in the NHL to move. As Mike Zeisberger of NHL.com reports, Chiarelli admittedly doesn't see the club making a big splash. That alone should kill the Lucic rumors.
A buyout? Forget about it. Edmonton can't afford to have that kind of dead cap space earmarked for the next decade. If that were to happen, you can bet Oilers owner Daryl Katz would step in. In reality, the Oilers have some great pieces, and a lot of players slumped through the 2017-18 season.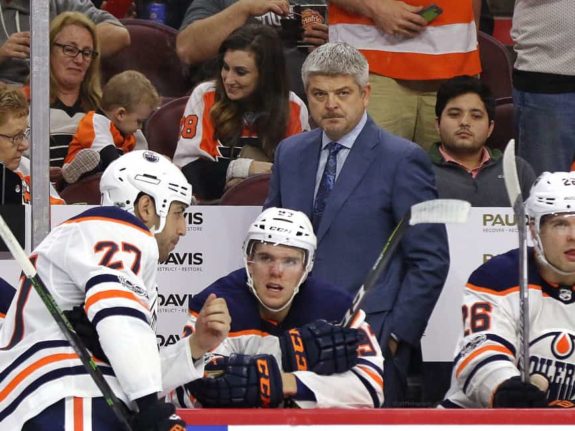 Buying out Lucic makes little to no sense this year, as you'd have a decade of dead cap space while the Oilers will be within their Stanley Cup window. As far as his value goes, it might get a little boost after seeing what guys like Smith-Pelly and Wilson were able to provide for the Capitals. Maybe someone thinks Lucic can still offer that.
Regardless, the best course of action might be to let Lucic come back next season after a summer of working on his skating and his abilities to read and react. Every once in a while you have to swallow your pride and show a little faith. Lucic might deserve another year of faith. Can his value get any lower than it already is? Probably not.
Best-Case Scenario for Oilers or Wishful Thinking?
The best-case scenario is that Lucic bounces back next year with a 20-goal season. Worst-case scenario, he scores 10 or fewer goals in 2018-19. That pretty much keeps him where he is. The best time to move him might be next summer, if trading him is the route the Oilers ultimately choose. More specifically, a trade after July 1, 2019.
Lucic is due a substantial signing bonus spread across the term of his contract. On July 1, 2019, Lucic is set to receive a $3-million signing bonus. If the Oilers can pay that signing bonus, they'd reduce the actual cost of the contract to $16 million over the final four years.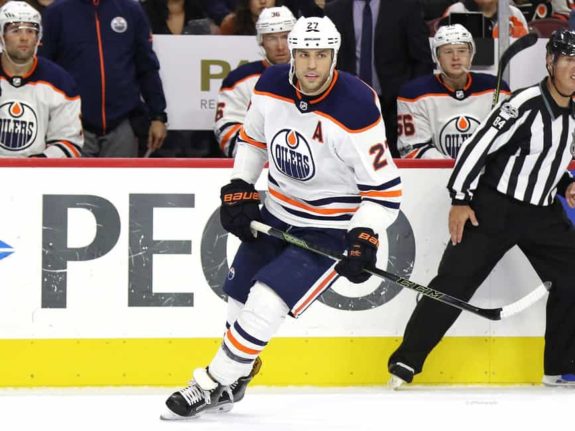 If another club picks up that deal, they'd have Lucic on the books for at least two seasons before his NMC becomes a modified no-trade clause (M-NTC) in June 2021. If it doesn't work out for another club that signs him, they have a better chance at moving him to eight teams of Lucic's choosing. In July 2022, Lucic can submit a list of 10 teams.
The contract does become easier to move near the tail end while Edmonton attempts to reap the limited rewards of what's left in Lucic's prime years. Another year in Edmonton isn't going to cripple that franchise. They need wingers right now, and they don't have a lot of options within the farm system that are NHL ready.
Keeping Lucic for another year, maybe two, isn't going to be the worst thing in the world. This is especially true if he can find a way to contribute as a top-nine forward, regardless of the cost. Next summer is another time to re-evaluate the situation. Maybe it's better to dance with the devil you know after all.
Do you agree or disagree? Let me know your thoughts in the comment section below.