It's been a busy offseason for Edmonton Oilers general manager Peter Chiarelli, who's searching for answers on how to get this team back in the win column. It's no secret the Oilers bottomed out after coming within one win of the Western Conference Final in 2016-17.
With the 2017-18 season essentially being a write-off, how good can this team be next year? A lot of talk through the year was that they overachieved followed by underachieving, and that 2018-19 might be more telling about what the Oilers have with this group.
Connor McDavid's mega-deal starts in July, so this team is officially on a tight financial budget. Having some costly deals like Milan Lucic ($6 million), Andrej Sekera ($5.5 million), Kris Russell ($4 million), and now an expensive backup goalie in Mikko Koskinen ($2.5 million) doesn't help matters.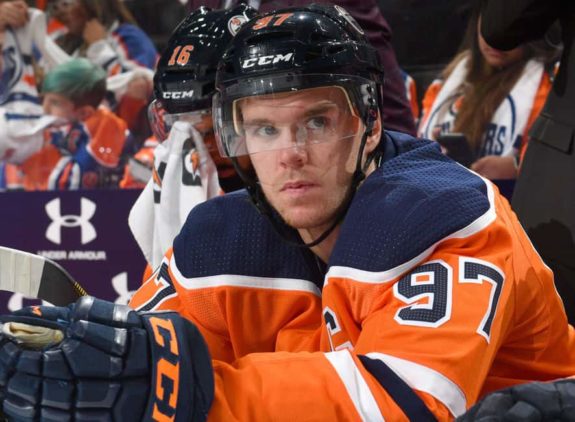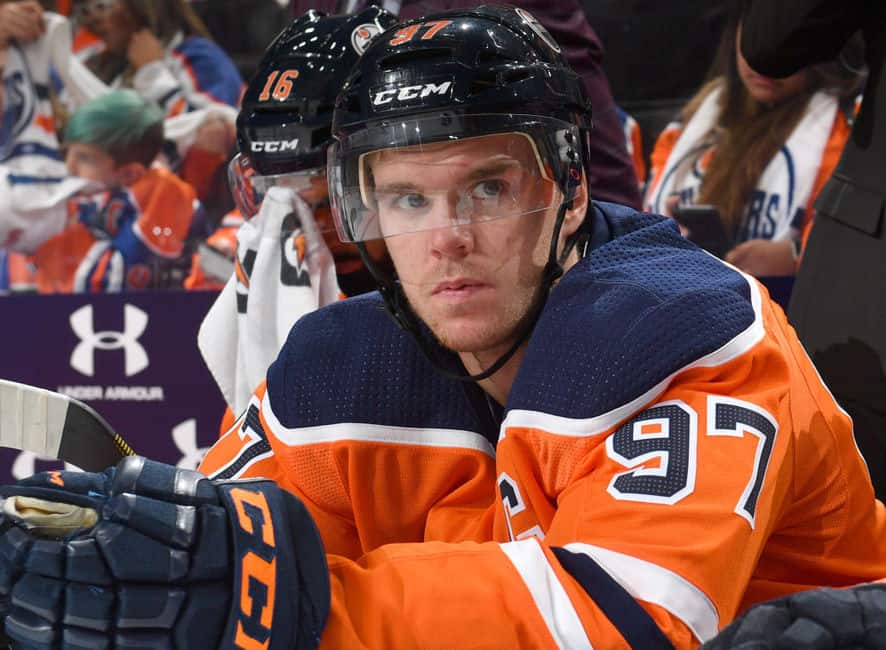 Soon enough, the Oilers might have to get one or two of those deals off the books to help the situation. Until then Chiarelli's job will be to fill several needs for this organization but on cost-effective short-term deals. Fans talk a lot about the Chiarelli Plan, and reading between the lines, we can find some of the needs for this club heading into next year.
Related: Oilers Hire New Coaching Staff – Can They Make the Playoffs Though?
We know a huge portion of the Chiarelli Plan is to build through the draft and let those assets mature. Another question that pops up is whether or not he uses the pick to address the immediate needs of the franchise or to draft a future asset.
Looking at this club's organizational depth for the immediate future, Chiarelli's already been adding pieces. By auditing the internal assets and what parts are playing where, here's what the organizational needs are.
Oilers Hoping Koskinen Can Lessen Talbot's Workload
With Mikko Koskinen signed, the Oilers now have two (hopefully) NHL-calibre goaltenders for a combined cost of $6.66 million heading into 2018-19. The question now is how much Cam Talbot plays. Edmonton has ridden Talbot hard, as he's played 56, 73, and 67 games in each of the past three seasons.
The hope is that Koskinen can come in and play 20-30 games as the Oilers' backup and bump Talbot down to the 50-60 game range. Since 2015-16, no goalie has played more games than Talbot (198) in the last three seasons. Maybe some rest will allow for some more quality starts and less back to backs.
Organizational Goaltending Depth Chart

Edmonton Oilers (NHL)

Bakersfield Condors (AHL)

Wichita Thunder (ECHL)

Cam Talbot

Al Montoya

Shane Starrett

Mikko Koskinen

Stuart Skinner

Dylan Wells
Related: Five Questions Focused on the Oilers Goaltending Situation
It looks like Laurent Brossoit is as good as gone this summer. The 25-year-old is a Group VI unrestricted free agent (UFA) this summer and would be No. 4 on Edmonton's depth chart if he re-signed. It wouldn't be surprising to see him end up with another organization as their AHL starter, or even in Europe by the time the puck drops.
Edmonton Letting Brossoit & Ellis Walk as Free Agents
Nick Ellis, 24, is in a similar position, but as a restricted free agent (RFA). Ellis had a great rookie season in Bakersfield and took over as the Oilers' AHL starter last year, but in 2017-18 he fell hard and might not be back next season.
If the goal is to keep Al Montoya as a veteran No. 3 option, you can likely scratch both Brossoit and Ellis from Edmonton's organizational depth chart. Stuart Skinner and Dylan Wells turn pro, so expect one to start in the AHL and the other with the ECHL's Wichita Thunder.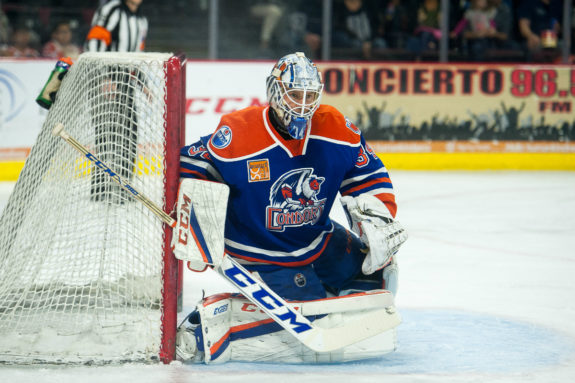 Skinner had an impressive WHL campaign and backstopped the Swift Current Broncos to the 2018 Mastercard Memorial Cup and picked up a WHL Championship along the way. He could eventually become the Oilers' starter in a few years, while Wells has NHL backup potential.
Related: Takeaways From Peter Chiarelli's Season Ending Press Conference
For now, it looks like Chiarelli's work is done in the crease. All that's left is for the dominos to sort themselves out.
Goaltending Needs for Organization: None (for now). See how Koskinen does as the No. 2 in Edmonton, if he falters, then a need is apparent.
Edmonton Still Searching for a Top 4 Defenseman
The Oilers did sign a right side defenseman in Joel Persson, but he's been loaned to the SHL's Vaxjo Lakers for the 2018-19 season. Even with adding a veteran NHL coach like Trent Yawney, the club is still in need of a top-four right-shot puck-moving defenseman.
Related: Oilers Sign Joel Persson, Loan to SHL's League Champions
Edmonton has good depth down the left side with Oscar Klefbom, Darnell Nurse, and Andrej Sekera all playing on different pairs. Still, the team can't come into next season with Adam Larsson, Kris Russell, and Matt Benning all playing the right side.
Projecting Oilers Defense Depth for 2018-19

Left Defense

Right Defense

Oscar Klefbom

Adam Larsson

Darnell Nurse

Kris Russell

Andrej Sekera

Matt Benning

Ethan Bear
The club is going to need to find someone to address that hole and help their power play, which will now be overseen by Manny Viveiros. Justin Faulk is a name that's talked about a lot, as is Tyson Barrie. Maybe Brandon Carlo could work? A dream scenario would be landing Ryan Ellis from the Nashville Predators, but that's a pipe dream at best.
Contracts, Departures, and Where to Play Ethan Bear
There are some large contracts with Russell and Sekera signed for a combined $9.5 million next season. Nurse still requires a new deal as well. The faster they can get a Nurse deal done (whether it's a bridge or long-term signing), the faster they'll know how they can maneuver those contracts on the backend.
With Yohann Auvitu gone and Eric Gryba down on the farm, Ethan Bear is the defacto No. 7 on Edmonton's depth chart. They need him playing, and he needs to hone other areas in his game aside from his offensive prowess. Bear needs to be playing top-pairing minutes in the AHL, and in all scenarios needs to become a more well-rounded player.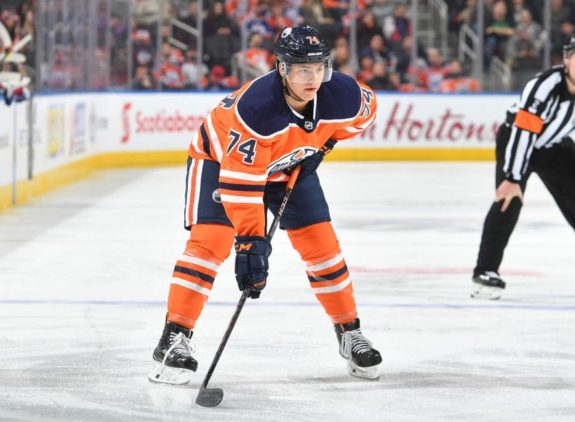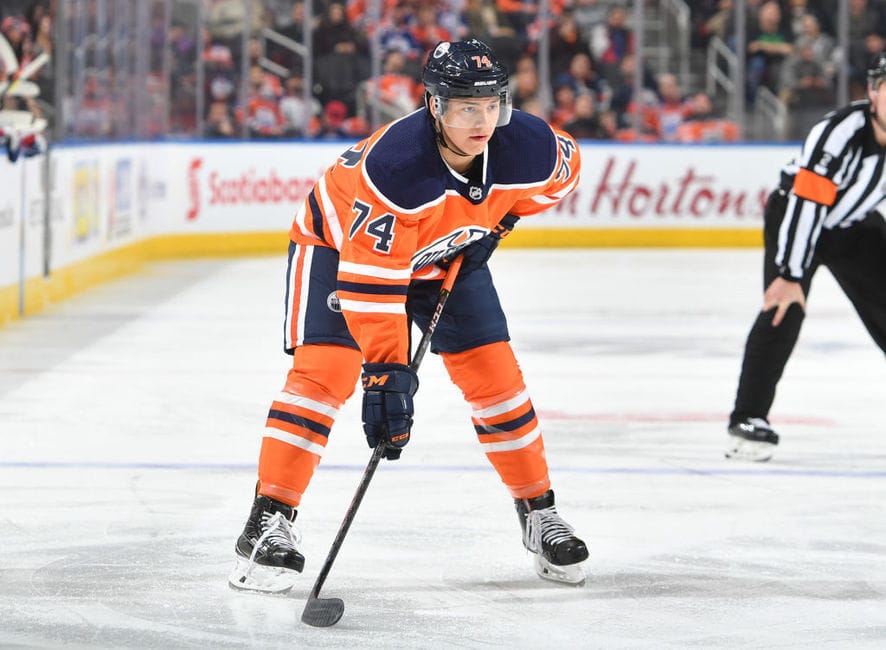 With Bear in the minors, the Condors' defense looks quite deep. William Lagesson is coming over for his first pro season in North America and joins a very good top four with Caleb Jones and Ryan Mantha being the others.
Gryba and Ryan Stanton provide veteran support but don't be surprised if the club goes out and tries to sign another AHL veteran to help out the youngsters this summer. Keegan Lowe and Dillon Simpson were both in those roles for 2017-18, but both are UFA's and likely ready to pursue No. 6 or 7 jobs elsewhere in the league.
Projecting Bakersfield Condors Defense for 2018-19

Left Defense

Right Defense

Caleb Jones

Ethan Bear

William Lagesson

Ryan Mantha

Ryan Stanton

Eric Gryba

Logan Day
It's possible Edmonton tries to sign Simpson and promote him to the No. 7 job with the Oilers, but the 25-year-old hasn't shown he can take the next step, so it's likely they go with an NHL veteran for that job. Greg Pateryn, Chris Wideman, Cody Franson, Taylor Chorney, and Zach Trotman are some of the options to help as the Oilers No. 7.
Defense Needs for Organization: A No. 4 right-side defenseman to help the power play, a No. 7 to shore up the depth at the NHL level, and an AHL veteran to help mentor the youngsters on the farm.
Oilers Need Better Season's from Strome & Others
Down the middle, the Oilers have a great one-two punch with Connor McDavid and Leon Draisaitl centering the top two lines. Ryan Strome is finding his legs, but at times was a serviceable third-line scoring center.
With his first season in Edmonton out of the way, and a new contract likely being signed at a similar price point this summer, Strome should be much more settled into place and ready to focus now that his role has been defined within the organization.
Projecting Oilers Forward Depth 2018-19

Left Wing
Center

Right Wing

Ryan Nugent-Hopkins

Connor McDavid

Ty Rattie

Milan Lucic

Leon Draisaitl

Pontus Aberg

Drake Caggiula

Ryan Strome

Jesse Puljujarvi

Brad Malone*

Jujhar Khaira

Zack Kassian

Tyler Benson*

Kailer Yamamoto*
* Denotes spots that might be better serviced with more NHL proven options.
Jujhar Khaira is ready to take over the No. 4 center job on a full-time basis. If the preference is for him to be a fourth-line winger, Edmonton will need to go out and find someone to fill that hole where Mark Letestu played much of last year.
Finding Veteran Scoring Wingers to Bridge the Gap
Where the problems start are on the wings. Edmonton got bit when they bought into their hype and thought they had the depth to roll lines. The wingers regressed, some of the bets made on certain players didn't pan out, and the team had a hard time finding the back of the net.
Edmonton doesn't have the luxury of throwing money at a problem to fix it, because they're going to be a cap team next season. They need value contracts and guys like Ty Rattie, Pontus Aberg, Jesse Puljujarvi and Drake Caggiula to provide offense on the cheap.
If the team can scrounge up some loose change under the cap, they'd be better off adding one or two veteran scoring wingers to help shore up some of the offense. Most teams can roll three offensive lines and a good energy line as their fourth option.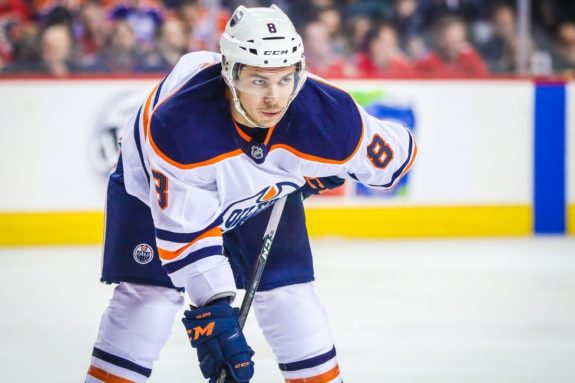 Edmonton didn't have that last year and was lucky to have one or two lines going most games. The UFA market has some interesting names that might make sense on a one- or two-year term. That'll be more than enough to bridge the gap until the likes of Puljujarvi, Kailer Yamamoto, and Tyler Benson are ready for duties.
Michael Grabner has the wheels and goal scoring ability to play top-six minutes in Edmonton. Jannik Hansen could be a good addition to the third-line. David Perron and Thomas Vanek are the two highest scoring left wingers available this summer. On a short-term deal, both could make sense, but they'll be on a pricey side.
Patrick Maroon might be an option; he's familiar with the system, was very well liked by the organization, and played with McDavid before, which worked to an extent.
Bakersfield Starting to Take Shape
Lastly, we'll touch on what could potentially be a turnaround season for the Bakersfield Condors. Edmonton's farm team has been a bare cupboard for much of the past decade. It's taken some time, and results don't come overnight, but Chiarelli and his crew have done well at the draft table since 2015.
With a few free-agents add and acquisitions from other organizations, Edmonton's prospect cupboard is starting to percolate in the minors. Guys like Bear and Caleb Jones joined the club for 2017-18, but now Tyler Benson, Kailer Yamamoto, Cam Hebig, Cooper Marody, Tyler Vesel and the rest of the cavalry are ready for their pro careers.
Projecting Bakersfield Condors Forward Depth 2018-19

Left Wing
Center

Right Wing

Tyler Benson

Cameron Hebig

Kailer Yamamoto

Brad Malone

Cooper Marody

Tyler Vesel

Kyle Platzer

Joe Gambardella

Patrick Russell

Braden Christoffer

Colin Larkin

Mitch Callahan
This is what the projected Condors roster looks like heading into opening night. This is a team that has a couple of scorers on it, and with another veteran add or two to their offensive ranks, this team could be very deep heading into 2018-19. Who knows, maybe they'll end the playoff drought in Bakersfield.
Related: Oilers Continue Next Phase in Makeover of Bakersfield Condors
Overall, the organization has needs in almost every area. We talk a lot about the Chiarelli plan, and he's done well this summer. But the hard work is just beginning, and the hard moves are on the horizon. No one is likely getting bought out, and a blockbuster doesn't seem likely, but he can't stand pat.
Forward Needs for Organization: A veteran scoring forward to help the top-six, a No. 4 center (if Khaira is moved to the wing), an NHL depth player (No. 12 or 13 forwards), and an AHL depth player or two for the farm.
Edmonton Oilers regular contributor providing insight on all things Oilers including club history, prospect profiles, trade breakdowns, and everything else in between. Check back regularly for new and exciting content. Follow on Twitter @SanderTHW.