Not everyone loves the All-Star break.  Not especially streaking clubs like the Los Angeles Kings.  From Los Angeles to Ottawa, perhaps somewhere in-between, the Kings lost some of the scoring touch, they picked up leading up to the break.  Perhaps it's a change of calendar thing, because these Kings look like the team from December, not January.  Whatever it is, another clock malfunction of one second, let alone one minute, likely couldn't cure all of their ills.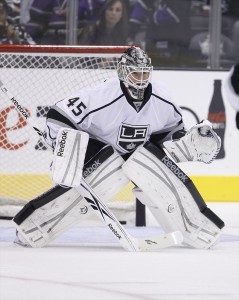 What's perhaps most frustrating is that the Kings aren't getting blown out, they're just ending up on the wrong side of one goal margins again.  All three of their post-break games have been decided by one marker.  A 3-2 win over the Columbus Blue Jackets, followed by losses to St. Louis (1-0) and Carolina (2-1) respectively.  Granted they were blanked by a Blues team that has only lost three home games in regulation and edged by a Hurricanes team that just throttled the Boston Bruins, but four goals in three games just doesn't cut it.  Especially when two of the three opponents reside at the bottom of their respective conferences.
On the plus side, three of those four goals have come on the power-play.  Yet that only leaves for one goal tallied at even strength.
During their Friday contest with the Blues, the Kings could only muster a paltry 22 shots and nary a goal against Jaroslav Halak.
Then on Saturday against Cam Ward and the Hurricanes, they did manage to out shoot Carolna (25-22) but again couldn't crack 30 shots on net.
While L.A. did manage to lock it down defensively in the first period of their contest with Carolina, holding them to a microscopic four shots, a power-play marker from Anze Kopitar was all they could manage.
Carolina came back with goals by Jiri Tlusty and Jeff Skinner in the second and third periods respectively against Jonathan Bernier.  Those two tallies were more than enough and Ward held serve down the stretch.
Currently Los Angeles has a goals differential of -1.  Of the top eight in the Western Conference, only the Minnesota Wild at -11 are worse.
With the trade deadline on the horizon, maybe they'll try to swing a deal for Jeff Carter and reunite him with Mike Richards.  Then again, when it comes to dealing for former Philadelphia Flyers, one would imagine that the Kings would be just as happy to have Wayne Simmonds back in the fold.  Plus a quick fix and a big contract may be short sighted if a player like Zach Parise becomes available this summer.  Or maybe they deal for a Vinny Lecavalier.
In any event, the Kings are going to need to be bold, because even a conference best (low) 116 goals allowed can only get you so far if your goalie can't score for you.