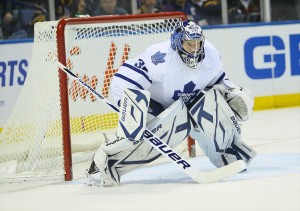 It's no secret that James Reimer is back.
The 23-year-old has not allowed a goal in his last two starts, stopping all 74 shots that he has faced, including a 49-save performance on Saturday night against the Ottawa Senators. This after the sophomore couldn't find his groove at all following a head injury that kept him out of action for more than a month.
It's really no surprise that Reimer has been able to bounce back, though. A man who manages to find inspiration from just about anything, the always-happy Reimer worked harder than ever to regain the starting job that he lost to Jonas Gustavsson during the month of January. He even made a promise to his team recently, telling the Toronto Maple Leafs that he would return from the NHL's All-Star break a different goalie.
There's no doubt that he has been exactly that. Not only has he stopped 74 shots over his last two starts, but he has had to face some very good scoring chances from the opposition. Reimer is seeing just about everything and is back to the way he used to be; calm, cool and collected in the net.
With Gustavsson now waiting in the wings and the Leafs about to begin the first half of a back-to-back against the Edmonton Oilers on Monday followed by a game against the Winnipeg Jets on Tuesday, media and fans alike are now wondering which direction head coach Ron Wilson will take for the Leafs' next game.
At first glance, it seems obvious: Give Reimer the nod. He's played unbelievably well over his last couple of games and appears to have regained his confidence, perhaps resulting in statistics that everyone is now used to seeing out of him at this level.
On the other hand is Gustavsson, who has essentially kept the Leafs where they are─hovering around eighth in the Eastern Conference─for over a month. He has deserved playing time based on consistency and determination, but hasn't gotten much action lately, so it's difficult to know what you're going to get out of him.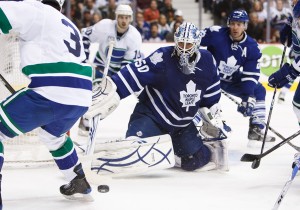 Maybe the biggest factor that must be taken into consideration here is how the defencemen in front of the net are playing. Despite allowing 49 shots on goal during Saturday's 5-0 victory over Ottawa, the Leafs' defenders played relatively well. They allowed Reimer to see every shot that went his way, making the shutout easier to achieve.
Even when you don't take last night's game into consideration you will see that the Leafs have been stellar in their own end lately, most noticeably on the penalty kill. After a dreadful first half when it came to killing penalties that saw the Leafs fall to dead last in the league, the Buds have not allowed a power play goal against since December 31.
As always, it's great to see a team play like one rather than a few players standing out. That's exactly what people have been seeing from the Leafs as of late, which has been proven with positive results.
No matter how the team is playing defensively or offensively, though, goaltending is always looked to as the main focal point. The goalie can save games or blow them depending on how they play, basically meaning that they are 50 percent of the team on any given night.
So, now in the early stages of the stretch drive that will see about five teams battle for four playoff spots, it is crucial to play whoever gets the job done in the game prior. Now, there are exceptions to this rule of course. One such exception may be if Wilson elects to go with Gustavsson for Monday's contest against the Oilers in order to give Reimer the start in what should be a tougher game against the Jets.
No matter how you look at it, there is no doubt that the Maple Leafs once again find themselves with a controversy between the pipes. At this point in the season, that may not be a bad thing.
Twitter: @LukasHardonk | Email: lukas.hardonk@gmail.com | Lukas' archive
For every Leafs article on THW, follow @THW_MapleLeafs on Twitter.