As the Calgary Flames leap head-long into their long-awaited rebuild, a lot of attention has been placed upon some of the team's top young prospects. However, while Sean Monahan and Sven Baertschi work on their game in Calgary, and Johnny Gaudreau continues his college career in Boston, another player toils slightly under the radar.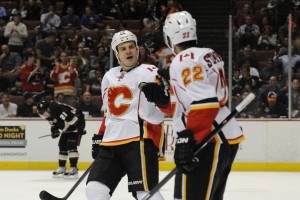 His name is Lance Bouma.
A native of Provost, Alberta – located four hours northeast of Calgary – Bouma was a third round selection of the Flames in the 2008 NHL Draft. Teammate T.J. Brodie was selected one round later. After concluding his four-year junior career with the Vancouver Giants (including a year as captain during his final season), Bouma turned pro in the 2010-11 campaign. Despite being new to the professional ranks, he impressed enough to make 16 appearances in the NHL with the Flames. The next season, he spent half of the year in Calgary. Poised for a full-time gig in the big-leagues in 2012-13, his season was derailed first by the prolonged NHL lockout and then by a knee injury (to two different ligaments) three games into the AHL season that sidelined him for the entire year.
Not one for excuses, Bouma came into training camp this season and earned his NHL roster spot all over again. Despite his age (he's 24 in March), Bouma's played only about 150 professional games in his career but has begun to settle into a useful niche on the Flames roster as a bottom-six player that can drive the puck, as well as being a key contributor on the team's penalty-kill. Bouma notes that he tries to make an impact every time he's on the ice.
"I've been playing mostly in the bottom six, so I'm gonna be a player that's gonna be an energy-type player, that's going to provide something every time I'm on the ice, whether that's hitting or blocking a shot or doing whatever it takes. You've got to be very physical and I've just got to be good on the PK, too, and I have a chance to do that right now," said Bouma a few weeks back, after a Flames practice. "Every time I'm on the ice, I want to provide something. Like you said, whether it's a hit or a blocked shot or anything like that, for the most part just trying to provide energy for the guys."
No stranger to adjusting to the NHL as a slightly-older prospect, Lee Stempniak first made his way into a full-time NHL gig as a 23-year-old with the St. Louis Blues following a four-year stint with Dartmouth College (where he, too, was captain). Stempniak had a good deal of praise for his teammate after the same Flames practice, particularly given that he missed just-about all of last season due to injury.
"I'm really happy for him," said Stempniak. "He works really hard. He skates well. He has a good shot. He's physical. He's got all the tools, and I think it's just maturing and knowing how to play. He's done a great job. He's scored timely goals. He had a great pre-season here and carried that into the regular season. He's at his best when he's skating and physical and in on the fore-check. He brings a lot on the penalty kill. He's a smart penalty killer. He blocks a lot of shots and he's really carving out a nice role for himself."
Like other Flames youngsters, and other players in the team's bottom-six rotation, Bouma has been a healthy scratch on three occasions this season. While getting parked in the press box for a game instead of playing is definitely disappointing for fledgling pros, Bouma shared that he takes those games as a learning experience.
"You're just trying to look to get better in any way that you can," said Bouma. "Obviously, the coaches tell you why you're not playing, you've got to try and maybe watch a guy that's similar to you and playing well and try to see what he's doing out there that's making him successful and then just try to watch the overall game and see when you have time and space and what to do in certain situations."
While more attention may be paid to the Monahans and Baertschis of the world, don't sleep on the future importance of players like Lance Bouma. Goals may be scored by snipers and danglers, but leads are held and games are won in part because of the yeomen of each club – the muckers and grinders. Just 68 games into his NHL career, Bouma's already proven himself to be a bottom-six asset capable of hitting, fighting, killing penalties, and occasionally producing a little offense.
He's quietly carving out a very useful niche in the Calgary Flames roster.