As the Detroit Red Wings and the rest of the NHL gear up for the 2017 Trade Deadline, fans everywhere are hoping their teams actually swing a deal for a change. Since opening night, NHL teams have only completed 11 trades involving 19 players. The Red Wings have yet to make a move this season.
It wasn't too long ago when teams traded players often. But now, with the salary cap and a league-wide focus on building from within, trades are no longer commonplace. In fact, zero players on the Red Wings roster were acquired via trade – all have either been drafted or signed as a free agent (excluding Joe Vitale, who has not played a game with the Red Wings and isn't expected to).
With two weeks left until the trade deadline, let's take a look at a little bit of Red Wings history: the last trade they've made with each NHL franchise.
Anaheim
8/9/1998 – Detroit acquired Doug Houda from Anaheim for future considerations.
Now the Red Wings' assistant coach in charge of team defense, Doug Houda was acquired just before the 1998-99 season for defensive depth. Houda had been drafted by the Red Wings in 1984 and played with the team until he was traded to Hartford during the 1990-91 season.
Arizona
6/24/2016 – Detroit acquired Joe Vitale, a 2016 1st round pick (Dennis Cholowski), and a 2016 2nd round pick (Filip Hronek) from Arizona for Pavel Datsyuk and a 2016 1st round pick (Jakob Chychrun).
With the Red Wings needing cap space and Pavel Datsyuk's $7.5 million cap hit on the books as deadweight, GM Ken Holland moved Datysuk's contract to the Coyotes in a savvy, draft-day move. While Jakob Chychrun opened the year in Arizona, Dennis Cholowski and Filip Hronek were more of "project picks" with bright futures.
Boston
1/17/1994 – Detroit acquired a 1995 5th round pick from Boston for Vincent Riendeau.
Acquired after he helped dispatch the Red Wings during the 1991 playoffs (the first year of "The Streak") as a member of the St. Louis Blues, Riendeau played sparingly in Detroit as Tim Cheveldae's backup. Once Chris Osgood came on the scene, Riendeau was expendable and was dealt to the Bruins.
Buffalo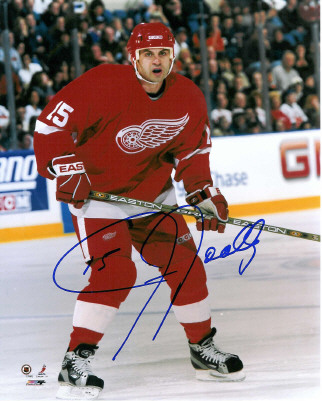 10/16/2002 – Detroit acquired Jason Woolley from Buffalo for future considerations.
When Jiri Fischer went down with a torn ACL during the 2002-03 season, Holland wanted to add a veteran defenseman to a team challenging for a second consecutive Stanley Cup. Jason Woolley was acquired for cheap, played two seasons with the Red Wings, and now participates in events with the Detroit Red Wings Alumni Association.
Calgary
3/3/2010 – Detroit acquired Riley Armstrong from Calgary for Andy Delmore.
In a minor league trade, the Red Wings acquired Riley Armstrong to bolster the Grand Rapids Griffins' forward group. After joining the Griffins, Armstrong only managed five points in 17 games and signed with the ECHL's Utah Grizzlies after the season.
Carolina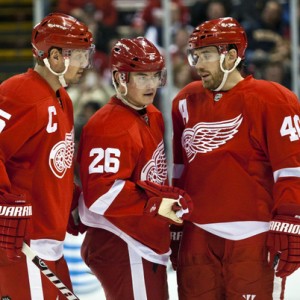 7/9/2001 – Detroit acquired a 2002 2nd round pick (Jiri Hudler) from Carolina for Aaron Ward.
With defensive depth, the Red Wings moved Aaron Ward to Carolina for a 2nd round pick that turned out to be Jiri Hudler. Ward would meet the Red Wings in the Stanley Cup Finals later that year and Hudler would enjoy a solid career in Hockeytown.
Chicago
2/26/2007 – Detroit acquired Kyle Calder from Chicago for Jason Williams.
In a 2007 NHL Trade Deadline deal, the Red Wings acquired some size in Kyle Calder. He joined Todd Bertuzzi and Robert Lang on Detroit's second line and later helped the Red Wings reach the Western Conference Finals.
Colorado
9/9/1992 – Detroit acquired Dennis Vial from Quebec for cash.
Back when the Colorado Avalanche were still located in Quebec as the Nordiques, the Red Wings traded cash to acquire defenseman Dennis Vial. Oddly enough, Detroit had just traded Vial and Doug Crossman to Quebec for cash that summer.
Columbus
8/17/2000 – Detroit acquired a 2003 6th round pick (Andreas Sundin) from Columbus for Kent McDonell.
Just after the Columbus Blue Jackets opened up shop and selected their team in the Columbus/Minnesota expansion draft, the Red Wings shipped winger Kent McDonell to the Blue Jackets for a draft pick. Coming out of the 2004-05 Lockout, McDonell rejoined the Red Wings organization as a member of the Griffins.
Dallas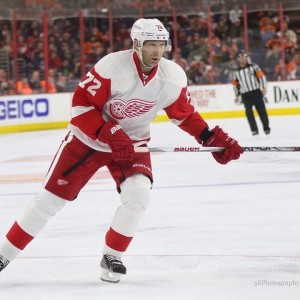 3/1/2015 – Detroit acquired Erik Cole and a conditional 2015 3rd round pick (Vili Saarijarvi) from Dallas for Mattias Backman, Mattias Janmark, and a 2015 3rd round pick (Roope Hintz).
At the 2015 trade deadline, the Red Wings acquired Erik Cole from the Stars to add forward depth. Cole stay did not last long – he played 11 games in Detroit before suffering a career-ending neck injury. Mattias Janmark, on the other hand, has had a strong start to his career in Dallas, producing 29 points in 73 games.
Edmonton
6/14/1996 – Detroit acquired future considerations from Edmonton for Bob Essensa.
After spending two seasons in the IHL as property of the Red Wings, goaltender Bob Essensa was shipped to Edmonton to be Curtis Joseph's backup. Essensa was previously acquired by the Red Wings in a 1994 trade with the previous installment of the Winnipeg Jets.
Florida
2/27/2016 – Detroit acquired a 2017 6th round pick from Florida for Jakub Kindl.
In order to move their former 1st round draft pick and his cap hit, the Red Wings shipped Jakub Kindl to Florida for a 6th rounder. Kindl was later waived by the Panthers, but recalled after playing 13 games in the AHL.
Los Angeles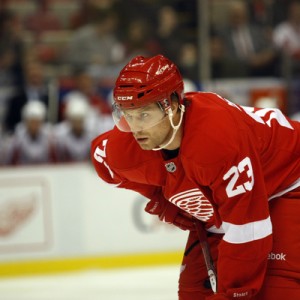 2/26/2008 – Detroit acquired Brad Stuart from Los Angeles for a 2008 2nd round pick (Peter Delmas) and a 2009 4th round pick (Ben Chiarot).
Back at the 2008 NHL Trade Deadline, Holland and the Red Wings added the final piece to the puzzle when they acquired veteran defenseman Brad Stuart from the Kings. Stuart paired perfectly with Niklas Kronwall and helped the Red Wings capture the 2008 Stanley Cup.
Minnesota
N/A
Since their inception, the Minnesota Wild have yet to complete a trade with the Red Wings.
Montreal
2/2/2008 – Detroit acquired Francis Lemieux from Montreal for Brett Engelhardt.
In a minor league deal, acquired center Francis Lemieux from the Canadiens. Lemieux would finish the 2007-08 campaign with the Griffins and play two additional seasons in Grand Rapids before signing on with the ECHL's Las Vegas Wranglers.
Nashville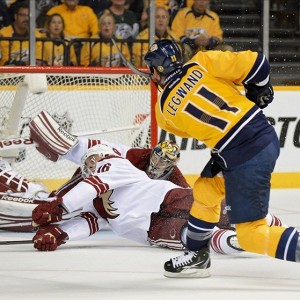 3/5/2014 – Detroit acquired David Legwand from Nashville for Calle Jarnkrok, Patrick Eaves, and a 2014 3rd round pick (Julius Bergman).
Grab your Vernors, Red Wings fans – this is one trade we want back. After joining the Red Wings, David Legwand joined Gustav Nyquist and Johan Franzen on the top line and helped Hockeytown reel off a few victories. But once the playoffs rolled around, Legwand was nowhere to be found. Calle Jarnkrok has been a great middle-six forward for the Predators since and Patrick Eaves has become a 20-goal scorer in Dallas.
New Jersey
3/2/2015 – Detroit acquired Marek Zidlicky from New Jersey for a conditional 2016 3rd round pick (Connor Hall).
Needing a right-handed shot on the blue line, the Red Wings made a move to acquire defenseman Marek Zidlicky from the Devils. After joining the Wings, Zidlicky posted 11 points in 21 games and added an assist in five playoff games before suffering a concussion against the Lightning.
New York Islanders
5/26/1991 – Detroit acquired Alan Kerr and future considerations from New York for Rick Green.
Among the 29 other NHL franchises, it has been the longest time since the Red Wings and Islanders agreed on a deal. Just after Detroit's first playoff appearance as part of their 25-year run, the Red Wings shipped defenseman Rick Green to Long Island for winger Alan Kerr.
[irp]
New York Rangers
3/3/2010 – Detroit acquired Jordan Owens from New York for Kris Newbury.
In another minor league swap, the Red Wings acquired forward Jordan Owens from the Rangers. Owens would finish the year with the Griffins and play an additional season in Grand Rapids before signing with the Connecticut Whale.
Ottawa
6/24/2011 – Detroit acquired two 2011 2nd round picks (Tomas Jurco and Xavier Ouellet) from Ottawa for a 2011 1st round pick (Matt Puempel).
Apart from Xavier Ouellet, none of the draft picks really panned out here. Tomas Jurco requested a trade from the Red Wings earlier in the season and Matt Puempel played parts of three seasons with the Senators before being claimed off waivers by the Rangers.
Philadelphia
3/30/2013 – Detroit acquired a conditional 2014 7th round pick from Philadelphia for Kent Huskins.
After signing Kent Huskins as emergency defensive depth during the Lockout-shortened 2012-13 season, the Red Wings moved the veteran blueliner to the Flyers for a conditional pick. Since Huskins did not re-sign with Philadelphia after the season, Detroit ended up receiving nothing in return.
Pittsburgh
3/9/2006 – Detroit acquired Cory Cross from Pittsburgh for a 2007 4th round pick (Alex Grant).
In yet another Ken Holland deadline deal, the Red Wings brought in defenseman Cory Cross as insurance ahead of the 2006 playoffs. Cross played 16 games with the Red Wings after the trade and registered two points. He did not appear in Detroit's first round matchup with the Oilers and signed with a German team later that summer.
San Jose
5/26/2016 – Detroit acquired Dylan Sadowy from San Jose for a 2017 3rd round pick.
When it looked like San Jose wouldn't be able to sign their former 2014 3rd round pick, the Red Wings jumped in and acquired Dylan Sadowy from the Sharks. Sadowy signed with Detroit and has spent most of this season with the Griffins.
St. Louis
6/27/1998 – Detroit acquired a 1998 2nd round pick (Ryan Barnes) and a 1998 4th round pick (Brent Hobday) from St. Louis for a 1998 2nd round pick (Maxim Linnik).
At the 1998 NHL Entry Draft, the Red Wings acquired an extra 4th round pick from the Blues after St. Louis traded up in the 2nd round. Detroit's 2nd round pick, Ryan Barnes, would later play two games with the Red Wings during the 2003-04 season. Neither Brent Hobday nor Maxim Linnik would crack an NHL lineup in their respective careers.
Tampa Bay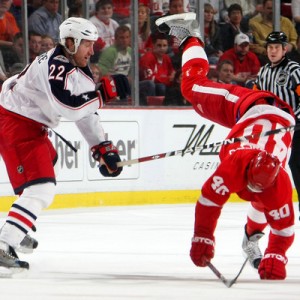 2/27/2012 – Detroit acquired a conditional 2013 7th Round Pick from Tampa Bay for Mike Commodore.
After only 17 games with the Red Wings, Holland traded Mike Commodore to the Lightning for a conditional pick. Like the Kent Huskins trade, the condition did not vest and the Red Wings did not receive anything in return for Commodore.
Toronto
3/24/1998 – Detroit acquired Jamie Macoun from Toronto for a 1998 4th Round Pick (Alexei Ponikarovsky).
In their quest for a second consecutive Stanley Cup, Jamie Macoun was brought in to solidify the third defensive pairing alongside Bob Rouse, his former Maple Leafs teammate. Macoun helped the Red Wings win the Cup that year and returned for the 1998-99 season before retiring, appearing in 99 combined regular season and playoff games total.
Vancouver
9/12/2006 – Detroit acquired future considerations from Vancouver for Drew MacIntyre.
Early in the 2006-07 season, the Canucks needed goaltending depth and struck a deal with the Red Wings. Drew MacIntyre was Detroit's former 2001 4th round pick, but was stuck behind Jimmy Howard and Joey MacDonald on the minor league depth chart.
Washington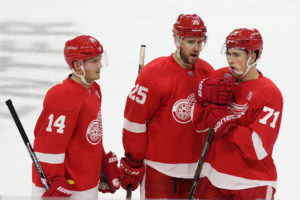 2/27/2004 – Detroit acquired Robert Lang from Washington for Tomas Fleischmann, a 2004 1st round pick (Mike Green), and a 2006 4th round pick (Luke Lynes).
It's rare to see a mutually beneficially trade deadline move. Back in 2004, the Red Wings acquired Robert Lang—the NHL's leading scorer—to strengthen an already strong forward group. In return, the Capitals received Tomas Fleischmann, who had a serviceable career in Washington, and Mike Green, one of D.C.'s best offensive defensemen in franchise history.
Winnipeg
3/19/2002 – Detroit acquired Jiri Slegr from Atlanta for Yuri Butsayev and a 2002 3rd round pick (Jeff Genovy).
Another defensive depth deadline deal? You bet. After acquiring Jiri Slegr from the then-Atlanta Thrashers, the Czech blueliner played eight regular season games with Detroit at the end of the 2001-02 season and one playoff game that postseason. His single playoff game? The Stanley Cup-clinching Game 5 of the finals against the Hurricanes after Jiri Fischer was suspended.
All trades can be found on NHLTradeTracker.com.
Which Detroit Red Wings trade was the best? The worst? Comment below with your picks.