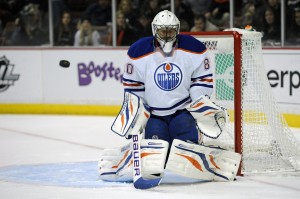 The Edmonton Oilers started 2014 with back-to-back losses to the Sharks and Ducks respectively, in which they allowed five goals in both games. They went on to beat the Tampa Bay Lightning at home for their first win of the New Year but followed it up with another loss to St. Louis. The Oilers have now allowed 42 more goals than they've scored. Their newest acquisition in goal, Ilya Bryzgalov, hasn't been bad, but he hasn't exactly been lights out either as the team's defense continues to struggle. When you add consistent scoring droughts to that, you have a recipe for disaster, which accurately describes the Oilers this season.
Controversial Goal has Oilers Singing the Blues
The Oilers didn't get one powerplay last night against St.Louis, which drew the ire of coach Dallas Eakins, but it was a lengthy goal review that got most of the attention. Maxim Lapierre scored the go-ahead goal for the Blues, but at first glance it looked as though the puck went through the side of the net. Upon further review, the NHL deemed it a good goal. The Oilers seemed to be convinced it didn't go in, but the goal counted. And it was the right call.
Mark Arcobello was able to the tie the game a few minutes later, but the Blues pulled away midway through the second period and the Oilers couldn't recover. You could blame the uncalled penalties in this one, or point to the fact that the Blues are the superior team. The Oilers were in this, but couldn't hold it together. Coach Eakins focused on the missed calls, because really what else can he say that hasn't already been said? Evidently the 8am practice on Monday morning didn't do much good.
Hall Misses the Olympic Call
January 7th didn't start off that well for one Oiler in particular. After finding out Ales Hemsky, Anton Belov and Martin Marincin made their respective Olympic team, Taylor Hall got the word that he didn't make it. It was a stretch from the get-go for Hall to play for his country. Canada has the deepest pool of NHL talent, and could ice two full teams of gold medal contenders. Hall was disappointed, but life must go on.
"The Olympics are such a great stage and to be able to represent your country on that stage with all the other Olympians is such a special thing. Knowing that this might be the last time certainly stings a bit. Knowing that this might be the last time there's going to be (NHL) players at the Olympics is certainly a tough pill to swallow. I had a voice mail from Brad Pascal saying I've had a good season so far but they didn't select me for the team. Obviously not a great phone call, but one that I was kind of expecting." [Edmonton Sun]
Hall is currently 12th in league scoring, but playing on a terrible team and struggling with his own defensive game made him a long shot at best.
"It's a sad day. We're choked. There is a grieving process." Dallas Eakins on Taylor not making the Olympic team

— Gene Principe (@GenePrincipe) January 7, 2014
Dallas certainly has a way with words. Here's hoping next week is a little better for the Oilers, who have games against the Penguins and Blackhawks on the weekend. Here's hoping.
Marcy, a former hockey player, is a hockey correspondent on CTV News and TSN radio. She began her career as a Sports Journalist in 2009 and has been part of The Hockey Writers since 2010, where she is currently a senior writer and editor.