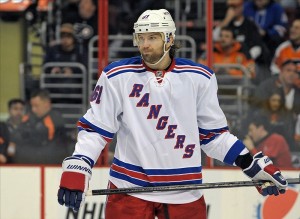 New York Rangers forward Rick Nash is one of 25 skaters that will represent Canada at the Olympics in February, as he was named to Team Canada on Tuesday morning. He was given a spot on the roster despite his low scoring, uncharacteristic first half of the season that has seen him post just 18 points through 27 games played. Despite his offensive struggles of late, Nash will undoubtedly fit right in with his teammates in Sochi, as the veteran winger continues to be one of the best power forwards in the game.

It is expected that Nash will snap out of his slump in time for the Olympics, but in the meantime, he is on a Rangers team that needs him to find his Olympic caliber play as soon as possible. The Rangers need Nash to fill the role they expected him to when they acquired him from the Columbus Blue Jackets in the 2012 off season. When Nash joined the Rangers, he seemed like the perfect addition to a team in need of another goal-scorer. The winger, now in his 11th season in the league, has finished seven of his ten seasons in the league with 30+ goals, including two 40+ goal seasons. If the past is indicative of future performance, one would assume that Nash will be one of the core players in the Rangers lineup for seasons to come.
Noticeably low numbers
Rangers fans and management alike have a relatively small sample size to look at when it comes to Nash's play as a Blueshirt and what his future with the team looks like. Due to last year's lockout-shortened season and various injuries that have sidelined him for weeks instead of days, Nash has yet to play a total of 82 games with the Rangers. Across his two seasons in New York he has played a total of 71 games in a Rangers uniform, 11 games shy of the 82 game mark that would represent a full regular season.
In those 71 games, Nash has tallied a total of 60 points: 30 goals and 30 assists. Nash finished last season with a solid 21 goals and 21 assists in 44 games for a total of 42 points, good for second on his team in scoring behind Derek Stepan who finished the shortened season with 44 points. This season, Nash is not meeting expectations on the score sheet. Despite the small sample size as a Blueshirt, his below average point production in his second season with the team is not something that the Rangers expected to see when they acquired him.
Nash has 9 goals and 9 assists through the 27 games he has played this season. He has a total of three multi-point games, and has one multi-goal game which came on Monday night when he scored two power play goals in the team's 4-3 shootout loss to Columbus. Before his two goal night at home against Columbus, he had scored one goal in his last 11 games. He scored three goals in the month of December.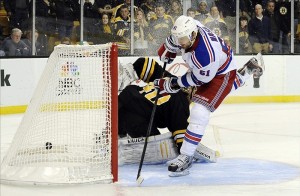 To put his slump into perspective, through his first 27 games last season, Nash had seven multi-point games, six of which came during a 10 game point streak that saw him post 16 points in 10 games. Before playing Columbus on Monday, Nash had 16 points in 26 games.
Looking at this season's numbers, it is evident that Nash is enduring one of the coldest first-half's to a season in his career. If he doesn't heat up soon, Nash could finish the 2013-2014 season with less than 50 points, something that has not happened after an 82 game season since his rookie year when he finished with 39 points in 74 games.
Nash's lack of production would be less noticeable if the Rangers were scoring enough goals to win games on a consistent basis. Unfortunately for Nash, the Rangers are 24th in the league in goals scored with 105 and are averaging 2.39 goals per game, magnifying his scoring woes.
Looking past the point total
Not everyone should be so quick to jump on the "Nash is struggling and not producing" bandwagon, if there is such a thing. While he has not been scoring, he has been finding other ways to contribute by using his size and strength to create space on the ice for linemates Derek Stepan and Chris Kreider. His ability to stickhandle through the offensive zone, make plays behind the goal line, and work the puck along the boards creates opportunities for his teammates to score from the slot and around the net. These kinds of contributions are what secured him a spot on Canada's Olympic roster.
"The Olympics. .it's bigger than people think…and when you strap on the red & white the expectation is always gold"-Rick Nash #NYR

— New York Rangers (@NYRangers) January 7, 2014
Nash has admitted in the past that he is a streaky player at times, however he is also confident in his ability to help out his team in different ways while he waits to break out of his scoring slump, saying: 
"I always found myself to be a streaky player, and right now, things just aren't going in, but hopefully they'll start (going in) soon. (When I'm not producing), I try to help the team in any way, whether it's making a good defensive play, blocking a shot, creating momentum."
The reasons for Nash's struggles are unknown, but the abrupt decline in points this season is alarming. Perhaps Nash is still working to get back in shape after returning from the concussion that kept him sidelined for 17 games, or maybe he is still adjusting to his linemates and the new system that head coach Alain Vignault has put in place. Maybe he is just experiencing an unusually long stretch of bad luck.

Regardless of why Nash isn't matching previous point totals, with under half a season left to play he will need to start tallying points again soon, not only to solidify his spot on the Rangers' top line, but to help his team win games. Only then will he silence critics and prove that he is the goal-scorer the Rangers expected him to be, and that he deserves to skate in Sochi come February.