The Edmonton Oilers are four games into their 2016-17 season and have surprised many with a 3-1-0 start. A significant portion of that success can be attributed to the Oilers' new top line led by Connor McDavid who also leads the team in scoring with six points. McDavid's currently sitting tied for fifth in league scoring and just two points away from leading the entire league. If McDavid were to win the NHL scoring race this season, he'd be the first Oiler to win the Art Ross since Wayne Gretzky in 1986-87. Gretzky led the league that year with an astounding 183 points.
That's not the only big news coming out of Edmonton. On Monday there was a huge kerfuffle about the Oilers opting to change a mandated day off in the Collective Bargaining Agreement so they could get back onto the ice and focus after getting thumped by the Buffalo Sabres 6-2 on home ice. At the end of the day, there are two camps to this. Many questions arose from this naturally. Are the Oilers that shaky mentally that they had to get back onto the ice after getting blown out? Why do this just three games into the year? Did the Oilers set a rickety precedent for other franchises to follow?
At the end of the day the Oilers got back onto the ice the next day and won, so does it even matter?
There are plenty of other headlines making their way in Edmonton, including several injury updates. Here is your latest Oilers news for the middle of October to chew on.
RNH Continues to Struggle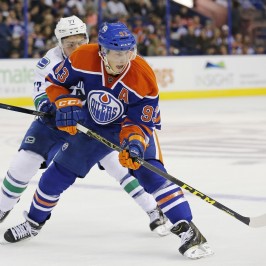 Nugent-Hopkins is having a tough start to the season while centering the Oilers second-line. Through four games the 23-year-old has just one assist while playing on a line with Benoit Pouliot. The duo has just one goal between them and has seen Anton Slepyshev and Zack Kassian rotate through on the right side.
While averaging 17:38 time on ice per game including usage on both special teams, RNH has struggled to get any real consistent offense going. There are stretches throughout these games where he's been the best Oiler outside of Connor McDavid, but the results aren't there. The center is doing a lot of small things right, but the line seems to find itself more on the perimeter.
Related: Nugent-Hopkins Player Profile (RotoWorld)
With McDavid the undisputed top center on the team and drawing the opposition's top defense pairings, the thought is that both RNH and Leon Draisaitl would get some more favorable defensive matchups and thus produce more offensively.
That hasn't been the case thus far and even though Edmonton is off to a 3-1-0 start, it's mainly due to the offensive production of the first and fourth lines respectively. There are no easy nights in the NHL, but the Oilers have a favorable October schedule that sees them play seven games against non-playoff teams from 2015-16. This hasn't been a large issue, but it's a matter that's starting to bubble, especially if Edmonton begins to stumble. If RNH and the second-line don't start producing the team will get exposed for relying too much on that McDavid, Milan Lucic, and Jordan Eberle line.
Talbot Turning a Corner?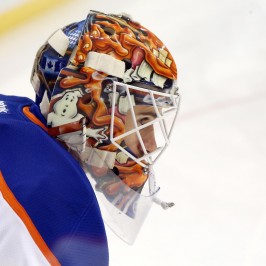 The Oilers paid a hefty price two summers ago when they acquired Talbot from the New York Rangers. He had an inconsistent year behind the Oilers continued struggles but emerged as a legitimate NHL starting goaltender.
Talbot and the Oilers are expected to take a big step forward this year finally, and the 29-year-old new father of twins might be turning a corner. After three shaky starts to the year against Calgary and Buffalo, Talbot bounced back with a big time performance against Carolina in a 3-2 win on Tuesday night.
Related: Talbot – A Tale of Two Cams
His stat line after four games currently reads at three wins, a 3.93 goals against average, and 0.886 save percentage. Of the 54 goaltenders that have suited up this season, Talbot sits 21st and 27th in both categories. Much of that has to do with a solid 31 save performance against Carolina, before that he was much lower in the ranks. Much of the outcry in the first three games of the year was the inconsistency in Talbot's game such as bad rebounds, poor positioning, and some soft goals.
Edmonton might've found their starter in Talbot. They gave him a three-year deal last January, but it's going to take more than one game for him to convince everyone in Oil Country that he can be a more consistent starter for a team that desperately needs to climb out of the NHL basement.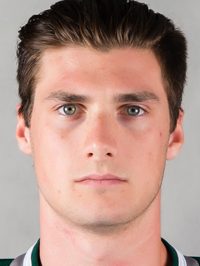 Betker Re-Called from AHL Condors
Sounds like #Oilers will re-call Ben Betker to fill injured Fayne's spot on roster. Likely indicates McLellan plans to go w Gryba as 6D.

— Kurt Leavins (@KurtLeavins) October 19, 2016
Last year the Oilers lost over 360 man games to injury, this season they're already at 16. The defense has been hit hardest with Andrew Ference, Brandon Davidson and now Mark Fayne on the injured reserve. This has led to the Oilers recalling Ben Betker from the American Hockey League's Bakersfield Condors.
The 22-year-old is getting his first taste of NHL action if he suits up. A former 2013 sixth-round pick, Betker put up 17 points in 49 ECHL games with the Norfolk Admirals and had a short 14 game stint with the Condors in the AHL.
Related: Oilers Recall Ben Betker
A towering defender at 6'6″, 230 pounds, he's a raw prospect that has some shutdown abilities, is tough in his end and has decent positional skills. Here's his talent analysis from Hockey's Future:
Betker is a bit of a throwback defenseman. A big, tough player in his own end and willing to drop the gloves when the need arises, he is willing to do whatever it is necessary for his team to win. His skating is still in need of workand his offensive upside is not particularly noteworthy; though he does join the attack on occasion and has a decent shot from the point. He plays a shutdown-style defensive game and has reasonably sound positional skills.

– Hockey's Future
Betker could potentially make his debut with the Oilers on Thursday against the St. Louis Blues in the third-pairing with Darnell Nurse unless head coach Todd McLellan decides on throwing his defense pairings into a blender. Eric Gryba is currently playing as the Oilers' sixth defenseman.
Injury Report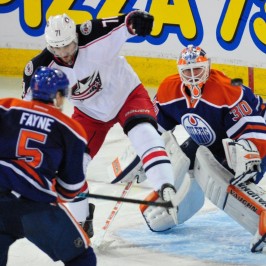 The Oilers have seven players on the IR, including Ference (long-term IR). In goal, Jonas Gustavsson is still day-to-day with an upper-body injury but could be the closest to returning according to McLellan after a media scrum.
The rest? McLellan stated Iiro Pakarinen, Matt Hendricks, Brandon Davidson and Drake Caggiula could potentially be out for a few more weeks. The Oilers have been quite vague regarding the injuries opting to list injuries on their official website as upper or lower-body injuries, a change from recent history in their protocols.
Related: Oilers Official Injury Report
The latest addition to the IR is defenseman Mark Fayne, who is out indefinitely now with a lower body injury. Fayne has two years left on his contract at $3.62 million. The 29-year-old found himself as the team's seventh defenseman losing regular minutes thanks to the additions of Adam Larsson and Kris Russell. When healthy, the Oilers could potentially deal him but will be hard pressed to move his contract.