While it certainly hasn't always been pretty, the Edmonton Oilers have managed to do exactly what they needed to during the opening week of their 2016-17 season. Outside of an ugly showing against the Buffalo Sabres on Sunday night, this group has found ways to win hockey games and take advantage of what is arguably the easiest October schedule this organization has seen in ages. However, that will change this evening as Ken Hitchcock, Nail Yakupov and the rest of the St. Louis Blues pay their first-ever visit to Roger Place.
Looking good, Winnipeg! Watch the time-lapse of the #HeritageClassic rink getting built this week ▶️ https://t.co/TIlMd0vCJk pic.twitter.com/qq1KF7A7l2

— Edmonton Oilers (@EdmontonOilers) October 20, 2016
After taking care of business against the Calgary Flames twice in the first three days of the season, Edmonton made it three wins in four tries after edging the Carolina Hurricanes by a score of 3-2 on Tuesday night. Not too shabby of a start but the Oilers are about to enter their toughest three-game stretch in the month of October. It'll be the Blues this evening, followed by the Winnipeg Jets at the 2016 Heritage Classic on Sunday afternoon and a visit from Alex Ovechkin and the Washington Capitals on Wednesday, October 26.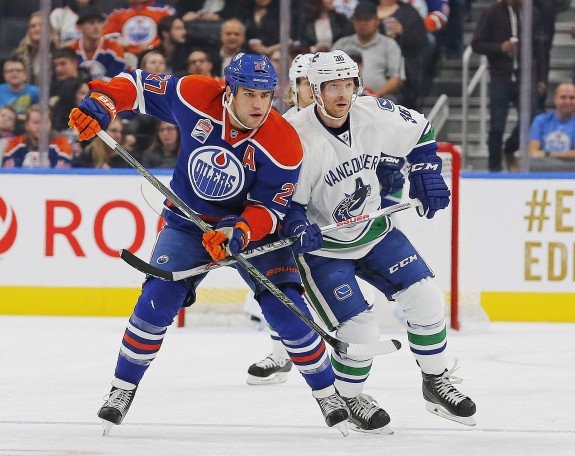 Oilers Need to Build on Quick Start
Far from a murderers row but when you close out the month with games against the Vancouver Canucks and Ottawa Senators, this is as tough as it'll get for the Oilers over the next couple of weeks. In the grand scheme of things, we are talking about a handful of nights over the course of an 82-game schedule but it certainly is an opportunity for Todd McLellan's crew to show what they are made of. After all, if the hope is to try and push for a playoff spot in the Western Conference, holding their own against quality teams will be an absolute must.
Related – Did Todd McLellan Overreact?
So it begins tonight and it'll be interesting to see how Connor McDavid holds up against one of the league's premier defensive sides. After torching Calgary for six points in his first two games, No. 97 has been kept off the scoresheet against both the Sabres and Canes, two of the weaker teams in the NHL. To be fair, he has been creating chances but not been given nearly the same kind room to roam that the Flames granted him. You can bet that did not go unnoticed by the Blues or their head coach.
Beautiful day in Edmonton! New rink is sick! Congrats to the city you deserve it! @EdmontonOilers Always nice to be back in town!

— David Perron (@DP_57) October 19, 2016
Over the last number of seasons, St. Louis essentially toyed with the Oilers for fun, as David Backes and Co. pushed them around and ultimately did whatever they wanted on the ice. With that said, that shoe might now be on the other foot with Backes playing for the Boston Bruins and Edmonton carrying a far heavier lineup with the likes of Zack Kassian, Milan Lucic, Patrick Maroon and Darnell Nurse. By no means is that to suggest this group is in the clear to do whatever they'd like but the days of being physically intimated are a thing of the past.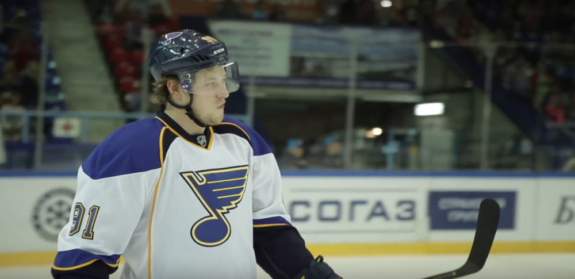 Blues Tend to Have Oilers Number
With that aspect of the game now in their rear-view mirror, the Oilers can now focus on finding a way to beat Vladimir Tarasenko and the rest of the Blues on the scoreboard but it won't be easy. From top to bottom, St. Louis is been one of the deepest teams in all of hockey over the last numbers of seasons and this year appears to be no different. Looking at the two rosters would suggest Edmonton could be in tough yet again but with a few early wins under their belt, chances are this club has never been this confident heading into a matchup with the 2016 Western Conference Finalists.
Related – Oilers' Yakupov Failure a Two-Way Street
After coming off an outstanding performance in leading the Oilers to a victory over the Hurricanes, netminder Cam Talbot was a busy man yesterday, as his wife Kelly gave birth to twins late Wednesday afternoon. By the sounds of it, the 29-year old puck stopper is still scheduled to be in between the pipes against the Blues but don't be surprised if his mind is elsewhere. With that said, perhaps McLellan goes a different direction and starts youngster Laurent Brossoit and uses it as a rallying point of sorts for his squad. Regardless of what direction they go, their goaltender is going to have to be on his game.
Nail Yakupov is back in #yeg ahead of the #Oilers/Blues game Thursday night, and he wants 2 points https://t.co/8fhOVNgmPJ

— Global Edmonton (@GlobalEdmonton) October 19, 2016
No matter how you look at it, tonight's tilt will be the first real test for the 2016-17 Edmonton Oilers and their response to said challenge will be interesting to watch unfold. While the masses will be focused on the return of recently departed Nail Yakupov…all that truly matters is how this group responds to playing a team as good as the St. Louis Blues. Should they manage to find a way to walk away with two points in their back pocket, and look convincing in doing so, it could go a long way in helping this club take advantage of their early season schedule.