If nothing else, it has certainly been an interesting start to the 2016-17 season for the Edmonton Oilers. After laying the boots to the Calgary Flames in a home and home set to kick off the year, Todd McLellan's side were brought back down to earth courtesy of the Buffalo Sabres on Sunday evening. While goaltender Cam Talbot had a night to forget in between the pipes, Dan Bylsma's squad did a fantastic job of containing Connor McDavid and Co. in cruising to an easy 6-2 over at Rogers Place.
"We just got kicked right between the legs & we deserved it." #Oilers suffer first loss, 6-2 to Buffalo: https://t.co/glnddAFM6M pic.twitter.com/Wu8jWecd5u

— Edmonton Oilers (@EdmontonOilers) October 17, 2016
As disappointing as last night's listless performance may have been, one would have thought that three games into a brand new season that cooler heads would prevail. Instead, we were treated to an Oilers fan base going a little nutty on Twitter over the play of Talbot and McLellan ripping his players during his post-game news conference. All this over one loss for a team most hockey pundits are expecting to miss the post-season for an 11th consecutive year. Can you say overreaction?
Accountability, Accountability, Accountability
Accountability is a word that has been used quite bit in this neck of the woods over the last ten years and generally not a positive manner. In the eyes of most fans, there has been a lack of accountability from the top of the organization right down to the players on the bench. From an organizational point of view, my guess is the feeling is not much different and apparently this year's edition of the Oilers will have none of it. Again, seems odd for the third game of a season but let's not forget who we are talking about here.
Related Article: Oilers' Yakupov Failure a Two-Way Street
To suggest this fan base is frustrated with how things have played out over the decade would be putting it nicely. After sitting through one horrific campaign after another and continually being sold a bill of goods that never came to fruition, these fans are at their limit. While the addition of McDavid and a front office shakeup bought this organization a little more time, that ship has sailed. At this stage of the game, the minimum expectation is to see genuine progression both on the ice and in the overall standings.
https://twitter.com/NHLbyMatty/status/787341401142865920
With that being the case, it should have come as no surprise that Oilers Nation was abuzz following their team's thrashing of the Flames to start the year. After all, hard to be disappointed with 12 goals in two games, six-points from No. 97 and two early wins to kick off 2016-17. That said, last night's overreaction to what was an awful showing from the club and dreadful outing for their netminder should have also come as no real shock. An understandable reaction from a fan base as starved for success as this one.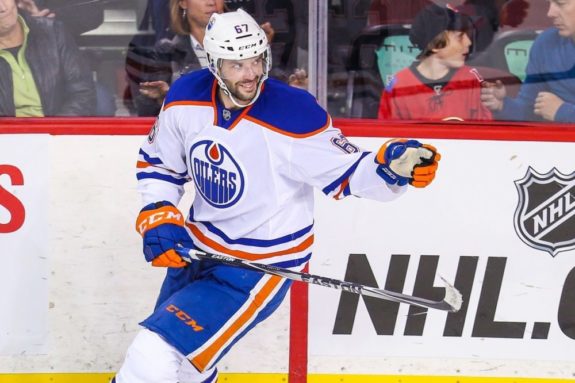 Sending a Message Via Benoit Pouliot
In the grand scheme of things, is it the end of the world that Benoit Pouliot took five minor penalties over his last four periods of hockey and Talbot could not stop a thing after allowing a dump in to sneak past him early in period two? Not at all but in this market, one bad game causes most to think back to yesteryear and who could blame them. Oilers' goalies have made a habit of being terrible in October for the last number of seasons, which included Talbot's early struggles in 2015-16. Yes, it was an awful showing across the board but we are talking one game.
Related Article: Talbot Needs Strong Start
While an overreaction from a fan base early in a season is understandable, it was a little surprising to see it come from the head coach. Make no mistake, Edmonton got the result they deserved but was it necessary for McLellan to unload both barrels on the group this early in the season? As usual, the focus was back on accountability and rightfully so. However, why waste one of those bullets three games into a season in which your team has gone 2-1 and scored 14 goals? Again, seems a tad misguided.
Tough night for Talbot for sure, but the Oilers were all-in together on this stinker from the get-go. Got smoked and deserved it!

— Bob Stauffer (@Bob_Stauffer) October 17, 2016
Have the Oilers had their issues? They most certainly have but this is a flawed roster that is not going to play mistake free or clean hockey on most nights. McLellan is no dummy…he is well aware of this. Which is what makes last night's approach all the more curious. Tonight's over the top post-game, coupled with a couple of similar outbursts during the pre-season and it's become rather obvious that something about this roster doesn't sit well the former San Jose Sharks bench boss.
In fact, even his benching of Pouliot over the final two periods of play, while completely understandable, in my mind, was questionable. At the time of the benching, the score was 2-2 and the game was still within reach so why send that kind of message at that time? By all means, sit him for a few shifts but two periods? If the game ultimately goes down the same path it did, sit him for the third and even consider putting him in the press box against the Carolina Hurricanes on Tuesday.
"I knew it was coming. I have to be smarter." Pouliot on being benched for final 40 minutes after taking two penalties.

— Jason Gregor (@JasonGregor) October 17, 2016
Add to that the coaching staff's decision to skip today's NHL and NHLPA mandated scheduled day off in favour of a practice and suddenly things start to look as though they are starting to unravel before anything really got started. All this thanks to an overreaction less than a week into the season.