It was by no means a perfect performance but the Edmonton Oilers could not have asked for the opening of their new shiny barn to have gone much better than it did.  With the anticipation surrounding the official unveiling of Rogers Place at a fevered pitch, the team did not disappoint by handing the Calgary Flames a 7-4 thumping to ring in another NHL season.  Not surprisingly, Connor McDavid led the offensive barrage in what turned out to be a night much of Oilers Nation won't soon forgot. It may have only been one night but it was one this fan base was starving for.
Last night's #Oilers game-winner came via the penalty shot, as @cmcdavid97 sent the @RogersPlace crowd into a frenzy. pic.twitter.com/sO1QkctG94

— Edmonton Oilers (@EdmontonOilers) October 13, 2016
As nice as it was to watch this team explode for seven goals against their provincial rivals, expecting that kind of outburst on a regular basis would be just a tad unrealistic. With that being the case, Edmonton has made a habit of getting off to slow starts on an annual basis and the hope is they will change that trend in 2016-17. While all eyes will be focused on McDavid on a nightly basis, the play of netminder Cam Talbot could ultimately determine whether or not this group can finally get that early season monkey off their collective backs.
Oilers Didn't Need Talbot in Opener
Now, if the 29-year old's performance against Calgary is what we can expect to see from him over the first month or so of the season, the Oilers could be in deep trouble. With that said, reading too much into one game, good or bad, is never a wise thing to do.
While he was average at best in the opener, Brian Elliott was downright awful in his debut for the Flames and ultimately cost his team any shot of earning two points. Not an ideal opening act but at the end of the day, all a goalie needs to do is be better than the guy at the other rink on game night and that is exactly what Talbot managed to do.
Related – Is Cam Talbot a Top Ten NHL Goalie?
That wasn't the case to start 2015-16 and this team can ill-afford a repeat performance in 2016-17. Despite his early struggles, one can only describe the Caledonia native's initial season in Orange and Blue as an overall success. Considering how flawed last year's Oilers roster was, his overall numbers weren't too shabby. From a statistical standpoint, (21-23-7, 2.55 GAA, and .917 SV %), Talbot saw his totals decline from the previous year with the New York Rangers, (21-9-4, 2.26 GAA, .926 SV %), but that should have been expected.
UPDATE: It's official. Cam Talbot signs 3-year extension with #Oilers. https://t.co/lVEjcoGHTs pic.twitter.com/IlXVc4ZHwS

— Sportsnet (@Sportsnet) January 17, 2016
Yes, there was a drop in overall numbers but when you take a look at his totals from mid-December through to the end of the season, suddenly those totals do not look so far off. After reclaiming his role as the Oilers No. 1 netminder on December 14, with a 47-save performance in Boston against the Bruins, Talbot proceeded to go 18-19-4 with a 2.34 GAA and .925 SV % over his final 43 appearances.  To my eye, those numbers look eerily similar to what he produced with Rangers but did so with a far inferior side in 2015-16. Now it's just a matter of seeing whether or not he can do it from start of a season.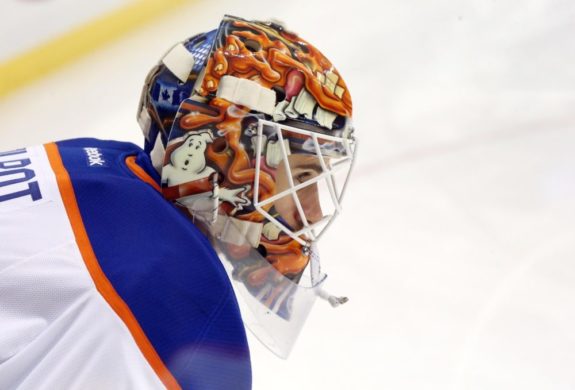 Opening Month Could Make or Break Season
His performance down the stretch earned Talbot a three-year, $12.5 million deal to be this club's starter for the foreseeable future and it'll be up to him to prove that it was money well spent.
From an organizational standpoint, outside of Nikolai Khabibulin's ridiculous month of October to kick off the 2011-12 season, in which he carried them to first place in the Northwest Division with a league best 1.12 GAA and eye-popping .960 SV %, Oiler netminders have made a habit of putting their team behind the eight-ball early in seasons. Last year was no exception, as Talbot lost his starting gig to Anders Nilsson on Halloween night and was unable to wrestle it back for the better part of six weeks.
Related – Oilers, Chiarelli Should Have Known Better
Unfortunately, by that point, Edmonton's season was essentially a lost cause but that did not stop the University of Alabama alum from finding his game and seizing the opportunity he was handed. This organization has essentially handed Talbot the keys to the car and are expecting him to run with it.
Unlike previous years, the Oilers have a rather favourable schedule for the month of October and seem primed to take advantage of it. With six of their first nine games scheduled for Rogers Place and seven of them coming against teams who missed the playoffs in 2015-16, there is absolutely no reason for this team to not get off to a good start in their new digs.
Cam & Connor. 👌 #CGYvsEDM pic.twitter.com/pQCezyr7fK

— Edmonton Oilers (@EdmontonOilers) October 13, 2016
With that said, should Cam Talbot need time to work some kinks out of his game to start the year, the Edmonton Oilers may miss out on their one chance to pad their point total and that is something this group can simply ill afford to do.
While expecting them to earn a playoff spot in the Western Conference could be asking a little much, staying in contention throughout the season is an absolute must. Again, in order to have any hope of accomplishing that goal, the next few weeks will be critical and the play of their starting netminder could ultimately prove to be the difference.