With the deadline for roster finalization fast approaching, the Edmonton Oilers have made a flurry of moves, and they might not be done. A lot can be said for the job Oilers general manager Peter Chiarelli has done over the last two years, but at the end of the day what'll matter the most are wins. If you take into consideration it took 87 points for the Minnesota Wild to claim the last wild card spot in the Western Conference, we're looking at a near 17 point improvement for the Oilers to come anywhere remotely close to a playoff spot in 2016-17.
Edmonton has to show some improvement, and it's a huge reason why Chiarelli has been so busy this off-season. Gone are the likes of Justin Schultz (trade deadline last year), Taylor Hall and now Nail Yakupov. In their place, the Oilers are somehow a deeper team on paper as they head into their season opener on October 12th. They've also signed Kris Russell to a one-year deal and have waived Anton Lander.
A decision has to be made between Mark Fayne, Eric Gryba and Matt Benning for the seventh job on defense and several Oilers are injured upfront, further complicating the matter. Here is the current depth chart up front with 13 players being named to the opening night roster and two on injured reserve (IR).
FORWARDS (13)

Milan Lucic

Connor McDavid

Jordan Eberle

Benoit Pouliot

Ryan Nugent-Hopkins

Leon Draisaitl

Patrick Maroon

Drake Caggiula

Jesse Puljujarvi

Kris Versteeg (PTO)

Mark Letestu

Zack Kassian

Tyler Pitlick

Matt Hendricks (IR)

Iiro Pakarinen (IR)
There are a flurry of moves to recap and things look to be heading in the right direction finally. That said, Oiler fans are wary of truth serum and the magical world of make believe they've been fed for years. Edmonton is one of the more demanding fanbases in the league and rightfully so, they haven't seen a playoff game since June 2006. The Oilers fanbase is long overdue for some success, things might finally be turning around.
Without further adieu here is your latest Oilers news and notes.
Yakupov Trade Fallout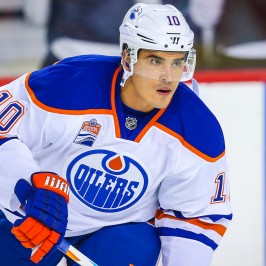 #Oilers acquire 2017 conditional third-round #NHLDraft selection & Zach Pochiro from @StLouisBlues in exchange for Nail Yakupov.

— Edmonton Oilers (@EdmontonOilers) October 7, 2016
Who'd Edmonton get in return? Zach Pochiro, a lanky power forward that was an ECHL regular and has just one AHL game to his name. Pochiro, 22, is a former 2013 fourth round pick that has had a slower than anticipated development. He was a decent scoring forward in his WHL days with the Prince George Cougars scoring 61 goals and 147 points in 169 games. Since turning pro, however, he's played just 61 ECHL games with just 30 points to show for it.
Related: Zach Who? Meet Yakupov's "Replacement" in Edmonton
A fringe prospect at best, Pochiro is a restricted free agent (RFA) at the end of the year carrying a $663,333 cap hit. Edmonton could end up cutting his loose if he doesn't pan out. That said, opportunity awaits in Bakersfield.
---
Oilers Place Lander on Waivers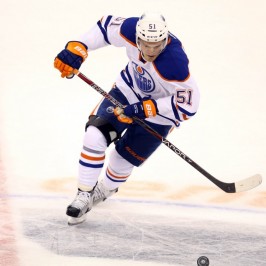 The #Oilers have placed forward Anton Lander on waivers.

— Edmonton Oilers (@EdmontonOilers) October 10, 2016
The Oilers have officially waived Anton Lander this morning, and this could signal the end for the struggling forward. The 25-year-old Swede had a forgettable 2015-16 season where he scored just three points in 61 NHL games. An unrestricted free agent (UFA) at the end of the year, Lander carries a $987,500 cap hit in Edmonton that the team can bury in Bakersfield.
Lander was a healthy scratch in 19 of the Oilers final 32 games of the season with his ice-time diminish to as low as 8:51 TOI during that stretch. The latest development in the Lander saga is unfortunate considering two seasons ago he scored 20 points in 38 games under interim head coach Todd Nelson. He's always been a bit of an anomaly after being drafted 40th overall in 2009 and being projected as a future two-way center in the NHL.
Related: Lander's Last Year with Oilers?
There are multiple injuries around the league and teams could be looking to shore up their depth. The Chicago Blackhawks just announced today that Andrew Desjardins would be out for the next 4-6 weeks with a lower-body injury, there could be a fit for Lander there. The likely scenario is that Lander is sent down to play for the AHL Condors, get some confidence and eventually when the Oilers know more about the hand their playing with in the NHL, they'll call him back up. If he plays well, the team could lose him on a recall and be stuck with half the tab with his contract. This could be the last year for Lander in an Oilers uniform.
---
Oilers Sign Russell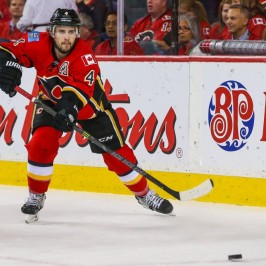 Kris Russell had to wait until mid-October to sign a deal and he somehow got a $500k raise over last year's salary. -bm #Chiarelli'd #oilers

— OilersNation.com (@OilersNation) October 8, 2016
One of the bigger headlines coming out of Edmonton this weekend was the signing of free agent defenseman Kris Russell. The 29-year-old had a strong season with a split between the Calgary Flames and Dallas Stars scoring 19 points in 62 games. The Russell deal breaks down to a one-year $3.1 million contract.
Related: Oilers Continue to Upgrade Defense, Add Russell
With the signing, the Oilers top four is seemingly set with Russell skating on a pairing with Andrej Sekera who will move to the right side.
He's been able to be successful from that point on. We see him being a puck moving d-man and it creates some speed from our back end, delivering the puck on breakouts. He's a good penalty killer, he blocks a ton of shots in front a lot. A lot of offense is created off that, knocking pucks down and get going the other way. – Oilers head coach Todd McLellan
Chiarelli has a preference to match up left and right shot defenseman in pairings and the additions of Adam Larsson and now Russell will give Edmonton a better defense than they've had in years. Considering the fact when Chiarelli took the reigns as Oilers GM the defense was Andrew Ference, Nikita Nikitin, Martin Marincin and Justin Schultz all playing time in the top four, this is a vastly improved defense from two years ago.
---
Fayne's Future with Oilers Is Questionable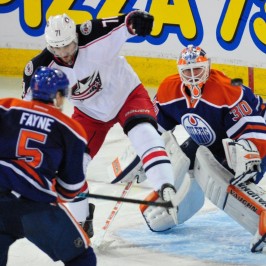 I like kris russell if Oilers sign him but also like Nurse and Davidson as 3rd pair. What do they do with Fayne who has 2 yrs at $3.5 mil?

— Jim Matheson (@NHLbyMatty) October 8, 2016
Fayne, 29, is entering the third year of a $17.5 million, four-year deal with the Oilers, but his spot on the Oilers defense in question now that the team has signed Russell to a $3.1 million one-year deal. Russell, 29, is expected to fill a top-four role on defense, a spot Fayne has held through his first two years with the Oilers.
Related: With Russell Signed, Is Fayne Out?
Edmonton's defense is already becoming a logjam. Larsson, Russell, Oscar Klefbom, Andrej Sekera, Darnell Nurse and Brandon Davidson are expected to be regulars on the Oilers defense. That leaves Fayne battling for a No. 7/8 role with Gryba, if the team signs him. Still, it's fiscally irresponsible to pay someone $3.62 million to sit in the press box, especially when the player can still play in this league.
OILERS PROJECTED 2016-17 BLUELINE
Oscar Klefbom
Adam Larsson
Kris Russell
Andrej Sekera
Darnell Nurse
Brandon Davidson
Mark Fayne
Eric Gryba (PTO)
At his best, Fayne is a decent shutdown defenseman that's looked good playing with Sekera. There's still value in the player, but the contract is a bit of an albatross. What further complicates the matter is that Edmonton has several prospects coming down the pipe that will not only push for NHL minutes, but they're prospects the organization wants to take the next step and become regulars in the Oilers lineup.
Matt Benning, Jordan Oesterle, and Griffin Reinhart will be pushing for NHL jobs shortly, and the team is already up against it in the number of contracts they have signed, 48 without any PTO players signed and with Caleb Jones and Ethan Bear (slide contracts) counting towards that total.
Time will tell, but Fayne could be the next cap casualty in Edmonton.
---
Decisions Will Be Made on Gryba, Versteeg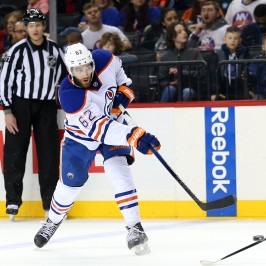 "He's still with us but he's exploring options." GM Chiarelli on Gryba's status. No updates today on Versteeg's PTO contract status.

— Edmonton Oilers (@EdmontonOilers) October 8, 2016
Regarding Gryba, it's starting to look less and less likely the Oilers will sign the journeyman defenseman to a contract. As per Chiarelli's latest press conference, Gryba is exploring his options but staying with Oilers camp until one of the two parties makes a move; sign or walk away.
Two things: 1) Edmonton signed free agent defenseman Kris Russell to play in the top four ahead of Gryba, pushing him down the depth chart and 2) Matt Benning has emerged in camp and is pressing for one of the final spots on defense. The 22-year-old rookie could start the year in Edmonton and has a bright future with the organization.
That said, Gryba was used steadily throughout 2015-16 in the Oilers lineup playing 53 games. Gryba, 28, is an NHL veteran of 218 games and there is a possibility he pops back up in the league somewhere else. Could turn into an unfortunate situation for a player that made it known this summer he wanted to be a member of the Oilers.
Just spoke with Kris Versteeg. Sounds very much like a guy with a contract agreed to in EDM. We will wait for announcement.

— Mark Spector (@SportsnetSpec) October 10, 2016
There is a spot in the Oilers top nine for a healthy Versteeg, 30, so time will tell if a deal will get in place. He was skating this morning and injuries to both Matt Hendricks and Iiro Pakarinen have opened up a spot for the NHL veteran. Versteeg had 38 points in 77 NHL games playing for the Carolina Hurricanes and Los Angeles Kings last season.