As the NHL preseason draws to a close and the dawn of a new season approaches, every team will look for a player to step up and make his mark. As one of the youngest teams in the league, the Ottawa Senators are constantly looking for their younger players to make a difference. Although a few of them were impressive enough last season, with new head coach Guy Boucher and associate coach Marc Crawford coming in as mentors, the hope is that the team's youth will be better off than in years past.
Currently, there are still a good number of players under the age of 23 fighting to make the opening roster. These players are forwards Matt Puempel, Phil Varone, Tom Pyatt and Ryan Dzingel. Among the defensemen are Thomas Chabot and Fredrik Claesson. Looking at the team's current contracts, there aren't many spots open, though injuries could always play a factor.
Forward Movement
| | | |
| --- | --- | --- |
| Mike Hoffman | Derrick Brassard | Mark Stone |
| Zack Smith | Kyle Turris | Bobby Ryan |
| Ryan Dzingel / Matt Puempel | Jean-Gabriel Pageau | Curtis Lazar |
| Patrick Varone / Tom Pyatt | Chris Kelly | Chris Neil |
If Clarke MacArthur once again misses significant time with the concussion that he suffered in training camp, that provides one more open spot on the left wing where there is currently the most opportunity.
Related: Can Boucher Take Curtis Lazar to the Next Step?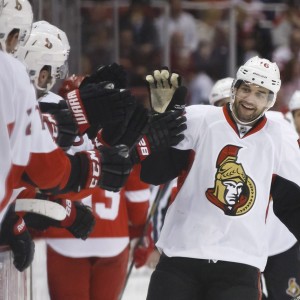 With some of Ottawa's forward injuries last year, physical centre Zack Smith received an opportunity to play an offensive role as a left winger on the second line. He responded admirably, surpassing the 20-goal mark. He helped the Senators finish ninth in league goals for, therefore it is difficult to think that the offense will struggle this season. It will be important for the team's offensive core to build on past success.
In Defence
Team defence was and will continue to be the point of concern. The defence corps will essentially remain the same as it was from the second portion of last season, with only the left side of the third pairing up for grabs.
| | |
| --- | --- |
| Marc Methot | Erik Karlsson |
| Dion Phaneuf | Cody Ceci |
| M. Borowiecki / T. Chabot / F. Claesson | Chris Wideman |
The team's high 2015 first-round draft pick, Chabot, has been showing the most promise out of his colleagues on the bubble, and many Senators fans are waiting anxiously to see him play for the team. He completed his most recent season in the Quebec Major Junior Hockey League on a fiery note, near a point-per-game pace during the regular season and exceeding that pace during the playoffs. He followed that up with a strong training camp, and it seems he will begin the season with the Senators, as the coaching staff and management will be watching him closely during the nine game trial period.
http://gty.im/612063398
After signing a bridge deal late in the offseason, Cody Ceci will need to be a key player stepping up from his role in years past. Great teams need their top four defencemen to play many minutes and factor in heavily on the scoresheet, and Ceci's natural offensive abilities will demand high expectations coming into this season.
Related: Ceci Has a Great Opportunity
A reason why management was adamant on offering Ceci a bridge deal over a long-term contract was that they expect more out of him. It is nearly as crucial for a championship team to have a solid top-four as it is for depth down the middle. If Ceci is able to make a big leap forward in his development as he nears the age of 23, Ottawa could have a top-four defence corps that rivals some of the better teams in the league.