The women's college hockey season has kicked off and it's already been unexpectedly exciting just a week into October. The top three teams from the preseason coaches poll have all been upset already. Duluth went 1-0-1 against Boston College, Ohio State managed to grab a tie against No.1-ranked Wisconsin, and Bemidji State pitched a shutout against the reigning national champions.
With an impressive class of players moving on from college hockey, including Alex Carpenter, Hannah Brandt, Shelby Ansley-Benzie, Kendall Coyne and Amanda Kessel, it's an opportunity for younger players and unexpected teams to step up and hit new heights, as many are already doing early in the campaign.
Below are six defensemen and six goaltenders poised to make a significant impact in women's college hockey this year.
Katie Burt, G, Boston College, Jr.
Burt enters her junior season having been named the Hockey East Goaltending Champion for two straight seasons, posting a save percentage over .940 in both campaigns. She was a big reason that Boston College didn't suffer a single defeat last season until the national championship.
She's been a regular on the U.S. U-22 and U-18 teams and has earned every accolade heaped on her. Despite graduating a dynamic group of forwards that made BC one of the nation's biggest offensive threats over the last two seasons, BC will still be a threat. However, their identity has shifted a bit with a strong defense and one of the nation's top goaltenders as their stalwart veterans.
Ann-Renee Desbiens, G, University of Wisconsin, Sr.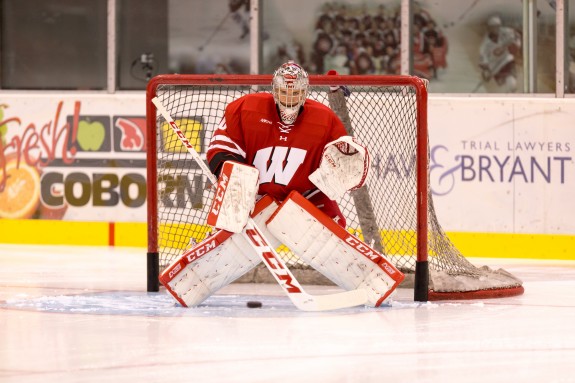 Desbiens rewrote the record books in her junior season and was named a top-three Patty Kazmaier Finalist. She was also named the 2016 USCHO Player of the Year, WCHA Player of the Year, and the conference's preseason Player of the Year for this season. All she did was set NCAA single-season records with a 0.76 goals-against average, .960 save percentage and 21 shutouts. To start this season, she grabbed her 40th career shutout, topping Jessie Vetter's Badger record. She's now just three shutouts away from Noora Räty's NCAA record.
She's the best goalie in college hockey and a big reason that the Badgers could finish the season atop the NCAA. Add her unparalleled play with returning stars like Annie Pankowski and Sarah Nurse, and it's a recipe for a team that will be very difficult to beat.
Jincy Dunne, D, Ohio State, Fr.
The defenseman almost made the U.S's Sochi Olympics team at just 16, but her career has been set back by a head injury. It forced her to sit out all of last season and it wasn't clear when she'd return. However, she returned for the season opener as an assistant captain for the Buckeyes. In her return after 581 days away, it only took her half a period to record her first career goal paired with her sister Jessica as the team's top defensive unit.
Ohio State is a team in transition, but they're proving early that they're on the upswing. A big part of that will be Dunne's ability at both ends of the rink and her poise. She's a top talent and is going to make the Buckeyes a team worth watching.
---
RELATED: Jincy Dunne Resumes Hockey Career After Head Injury
---
Micah Hart, D, Cornell, So.
Hart's not going to wind up on a ton of highlight reels. She plays a steady and reliable game. As a more defensive player, it can be tough to get the recognition that's earned, but she found the accolades in her rookie season as one of two defenders on the ECAC All-Rookie Team.
Getting her first season under her belt could help her blossom into the kind of on- and off-ice leader that she's been in the past when she captained Team Canada at the U-18 World Championship.
Her reliable play is going to make her a player worth watching as her career develops. She could quietly be a huge part of Cornell's success over the next three years.
Megan Keller, D, Boston College, Jr.
The junior defenseman is one of just two defensemen named to last year's top-10 finalists for the Patty Kazmaier award. Hockey East's Best Defenseman last season, she's among the nation's top defenders and a lynchpin of the Eagles' blue line.
She's not only a responsible defender but can put points on the board, scoring 12 goals and 52 points through 41 games last season. Again, despite the loss of dynamic forwards like Patty Kazmaier winner Alex Carpenter, Dana Trivigno, Haley Skarupa and Lexie Bender, players like Keller and Burt are going to make Boston College very tough to score on.
---
RELATED: 13 Forwards to Watch in Women's College Hockey
---
Kelsey Koelzer, D, Princeton, Sr.
Koelzer is the other defenseman that received a top-10 Patty Kazmaier finalist honor last season. She plays a more defensive game than Keller, but shoulders a ton of responsibility at Princeton and is frequently put out against opponents' top lines. It's not just the competition or the minutes, it's the fact that she's relied on in every situation. Koelzer plays power play, penalty kill and is out there any time the game is on the line.
Princeton started the season ranked in the top 10 nationally in the USCHO coaches poll and they'll be leaning hard on her. There shouldn't be any question about her abilities, but if there are doubts, her number one overall selection in the 2016 NWHL draft should give an idea of how highly regarded she is.
Sidney Morin, D, University of Minnesota-Duluth, Sr.
The top-pairing defenseman is off to a hot start. She's consistently contributed just under a half point per game for Duluth in her three years, but with more responsibility this season, she could shoulder a larger offensive role (even though she lead all team defensemen in points last year) in addition to her duties as a steadfast defender.
Her second season in a leadership role, her first as a co-captain, isn't just about it being her team, but about her last shot to lead this team to success. The Bulldogs could surprise, as they did last season when they were the only team in the conference tournament to upset a higher-ranked team. They started this year by going 1-0-1 against Boston College. Morin and forward Ashleigh Brykaliuk taking starring roles in Duluth could help the team to a surprisingly successful season.
Brittni Mowat, G, Bemidji State, Sr.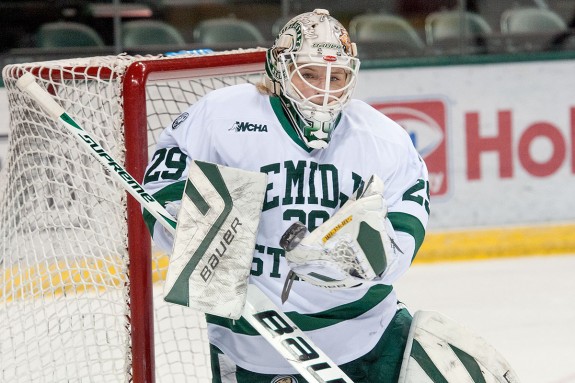 The Beavers have a tough task ahead of them. Last season, they set a school record with 22 wins and entered the WCHA tournament ranked third in the conference before getting upset by Duluth. They graduated a lot of their top players, but Mowat returns. She's been a force for them in net, posting a .938 save percentage in 35 games last year and a .940 save percentage in 33 games the season before that.
For Bemidji to succeed, their 2014-15 All-American goaltender will again have to be at the top of her game. But she has already been there early in the season. She's more than capable of stealing a couple games.
Sydney Rossman, G, Quinnipiac, Sr.
The 2016 ECAC Goaltender of the Year is in a position to help pilot Quinnipiac through a big year. Last season, she put up a .949 save percentage and though conferences vary, she was the only goaltender in the nation to best that mark was Desbiens. Rossman also posted a 0.80 goals-against average and 15 shutouts, as well as a .956 save percentage in-conference.
That performance helped the Bobcats grab their first-ever regular-season title. After two weekends of play, the Bobcats have surpassed the Gophers and are currently ranked second in the nation in the USCHO coaches poll. Between her steady hand in net and dynamic forwards like Taylar Cianfarano, this could be a big year for Quinnipiac. They are going to make some noise this season.
Kassidy Sauve, G, Ohio State, So.
Kassidy Sauve is another player worth keeping an eye on in Ohio State's year of transition. In the 2014-15 season, she was the WCHA's top rookie goaltender, grabbing 20 games with the Buckeyes. But an injury kept her on the shelf all of last season. So, it's not clear how she'll perform in her return, but she could be a key to Ohio State's resurgence.
In their first series of the season, Sauve was fantastic. The Buckeyes were outshot by RPI in both games, but Sauve grabbed a pair of wins earning a shutout in the second game and only allowing a single goal in the first game, scored with just 3.9 seconds left. The next series saw the Buckeyes face the No.1-ranked Badgers. Again, Sauve helped them surpass expectations by going 0-1-1 on the weekend.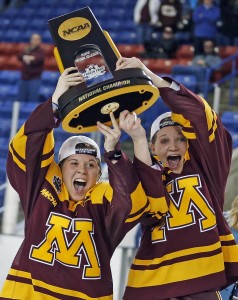 Lee Stecklein, D, University of Minnesota, Sr.
The big Olympian is as calm as any defensemen in the nation. Nothing about her game is flashy. She just does the right thing and makes the simple play every time. There aren't many players like her and it's easy to see why she's been a part of the U.S. national team for so long.
She's been a leader for the Gophers since her sophomore season and continues to be the team's anchor, logging massive minutes while being incredibly difficult to play against every game of every season. As a redshirt senior, she enters the season with far more experience than most players in her position. She's not only 22, she played at the 2014 Sochi Olympics, three World Championships and two U18 World Championships. The Gophers are always tough to play against and Stecklein will be a big reason that's true again this season.
Shea Tiley, G, Clarkson, Jr.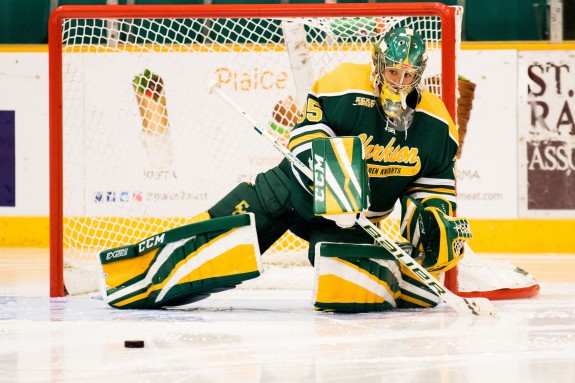 The Clarkson netminder has been their guiding hand since her freshman season, posting a .939 save percentage in 38 games during her rookie campaign. The next year she played 37 games with a .930 mark. She has the potential to be one of the best goaltenders around this season, and a driving force behind Clarkson's success. She might not be able to match the elite-level marks of Desbiens or Rossman, but there's not doubt that she makes life very hard on opposing forwards. Though she wasn't a Patty Kazmaier finalist, she was in the conversation last year.