After an offseason where the trade rumors swirled, Rick Nash will (unless something crazy happens) be starting the season as the Rangers top left wing on what on paper is the strongest team we've seen in the Alain Vigneault era. Keeping him on the roster is an absolute blessing in disguise for the Rangers. There is a multitude of reasons that will be apparent as the season gets moving.
Roster Flexibility
Nash is a first line left wing. Nobody is really doubting that he's got the ability to get back to the spot where he was when completely healthy. His ability to play at a high level on the first line gives Alain Vigneault a lot of flexibility within the forward core to have young talents like Pavel Buchnevich and Jimmy Vesey play on lines with less pressure to be great right out of the starting gates. This, in turn, lets the younger forwards progress at their own pace.
From THW Vault – Moving Nash Would Hurt More Than Help
With roster flexibility, the Rangers can mix and match the lines. Mats Zuccarello will likely end up on the opposite wing on the first line. That's pretty close to a guarantee from what Rangers fans can see. Where do players like Kreider, Buchnevich, Pirri, Vesey, Zibanejad, Stepan, Grabner, and Fast slot in? With the first line having seemingly set wings of Nash and Zuccarello that allows the second, third, and fourth lines to be changed around until lines stick and perform up to the seemingly incredible potential that the roster has.
Potential Return to Stardom
Sitting just seven goals from 400 for his career and 99th on the all-time list, Nash looks to return to scoring 30 goals in a season for the ninth time in his career. If he can get back to his scoring ways of just two years ago, the Rangers will have a stronger roster than they've had in a very long time.
Nash isn't just a great goal scorer — he plays two-way hockey at an incredibly high level. Ask any coach in the NHL and they will tell you that having a forward like Nash who can score goals and disrupt the opposing team in their offensive zone is very hard to find. Add on a superior passing ability that not many scoring forwards have and he is set to return back to the elite level he was playing at just a few years ago.
Two Way Standout
One thing about Nash that is special to him is his ability to play whatever type of game needed. He has been known as a big-body power forward for years, even dating back to his days in Columbus. While Chris Kreider fits that role as a speedy guy with the ability to play big with the best of the best, not many of the other Rangers forwards can play that style. Skaters like Zuccarello and Grabner are more finesse and less strength. Unlike many Rangers, Nash can get in the slot and by the crease, picking up some easy rebounds as well as create his own goals by taking on a defenseman one-on-one.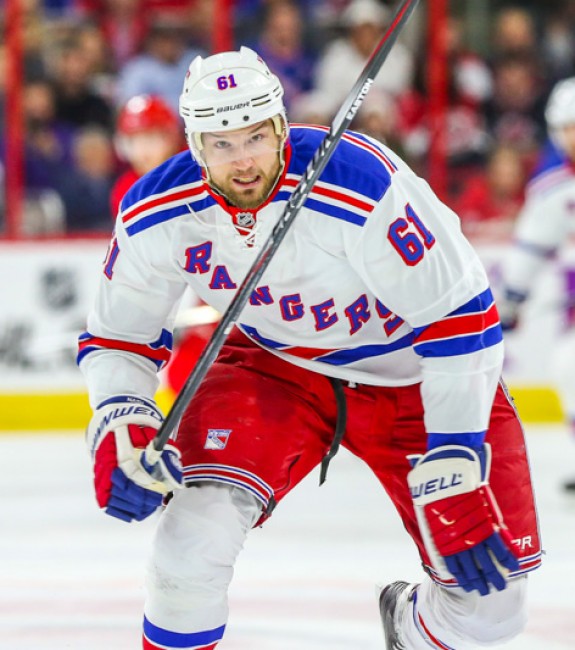 Equally as important is the ability that Nash has played defensively. Nash uses his large wingspan to plug up big parts of the ice and take away passing lanes that a less talented player probably wouldn't see. Along with the passing lanes, the blocked shots and takeaways that come with great positioning seem to add up every year, with over 150 more takeaways than giveaways over his career.
Playing with Motivation
Nash should be playing with the most motivation he's ever had in his career this season. Why is this? Well, he is coming off a quite mediocre season where he was constantly injured and missed considerable time. He may have returned to his usual self in the playoffs, scoring four points in five playoff games, but can he carry over that same ability to this season?
With all the constant trade rumors and even people saying he should be unprotected in the expansion draft this next offseason, Nash is essentially playing for his future and that can be a very dangerous motivator for a player of his caliber.
Rangers Related – New York Rangers 2016-17 Season Preview
Many Rangers fans have given up on Nash. Going into his fifth season as a Rangers forward, he will be fighting to prove that he's still a high-level player to the Rangers front office and fan base. That in itself should be a huge motivator for him to put up a career year, especially just a few years before his contract is up. Long story short, Nash is an extremely talented player who will be playing with the ultimate motivation and with the strength of the team around him, he should perform as well as he has in his time with the Rangers.