There were so many highs and lows during the Philadelphia Flyers' preseason that it's hard to determine if the team can mark it up as a success.
For starters, there were the four wins and Jake Voracek showing some much-desired offensive flair, but the thing that has the fans most excited has to be the inclusion of 19-year-olds Ivan Provorov and Travis Konecny on the roster. Both had excellent camps and earned their way into big roles with the club.
On the other hand, Michael Del Zotto will miss four-to-six weeks with a lower-body injury and Radko Gudas has a six-game suspension for boarding Boston Bruin Austin Czarnik in the last preseason game. Including Brayden Schenn's three-game suspension from last playoffs, the Flyers will have some lineup holes to begin the year.
Due to those issues, there are a few questions that the Flyers will have to figure out before their regular season starts Friday.
Related – Flyers' Depth Showing in Preseason
Replacing Del Zotto, Gudas
Del Zotto played 23 minutes a night last year and there's no reason to think he won't this year when he returns. Gudas was good for 20-plus minutes per night including plenty of penalty kill time but won't provide anything during his suspension.
That means over 40 minutes a night will have to be eaten up over the first stretch. Provorov can take about half of that and Shayne Gostisbehere can probably increase his workload. Brandon Manning was also injured during preseason play but he should be back in time for the season-opener:
Sounds like Brandon Manning will be able to play Fri. in #Flyers' opener.

— Sam Carchidi (@BroadStBull) October 10, 2016
But the thought of Manning, Andrew MacDonald and Nick Schultz as the bottom three defensemen doesn't look satisfying. The trio is NHL defensemen, but bottom-pairing ones, which increases the minutes for 38-year-old Mark Streit.
Philadelphia may also be forced to call up Sam Morin or T.J. Brennan to be the seventh defenseman. The team starts with a three-game Western Conference trip and while it may have been able to get away with only six on the East Coast, it could prove deadly to not have a replacement on a tough road trip.
The six games without Gudas to start will be the toughest. After that, the Flyers need the Czech defenseman, but none of his dangerous play.
Salary Cap Crunch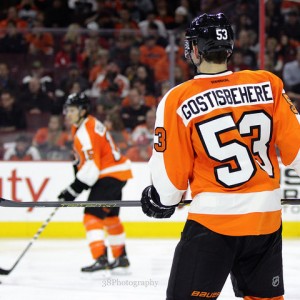 Scott Laughton and Mark Alt's injuries will force the Flyers to keep them in the NHL along with their cap hits. Schenn and Gudas' contracts will count also even though they won't play to begin the season.
In short, the Flyers will have a ton of contracts and not that much salary room. To add to it, Jordan Weal hasn't been sent down yet either despite clearing waivers Sunday.
Philly will need to be cap compliant Tuesday at the roster deadline and can then stick players like Del Zotto on injured reserve Wednesday. Laughton may have saved the team some space by being sent down, but that's no longer an option.
To make it work, Weal and Roman Lyubimov can still be sent down, but Gostisbehere may have to also — in name only. The 23-year-old can still be sent down without waivers and his $925,000 cap hit should be enough to get Philadelphia under the cap.
Gostisbehere would be recalled the next day after Laughton and Del Zotto can be put on LTIR and the Flyers can exceed the salary cap. It's an odd shuffling of chairs but may be the best option to make things work.
Improving the Penalty Kill
Improving the penalty kill is the first question that didn't totally arise during the preseason but has been an issue for a couple of years. However, it's also something the Flyers have been working on since last season.
In its series against the Washington Capitals in April, Philly gave up eight power-play goals on 17 opportunities while playing a relaxed system through the first three games. The unit adjusted quickly to play a more pressured approach and helped turn things around in two wins.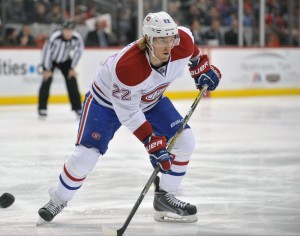 Over the offseason, the Flyers brought in Dale Weise and Boyd Gordon, who are penalty kill specialists, while losing no one of great importance. It paid off in the preseason where the team killed 29 of 31 power-plays.
Of course, it was just preseason where elite offensive players aren't always in the lineup, but it's definitely an improvement. Keeping it up to start the season will be the challenge.
First, the Flyers will face the Kings with Anze Kopitar, Drew Doughty and Jeff Carter. Then it's the Coyotes, who will be sporting a younger, faster lineup before the Blackhawks and their impressive depth.
The new pressure-heavy penalty kill will be put to the test early and will have to do it without Del Zotto or Gudas.
The Flyers had strong metrics in the other two man-on-man situations last season. Improving the penalty kill could make all the difference between making the playoffs and going home early.