LEAFS DAILY:
The Leafs are off until Tuesday, when they'll face the Lightning, and in the meantime we don't have much to talk about other than another Steve Stamkos rumour.  We'll get to that later, but today I just want to assess the team at this break in the schedule and talk about their defense.
The Leafs have played 28 games and have a 10-18 record, good for 25 points. They have showed, I think, a good effort in most games and have a record that is probably a little worse than it should be when you consider that their best player (Nazem Kadri) went through a stretch where he was absolutely dominant but could not buy a goal (he shot about 1% over about 20 games, currently is shooting just 4% and the collective shooting percentage of everyone he's skated with this year is 5%) and their opening-day starting goalie has zero wins and ended up in the AHL.
So, all things considered, I think there is reason to think the Leafs will improve on their record as the season goes on. Now, they still likely won't be a playoff team unless everything breaks right (and they recall William Nylander, which I still think they should) but with just as many teams fighting for last place as a playoff spot (a full third of the league is within six points – three losses – of last overall) they are likely a middle of the pack team.
And middle of the pack is the worst.
You either want to make the Playoffs or finish low enough to get a top-five pick.  The Leafs are on track to do neither, so they should start making moves one way or another immediately.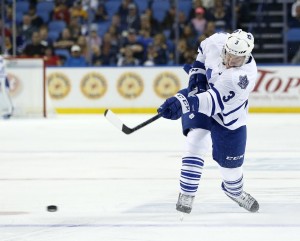 The First Move to Make:
To me, the first move they need to make is on defense.  They absolutely need to see what they have in guys like Stuart Percy, Martin Marincin and Scott Harrington.  Unfortunately, at least half the real estate on the back-end is being taken up by guys who won't be here long-term and the Leafs need to do something about this.
Dion Phaneuf, Roman Polak and Matt Hunwick are obviously not long-term pieces for this team.
Babcock has bizarrely used Hunwick (46% CF!) on the top pairing, which is weird because I don't even think he's a top six defensemen on this team. Don't believe me? Read this.  Hunwick is a drag to his partner, Morgan Rielly, and needs to be moved out as fast as possible. They signed him for free, so any return would be 100% profit.  Get it done!
I mean, seriously, get Hunwick out of here.  He's getting the most 5v5 ice-time on a team that has Jake Gardiner, and this makes no sense. As others have also wondered, I too have considered that maybe playing him so much is an issue of ambiguous tanking.
Polak isn't even worth talking about. He is objectively a bad NHL player and the Leafs have internal options to improve their team with him not on it.
As for Phaneuf – a player who I love – he is better suited to playing down in the lineup, but it's got to burn him to watch Hunwick take his minutes and play worse than he ever did.  Phanuef is a 50% possession player with a very decent seven 5v5 points.  People think his contract makes him untradeable.  It doesn't – you just have to take an equally bad one in exchange, which the Leafs eventually will.
While I think Phaneuf's "renaissance" is being oversold, the fact is that he's a decent top four option in a league chocking on its parity, so someone will trade for him. I guarantee it.
The point is that the Leafs need to make these moves sooner than later. With the way the standings are all bunched up, there isn't much they can do to avoid ending up in the middle of the pack – barring some good luck either way – but they can at least use the season to find out if Harrington, Percy and Marincin are players they want to build with.
Thanks for reading.