Matt Taormina isn't the biggest hockey player by any means — the defenseman from Washington Township in Michigan is only 5'9" — but his passion and dedication for the game has been evident since the New Jersey Devils gave him his first break, signing him following his senior year at Providence College and he immediately rewarded them with a 50-point season (10g-40a) in his first pro season (2009-10) with the Lowell Devils. Now this season he is in his second stint with the Tampa Bay Lightning organization and is off to a solid start with 12 points (5g-7a) in his first 19 games with the Syracuse Crunch in the AHL.
Taormina is still scratching and clawing his way back to getting another shot in the NHL after seeing action in 56 games over parts of four seasons (two seasons with Tampa, two with the Devils), and his presence on the power play will always give him an advantage over some of his internal competition. THW spoke to one of his former and most important coaches who said a current NHL player that reminded him of the 29-year-old was Boston's Torey Krug.
"We had him in Lowell, Kevin Dean and I; he was just a young kid that, basically ran our power play," recalled John MacLean – who coached him in Lowell and in New Jersey. "That was one of our assets that year and he was the guy, he was the quarterback on the power play. He was kind of the unheralded guy, we had other guys that were a little more, heralded," then added with a chuckle, "Kevin Dean and I didn't care, as long as he produced. But he really was tremendous on the power play for us; he understood the game so we were happy that he was probably our best defenseman that year.
Recently (via technology and email) The Hockey Writers had the opportunity to ask Matt Taormina what it's like to be back with the Syracuse organization, what it was like to be an AHL All-Star last season and what he remembers about his first NHL goal among other topics.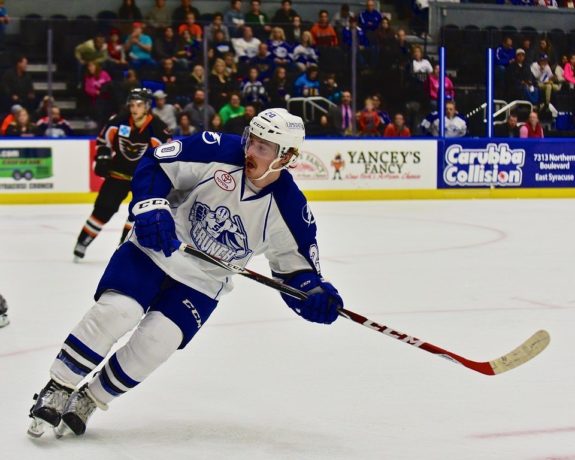 The Hockey Writers: This is your second stint with the Tampa/Syracuse organization; what was your thought process when you received their contract offer?
Matt Taormina: I was very surprised. They came in (with an offer) right away on the first day of free agency and they were the only team that made an offer right away. It was kind of a no-brainer, knowing them and being here before, knowing the systems and stuff like that. I was like, 'why not? rather than having to prove myself to another organization (that doesn't know me)'.
Familiar faces abound in the Tampa organization:
THW: How are things different now from the last time you were with the Crunch?
MT: A lot of (familiar) faces are still here, the system is pretty much the same. You really notice those things when you goto a different team, but a lot of things have really stayed the same here; maybe just a little tweak here and there in the system.
THW: Last season you netted 38 points, the most you had tallied since 2009-10; how much did your success with Worcester last season help your confidence?
MT: Going to a new team, I signed so late; I wasn't really sure I was going to sign anywhere. I had a bad taste in my mouth from the previous season when I got traded (from Tampa to Columbus) and everything. Worcester was a fresh start for me and the coaching staff gave me every opportunity to play and produce. They put a lot of confidence into me — I was able to be a leader, I was an assistant captain and I think that brought my game a little higher.
THW: How much fun did you have at the AHL All-Star Classic last season?
MT: It was fun, it was nice to come back to this area (the game was in Utica, NY). I had some fans there, but being able to play with Vladdy (Vladislav Namestnikov) again was nice. The game was a little tough to stay up for but all the festivities were really fun and it was nice to have the opportunity to do something like that once (in my career). I was nominated my second or third year, but I was unable to play. It was fun, it was definitely a good time.
THW: John MacLean was your coach in Lowell and with New Jersey; what kind of influence has he had on your career? Do you still keep in contact with him?
MT: I don't keep in contact with him, but my first year (as a pro) he put a lot of confidence in me in a lot of things right off the bat. I had an AHL/ECHL deal and I ended up staying in the AHL the whole time. I think what really helped when he got the New Jersey job, he kind of brought me with him and that was kind of my break. He helped bring me up and gave me a taste of the NHL, that's the biggest thing he did for me.
Matt Taormina's first NHL goal was a memorable one for sure:
THW: What do you remember about your first NHL goal?
MT: Oh, you always remember that one (smiles). I was kind of shocked because you're out there with, it was a power play, and I'm out there with Kovalchuk and Elias, Parise and (Travis) Zajac…and I'm just a rookie thinking 'what the heck am I doing out here? What do you need me for?' They got me running the power play. It was a pass across from Patrik Elias to Ilya Kovalchuk, it actually went through his skate; he picked it up and passed it over to me for a one-timer and I don't think it ever got off the ice, but it went (in) five-hole. The biggest thing was everybody thought Zach Parise had tipped it. So at first I was happy I scored and then I saw Zach started coming out and then he turned around to go get the puck, so I knew he didn't tip it. It was against Craig Anderson when he was with Colorado.
THW: What are your memories from your four years at Providence College?
MT: That definitely helped me get to where I was, I wasn't drafted. I wasn't very highly recruited for anything. My junior year was my best year and I think I actually started to prove and show, prove to myself and show people that I really can play a little bit at the next level. That's where I got my opportunity to go to the Chicago Blackhawks camp and from there I was finally getting offers. I was finally getting into the AHL and ECHL at the time, which I figured would happen. It just helped develop my game just a little bit more and brought me to where I am now.
Special thanks again to the fabulous Kristen Denick (Account Executive with the Syracuse Crunch) for helping to connect the dots on this article for THW.
Dan Rice can be reached via Twitter: @DRdiabloTHW or via Email: drdiablo321@yahoo.com.