The greybeard out-goaltended the fuzzy-cheeked kid in the opening game for both teams as the Toronto Maple Leafs downed the Detroit Red Wings 5-3 last night at the Olympia in Detroit.  The loss for the Wings spoiled the much-ballyhooed return of Red Wing legend Ted Lindsay in his 1000th NHL contest.
Bower the difference
Leaf goaltender, the venerable John Bower, was the difference in the game.  The Red Wings outshot the Leafs 42-30, and it was only the fine work of the man they call "The China Wall" that tipped the scales in favour of Toronto.  Bower made several saves that seemed impossible, and received abundant assistance from both goalposts.
A Detroit record crowd of 14, 323 fans saw the Leafs get goals from five different players.  Andy Bathgate, Red Kelly, Dave Keon, Ron Stewart and Bobby Pulford handled the scoring chores for Toronto.  Kelly was a bit of a surprise starter, having just joined the team after spending a couple of weeks representing the Canadian government at the Tokyo Olympics.  Defenceman Kent Douglas immediately rocketed to the top of the NHL scoring parade with three points, all assists.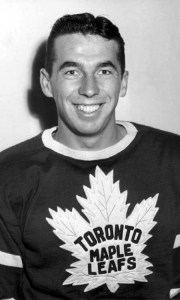 Red Wings marksmen were Floyd Smith, newcomer Ron Murphy and defenceman Al Langlois.  Gordie Howe added a couple of assists and hit a goalpost as he was, as usual, the Wings' best performer on the night.
Imlach satisfied
Toronto general manager-coach Punch Imlach assessed his team's performance this way:
"I've no complaints on our opening game effort.  We were loose on defense but that will tighten up when Allan Stanley, out with a bruised knee, gets back.  We skated and I'm glad that plane of Kelly's wasn't grounded at the Olympics in Tokyo.  He came back Thursday and got us a big goal tonight.  My club will go all right and I've got Dickie Moore working himself back into shape."
Imlach was asked to comment on Lindsay's return and said, "I'm all for it if a player has the talent and the desire and realized that he might have quit too soon, he's welcome back with me any time.  If he's in condition, and Lindsay looks like he is, that birth certificate doesn't mean a thing.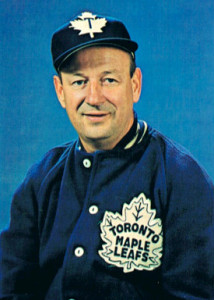 Imlach's Red Wing counterpart Sid Abel, was disappointed in the opening night loss.
"We didn't play good enough to win.  We missed Bill Gadsby on defence.  We just backed right in on our net, they made that drop pass, rushed us into our end and got goals."  Gadsby missed the game with a bad back.
After the game, Lindsay spoke with the Star's Red Burnett and said that he was setting a deadline for himself before deciding whether or not he is capable of carrying out this comeback.
"I'll give it six more games.  If I improve to the point where I think I have become an asset to the team, I'll stick.  If not, I'll pack it up because I don't need the money.  I just wanted to end my career as a Red Wing."
Junior Red Wings win
Detroit's Junior A club in Hamilton fared a little better than the parent team last night. The Hamilton Red Wings and the Niagara Falls Flyers battled to a 3-3 tie in Hamilton.  The Red Wings had to come back from a 3-1 third period deficit to earn the single point.  Jimmy Peters, Real Lemieux and John Dediana had the Hamilton goals on Falls backstop Bernard Parent.  Red Wings netminder Al Frank was beaten by Jean Pronovost twice, while Don Marcotte added a singleton.
Aces high again
In the evening's only American Hockey League game, the Quebec Aces made it five straight wins by edging the Hershey Bears 4-3 in Quebec City.  Leon Rochefort, John Hanna, Don Blackburn and Wayne Hicks counted the Quebec goals.  Michel Harvey, Wayne Rivers and Gene Ubriaco replied for the Bears.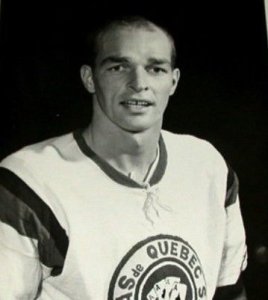 Plante denies dissension report
Jacques Plante yesterday denied a published report that he had described the New York Rangers as a team riddled with dissension.  The veteran netminder, now attempting to play himself back into shape with Baltimore of the AHL, had been quoted as saying the Rangers were "a cheap organization" and that he would never again play for New York coach Red Sullivan.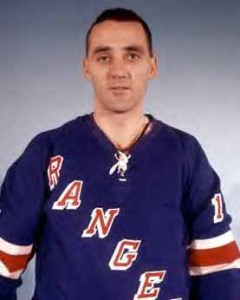 Plante claimed he was misquoted and that his comments were taken out of context.  "I never said I wouldn't play for Sullivan.  I said I couldn't play for him right now because of my knee."  Plante went on to say that playing in Baltimore is allowing him to regain the strength in his knee and he should be ready for NHL duty soon.  He is still having pain which, he says, makes it impossible to play well enough for NHL competition.
Oatman passes
Finally, many old-time hockey players were in Otterville, Ontario, just 25 miles southeast of London, to pay their respects to former National Hockey League player Russ Oatman, who died Sunday at age 59.  Oatman played for Detroit, Montreal Maroons and the New York Rangers.  In 121 NHL games he had 20 goals and 9 assists.