If you asked an NHL fan today to describe a player that is the prototypical power forward in today's game, the first name out of their mouth would likely be Milan Lucic. At 6'4″ 220 lbs, Lucic is an imposing force on the ice with great hands for a man his size. He epitomizes the blue collar, lunch-pail attitude of the Boston Bruins faithful. He is the new Cam Neely (albeit less talented).
But down in Philadelphia, a player has spent the last 2+ years slowly encroaching on Lucic's title as the NHL's best power forward. He's not as big, standing 2 inches shorter and a whopping 37 pounds lighter. Despite this, he's done enough to prove that he deserves the crown as the best power forward in the NHL. His name is Wayne Simmonds.
Breaking Down the Offense
Since the beginning of the 2012-13 season to today, among players with at least 175 penalty minutes (a way to weed out the finesse players), Simmonds leads in essentially every offensive category. He has 18 more goals and 13 more points than Lucic while playing in just one more game. He leads the group that includes Lucic, Backes, and Hartnell in goals, points, power play goals, goals-per-game, and points-per-game.
In 2013-14, Lucic's offense was 20% more effective at even strength in terms of points per 60 minutes on the ice. However, on the power play, Simmonds' offensive production was 40% more prolific than Lucic's per 60 minutes. The power play has been where Wayne Simmonds has really made a name for himself.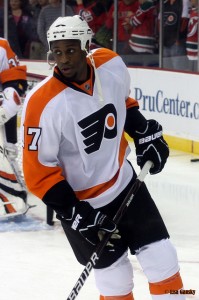 The Flyers thought so highly of Simmonds' ability on the power play that they traded away one of the other best PP net men in Scott Hartnell.
Since the start of the 2012-13 season, the only player in the NHL with more power play goals than Wayne Simmonds is Alexander Ovechkin. In that time span, Simmonds has established himself as arguably the best power play net man in the NHL. He uses his lean, wiry frame to establish position effectively in front of the net and is a master of deflections and rebounds.
At even strength, he uses that frame to battle in the corners, and has proven to be a master of cycling in the opponent's zone. Despite his prolific abilities on the power play, Simmonds has vastly improved his even strength play of late. Despite the Flyers being a poor possession team 5-on-5, Simmonds is just one of three Flyer skaters that has a positive Corsi-On.
https://twitter.com/ErikYost_/status/522199774557405184
You really can't say enough about how Wayne Simmonds has looked to start the year. Been great on PP, sure, but he's been a force at 5v5 too.

— Broad Street Hockey (@BroadStHockey) October 12, 2014
Wayne Simmonds: Intangible Machine
Not only does Simmonds have the offensive chops to be an all-around offensive threat, he is a very well-rounded player. After wearing the "A" on his jersey as a fill-in for injured players the past few seasons, he was named a full-time Assistant Captain with the departure of Scott Hartnell and Kimmo Timonen's injury. Before the season, Berube had the following to say about his star power forward:
"Simmer has always been an emotional leader for our hockey team. He has led by example, however, now I think he needs to take it to another level of leading by example, by leading by example on the ice. I think this will help him develop into a better player than he already is."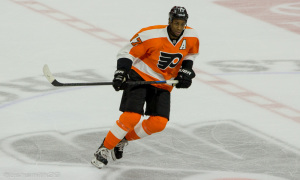 To say that Simmonds has taken that challenge in stride would be an understatement. He is tied for the league lead in points, and has registered a point in over 60% of the Flyers' goals scored this year.
To be a power forward, you must bring the physical aspect as well. Over the past two seasons, Simmonds has been in 12 fights (the same number as Lucic). He's always willing to stick up for his teammates when necessary, and does not back down from anyone. While Simmonds does not have the same raw total number of hits as Lucic, he is a willing participant in the physical side of the game, and thrives in tough games.
Wayne Simmonds is not going to be winning any Selke Trophies soon, but his never-ending motor and hustle allow him to be a solid contributor on the defensive side of the puck. He hustles on the backcheck and plays a 200 foot game.
The best part about Simmonds in orange and black? He's locked up at a bargain cap hit of $3,975,000 for four more years after this season.