I am not breaking the news on a trade. The Leafs have had Mats Sundin's successor all along, they acquired him on June 26, 2009 with the seventh overall pick in the NHL Entry Draft. His name, of course, is Nazem Kadri.
If you've been reading this column with any regularity, you know that I have been harshly criticizing Leafs' Coach Randy Carlyle since the start of the year for his refusal to give Kadri more ice-time than Bozak, for playing Bozak ahead of Kadri, and for failing to provide Kadri with line-mates who might be able to keep up with his elite skill level.
On more than one occasion, I cited this as the main reason to fire Carlyle and despite the team's recent success, I have not changed my mind on this topic at all.
In games in October, I was livid as Bozak was coming close to 20 minutes per night, while Kadri was getting around 14. Recently, with Carlyle utilizing his lines in a slightly more balanced – yet still totally insane – way, the discrepancy in their average nightly minutes has closed to a more realistic (but still horribly misguided) two-minutes less per night for Kadri.  Amazingly, Bozak is still playing an entire minute more per night with the man-advantage.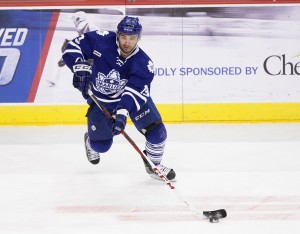 So, while this is still frustrating, it is at least an improvement and Kadri's play is finally drawing rave reviews from the mainstream press and fair-weather fans, since the points are finally starting to match up with the quality of his game, which was never as bad as imagined by people who use points, reputation, and their memories as their sole basis for player evaluation.
In the last month, Kadri has gone only four games without registering a point. He's hasn't suddenly and magically improved though- he's been pretty good the whole season, it's just that due to factors beyond even the best player's control, points do not always correlate with quality of play. Over this time Kadri has five goals and 13 points in 14. And yet, the majority of games have seen Tyler Bozak line up alongside Phil Kessel and JVR on the team's top line. Kadri is a point-per-game playing on a line with Daniel Winnik and Mike Santorelli. Nothing against those dudes, but  Kessel and JVR they are not. This suggests that utilized properly, Kadri could be among the NHL's leading scorers and best players.
One thing I have long maintained is that the Leafs cannot compete in the NHL without a top-line centre and a top-flight, first pairing defensemen to partner with Phaneuf.  I think they still need the defensemen (*Cough* Keith Yandle) but perhaps they finally found their centre. They've had him all along.
One of my favorite hockey writers is Steve Burtch of Sportsnet.  Last night he dropped a few Tweets that I think really illuminate just how good Kadri is. Burtch really is the master and you should read him; you'll be a smarter hockey fan for it.
https://twitter.com/SteveBurtch/status/545262794451722240
I like this one because it touches on what the entire stats evolution is about: perception vs. reality. If you compared Kadri to Tavares, my guess is that 99% of hockey fans would tell you that you are an idiot. But, Steve ran the stats and guess what? Kadri is just as good – even though he gets less ice time and less power-play time and plays with worse players.
And sure, you could argue that this also means that Kadri doesn't go against the same defenses that Tavares does, and I do think Tavares is probably the better player, but it's still illuminating.  And it definitively proves that Carlyle relying on Bozak as his top centre is nothing short of idiotic.  Besides, since Kadri starts much less frequently in an offensive position ,plays with worse players and gets less power-play time and less ice time in general, it must be conceded that  their stats being so close is not entirely because Tavares plays against better defensive players.
https://twitter.com/SteveBurtch/status/545238109710213120
The most impressive thing about Kadri, to my mind, is his success at even strength. Teams that can score when they aren't on the power-play are teams that win hockey games – it's just that simple. And, as Burtch points out, Kadri is among the best players in the NHL at even strength.
https://twitter.com/SteveBurtch/status/545085653000933376
Conclusion:
The Leafs have their top line center. They should immediately make it so that Nazem Kadri skates with Phil Kessel on the team's top line and is the first option on the power-play.  Arguments about "chemistry" are ridiculous and don't hold water. The stats are available that show Kessel's game improves when Kadri, not Bozak, is his centre. If you look here, you'll see that Kessel's CF% rises from 42.3% when he plays with anyone but Kadri to 48.3% when he and kadri play together.  This completely disproves the chemistry with Bozak argument, because, as the chart clearly shows, Kessel plays better with Kadri than with Bozak.
Yes, Bozak has been racking up the points, but they are coming while playing with two elite wingers and getting an unsustainable amount of special teams points. There is no reason to suggest that Bozak can continue to rack up points at this pace and even less reason to think that Kadri won't.
Since the Leafs have their top line centre, I believe the  next move is to clear cap space  (Bozak, Lupul, Reimer) to sign Kadri and Franson. After that, if they want to compete for the Stanley Cup, they'll need a legitimate top pairing guy to play with Phaneuf and second line centre with size to play behind Kadri.
Thanks for reading.