The Toronto Maple Leafs have signed their first-round draft pick Timothy Liljegren to a three year, entry-level contract worth $925,000 annually at the NHL level, or $70,000 annually in the AHL. The deal also includes player bonuses worth a maximum of $400,000.
The Swede couldn't be more pleased, and even took to twitter to announce his excitement over the contract.
Dream come true to have signed my first NHL Contract with the @MapleLeafs , couldn't be more excited! 🤙🏼

— Timothy Liljegren (@Timmeliljegren) July 12, 2017
Liljegren's excited…fans are excited…everyone's excited. However, as I read the news, two thoughts repeatedly crossed my mind. Where will he play next season? Does this contract change where he plays next year? It has the potential to.
Technically, he can still play for Rogle BK of the Swedish Hockey League, the Toronto Marlies of the AHL, or in the NHL with the Maple Leafs. The last of which would be very surprising, but the Leafs are weaker on the right side of their blue-line. These are the possibilities, however Lou Lamoriello may not necessarily agree with him starting in the NHL.
As for the CHL possibility, Lamoriello put that to rest as he stated in an interview that "he'll do one of two things: he'll go back to Europe to play, or he'll play with the Marlies. He will not go to junior". The Niagra IceDogs drafted Liljegren 13th overall in the OHL import draft. Lamoriello not mentioning the Leafs as an option shows that he may not think Liljegren is ready for the NHL at the moment.
Two Most Likely Paths
Since making the NHL as an 18-year-old is very unlikely as a defenseman, the two most likely paths for Liljegren are either playing back overseas in Sweden or suiting up for the Marlies of the AHL next season.
Back to Sweden
If Liljegren returned to Sweden to play one more season with Rogle BK, it would probably be because the Marlies roster is quite full. With Andrew Nielsen, Travis Dermott, Rinat Valiev, Calle Rosen and Andreas Borgman already in the system, there isn't much ice-time to go around. In which case playing in Sweden could be best for Liljegren, as he could play another full season as a top-pairing defenseman in a professional hockey league.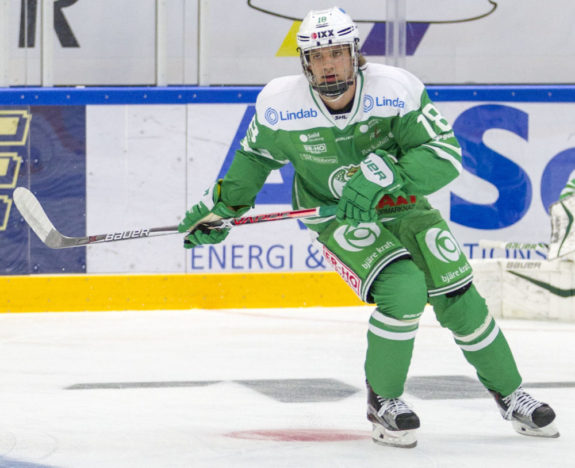 He would have a chance to rebound from last seasons mononucleosis and prove why the Leafs made the right decision to steal him at 17th overall.
Toronto Marlies
Because he signed an ELC so early, Toronto may prefer to have as much control as they can over Liljegren's development. If he was to play for the Marlies as an 18-year-old, he wouldn't be handed top-four minutes to ensure proper development, he will have to earn his minutes as they have a very competitive blue-line.
James Mirtle of The Athletic responded to a reader asking if he could see Liljegren playing for the Marlies next season. Mirtle seems to think Liljegren suiting up for the Marlies is a real possibility.
100% possible. https://t.co/FodPL8WtOs

— James Mirtle (@mirtle) July 12, 2017
Competition for playing time would be tough, but there is one unique factor he possesses over the rest of the Marlies defensemen. Given that most of the Marlies defensemen are left-handed, being right-handed gives Liljegren an edge when it comes to earning ice time, as it would be beneficial to have him on the ice in certain defensive and offensive situations due to handedness.
If a defenseman such as Travis Dermott were to graduate to the NHL next season, that hole would have to be filled. The ice time would be shouldered by everyone, but Liljegren could potentially benefit from a top Marlies defenseman graduating to the NHL this season by receiving more ice time. With more ice time, Liljegren has a better opportunity to be a difference maker.
Least Likely Scenario
Is it possible for him to make the Maple Leafs out of training camp? As an 18-year-old, it seems like a long-shot. Liljegren may be the Leafs best defensive prospect in terms of potential, but that doesn't guarantee a roster spot, as there are multiple players he would have to jump over in the depth chart.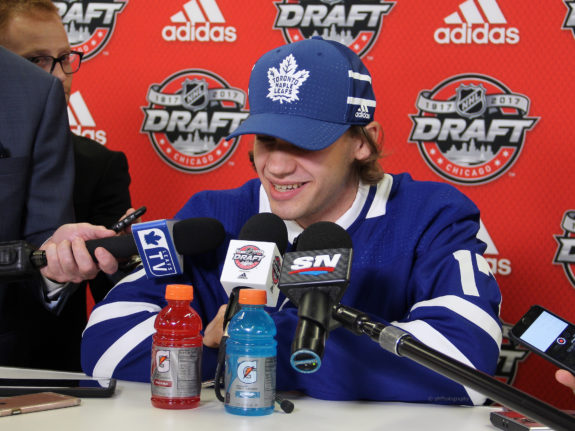 However, given how the Leafs possess little to no right-handed defensemen, it provides Liljegren with a slight edge. If he were to somehow stick with the NHL club to start the season, he would be the first 18-year-old defenseman to play for the Leafs since Luke Schenn after he was chosen by the Leafs in the 2008 NHL Entry Draft.
Most Likely Scenario
If Liljegren was to go back to Sweden to play for Rogle BK, then why was he signed to an ELC in the first place? I think its because the Leafs management wants to have more control over his development, and have him adjust to the North American ice surface right away, rather than delay it another year.
The Marlies are destined to have another great season with such a deep prospect pool, and Liljegren only makes the team more dangerous from the blue line. Liljegren developing with the Marlies makes the most sense from an outside perspective, further defensive development and education of the Leafs systems will only help him progress as a player.
I've been a Leafs fan since I was a little kid, and had to live through the painful collapse of the 2012/13 season against the Bruins. Most of the Leafs top players are my age. They light up the NHL and I write about it! The youth on this roster makes for very entertaining hockey. You won't want to miss a game!