It turns out the end of Montreal Canadiens forward John Scott's story was rather anti-climactic, after all. Scott played nine minutes against the Florida Panthers, with zero shots on goal, one penalty and three hits in a season-series-sweeping 4-1 loss.
Apparently, it was too much to ask of the hockey gods—or coach Michel Therrien in this case who inexplicably gave him 27 seconds of power-play time—for him to score in a Habs win, in what could end up being his last NHL game.
#Habs Scott clarified that he will play one game (Tuesday) and described it as "a big favour" from the Canadiens.

— John Lu (@JohnLuTSNMtl) April 4, 2016
End of the Road?
He's now heading back home, after the Habs gave him the opportunity to spend time with his family instead of closing out the St. John's IceCaps' American Hockey League schedule. He will also be an unrestricted free agent, with likely no shot at being re-signed by the Habs.
That's supposedly what this call-up was all about, to instead give him a shot to go out on top instead of languishing in the minors… and, if it so happened he could get a point in the process for the sake of a perfect Hollywood ending in the movie being made about him—all the while making the organization that traded for him under suspicious circumstances look better as a result? Gravy.
Unfortunately, writers will have to settle for a less-than-stellar closing scene revolving around this hyped-up hit on Panthers forward Greg McKegg. That or just close the film a few months too early at the end of the All-Star Game, when Scott was lifted up by his teammates as the most valuable player.
Doing John Scott Justice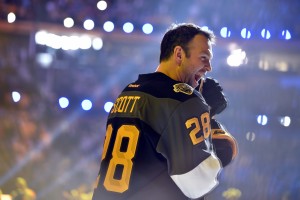 Neither really does Scott justice, in that his career obviously extends beyond that one game and includes the lows of having had to play through a half-season in the minors. Meanwhile, to focus on the alternative would misrepresent what, for all intents and purposes, was a call-up just for show.
To hear Therrien tell it, the call-up, to give Scott an opportunity to suit up for the Canadiens, was a reward for being a professional. But that's missing the point entirely. Contrary to popular belief, John Scott is not a career minor-leaguer, and playing a game for the Habs, especially this team, is not the be-all and end-all.
Scott had been playing in the NHL with the Arizona Coyotes before getting traded to Montreal, and his latest stint in the AHL with the Habs' affiliate? According to hockeyDB.com, it was his first since 2008-09. Believe it or not, Scott has been an NHL regular since then, which amounts to an eight-year career.
People and hockey purists can debate whether or not he was a legitimate NHLer all they want, but that fact says it all. In spite of what everyone says, Scott earned his career up to this point. And yet the Habs are seemingly trying to milk this up as a charitable donation of some sort for what? PR purposes?
More About the Montreal Canadiens
It's essentially become more about the organization than the player at this point, which is sad when one considers the Habs mismanaged that aspect of the situation as well. They sent down Michael McCarron to make room for Scott, when it had been previously stated the former, a 21-year old prospect who's done nothing wrong, would stay up the rest of the season.
#canadiens Michael McCarron va rester avec l'équipe jusqu'à la fin de la saison selon son entraîneur. Il dispute tout un match ce soir.

— Renaud Lavoie (@renlavoietva) February 28, 2016
Obviously, in the grand scheme of things, McCarron has his entire career ahead of him and this shouldn't impact his development. However, after the Habs were forced to announce Carey Price wasn't going to return this season (or P.K. Subban), despite months of vehemently arguing the contrary, this really just reeks of another ploy to distract the masses from what has been a campaign to forget, to be generous.
Fans deserve more than a dangle of a key chain or a pull at their heartstrings. So does Scott, like him or not. Sure, he'll make good use of the pay bump from the brief promotion to the NHL (or at least he would have if he even had a two-way contract to begin with), but, with the season the Habs have had, it sure as hell could have come sooner if Montreal truly wanted to show their appreciation… for apparently the professional attitude of a professional hockey player. Because that's what Scott is. He's not a sideshow that requires applause for a routine hit.
He's already more than proven that.