The Tampa Bay Lightning have raced out to a 9-1-1 record, fresh on the heels of another lopsided victory against the Nashville Predators. The Bolts dismantled the Preds 6-1 Tuesday evening, with 13 Tampa players registering at least a point. Nine of those players had a multi-point game with six having at least three points. Andrei Vasilevskiy was his normal stellar self, stopping 32 of the 33 shots he faced on the night.
This game underscores the overall point that so-far, the Lightning have not missed Nikita Kucherov one bit. Through the first 11 games last season, Tampa already had six losses on the season compared to just the one loss so far this year. This does not pin last season's early struggles on Kucherov, just to illustrate how well the team has coped with the loss of him in the lineup thus far this season. 
Last week against the Detroit Red Wings, Patrick Maroon finally got on the score sheet. He was the only Lightning player on the entire team that hadn't registered at least a point until that game. Right now, the Bolts have 14 players with at least a goal. Of those 14, eight players have already scored. Ten players have at least six points with half of those players having nine or more and four are in double figures.
Bolts Are Getting Contributions from Both Likely and Unlikely Sources
The usual suspects, Steven Stamkos and Brayden Point are tied for the team lead in points with 14. Stamkos, unsurprisingly, is tops on the team with seven goals and Point has the most assists with 10. Ondrej Palat has continued to have the scoring touch that was so vital last season for Tampa in the bubble. Palat has five goals already this season in 11 games so far. To put that in perspective, last season, Palat had just 17 goals in 69 games played before exploding for 11 goals in the playoffs. 
Perhaps the biggest surprise has been Anthony Cirelli. He's still been his wonted pesky self, winning face-offs and checking the league's best players. Nonetheless, it's on the offensive side of things that he's been at his best. So far, he has 10 points already on four goals and six helpers while maintaining a solid plus-7. If he can maintain this form all season, the Bolts will be simply unstoppable come playoff time.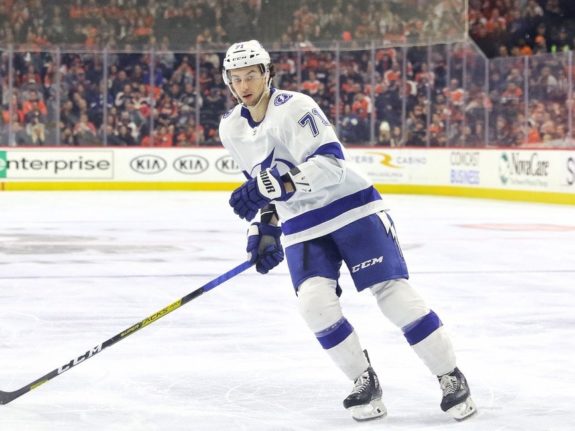 Cirelli, buoyed by his new contract this past offseason, has had such a good start that it's possibly taken some of the attention off of some of the other forwards. Last season's trade deadline targets, Barclay Goodrow and Blake Coleman have also continued to play well, making that trade look even better.
On the third line, centered by Yanni Gourde, Coleman has chipped in with seven points, and Goodrow with six. Couple that with Gourde's six points and you can see the solid offensive production the Bolts are getting from the checking line. Throw in the fact that the line as a whole is a plus-21 and you have, arguably, the best third line in hockey.
Lightning D Corps Has Been Solid at Both Ends of the Ice
Victor Hedman has continued his excellent play at both ends of the rink, but that is no real surprise. So far this season, he has 12 points on three goals and nine assists while being a plus-3 despite playing against everyone else's top line. What is a bit of a surprise is the early production from Mikhail Sergachev, who is tied with Hedman for most assists on the team for a defenseman with nine helpers.
The 22 year-old, to this point, has justified all the financial gymnastics the team had to do this off-season to free up money and keep him in a Lightning uniform. He has yet to register a goal yet, but leads the team with a plus-10. Availability has also been a strength, playing in every game while averaging just under 20 minutes a night in TOI.
One of the most surprising players on the blue line is Jan Rutta. The 30-year-old was re-signed by the Lightning this off-season despite not seeing much of the ice the last two seasons. Last year, Rutta played in just 33 games, following a 14 game campaign the season before. This season, he's played in all 11 games, averaging around 15:22 per contest. Those aren't huge minutes, but definitely, important minutes, especially when paired alongside Hedman as the top D pairing. Rutta has been a steady performer, but only time will tell if he can keep it up all season.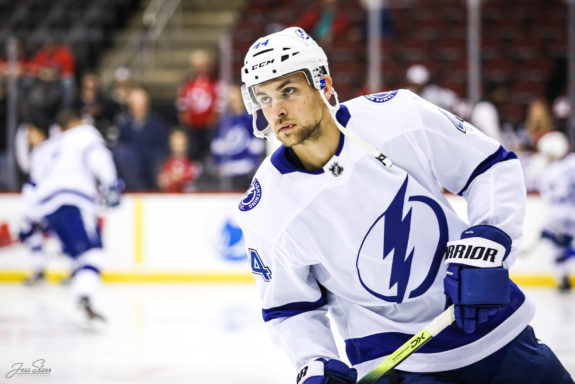 The Lightning currently leads the division by three points despite playing three fewer games than three teams in the division and two less than another. The Florida Panthers presently sit second with 16 points but do have a game in hand. These two play each other three straight times starting on Thursday evening at the BB&T Center in Sunrise, FL. The Panthers have just one loss on the season and could pose some problems for the Bolts. That being said, if the balanced scoring continues for Tampa, expect them to take at least two out of three from Florida. 
---
---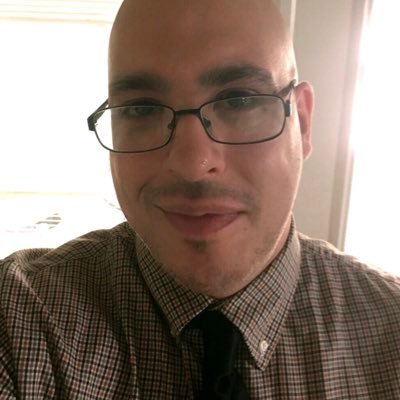 Frank is a former competitive hockey player at the D3 college level. He's what you'd call a hockey "lifer" having also worked as a hockey referee, time keeper and assistant youth coach, along with being a longtime member of USA Hockey. Frank comes to THW after contributing content on the Tampa Bay Lightning, Tampa Bay Buccaneers and Orlando Magic for BackSportsPage.com.