While their place in the standings hasn't improved, the Ottawa Senators have finally started to show some growth this season. On Feb. 4, they finally broke their losing streak with a 3-2 win over the Montreal Canadiens, and though they followed it with three losses, the games were evenly matched, with the Senators even taking the lead on more than one occasion. They still struggle to finish games, but it's a huge improvement from a couple of weeks ago.
Much of the change seems to have come from an infusion of young talent – both Artyom Zub and Erik Brannstrom have been earning regular minutes after their call-ups, and the top two lines are dominated by players under 25. That may prompt management to continue calling up top prospects since it's been obvious the veterans have not been pulling their weight so far. However, that could make the roster incredibly crowded, especially when Christian Wolanin returns from the injured reserve. But a trade may be on the horizon, as it's been reported that Pierre Dorion is shopping a few players, but it's been quiet on that front since last week. Here's what else was making news early in the week.
Item One: Dadonov Continues to Improve
When Evgenii Dadonov joined the Senators during the offseason, it was expected that he would fill the opening on the top line, especially after signing a three year, $15 million deal. However, when the 2020-21 season got underway, many were surprised to see the talented winger on the third line. Unsurprisingly, he struggled; with the Florida Panthers, he regularly played with Jonathan Huberdeau and Aleksander Barkov and upwards of 20 minutes per game, but he now was paired with Artem Anisimov and Nick Paul, averaging roughly 15 minutes a night.
Coach D.J. Smith shuffled the lines several times, but was hesitant to break up the top line of Brady Tkachuk, Drake Batherson, and Josh Norris, as they were one of the only bright spots on an underperforming team. Finally, though, he gave Dadonov a shot on the top spot, shifting Batherson down to the second line, and it was almost instant chemistry. Against the Edmonton Oilers on Feb 8, he finally broke his nine-game goal drought, slipping the puck past goalie Mike Smith (with a little help from Adam Larsson) after getting a breakaway from a great saucer pass from Tkachuk.
Dadonov proved that it wasn't just a flash in the pan, either. One day later, again facing the Oilers, he capitalized on a breakout pass from defenseman Mike Reilly, using his incredible speed to get around Slater Koekkoek. Better yet, he wasn't even on the first line that game, as he was moved down to the second with Josh Norris, but he still led all forwards with six shots and was the second-highest with an 80.6% Corsi rating.
It's fair to say, then, that Dadonov has finally broken out of his slump and showing the Senators exactly why he was worth such a big price tag. He's driving play, taking chances, and getting rewarded with more ice time and bigger roles for his efforts. It's also great to see his chemistry with the core members of the team, specifically Tkachuk and Norris, and that he is able to complement their abilities and match them in speed and vision. It bodes very well for the future of the Senators, especially as they transition younger.
Item Two: Gustavsson Called Up, Daccord Sent Down
The goaltending in Ottawa has been rough thus far, and although Matt Murray seems to have found his game again in the last few contests, no Senators' goalie has a save percentage (SV%) above .900 to start the season. Backup Marcus Hogberg has had an especially difficult time and currently owns one of the worst SV% this season. But with several talented netminders who have been waiting in the minors for their chance, and it seems the Senators are preparing to give one of them an opportunity, as the Senators announced that they had called up Filip Gustavsson to the taxi squad and reassigned Joey Daccord to the minors.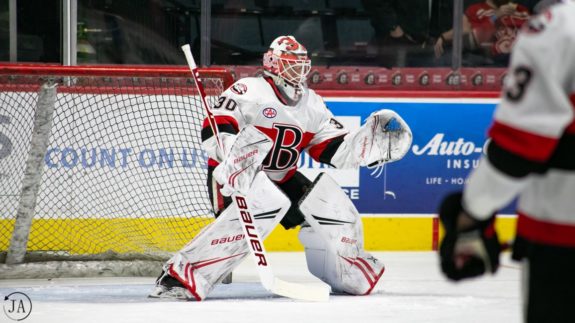 Many believed that, at the start of the season, Daccord surpassed Gustavsson on the Senators' depth chart, but that may have shifted now as Gustavsson spent the start of 2020-21 playing in Sweden's Allsvenskan. In 19 games, he had 11 wins, a 0.919 SV%, and one shutout. Daccord, on the other hand, has yet to play this season, and the Senators seem to feel that he should spend some time in the minors before returning to the NHL.
Currently, there are no plans to get Gustavsson to start a game, but with him on the taxi squad, he's closer than he's ever been. Since joining the Senators organization in 2017-18, he has yet to start in an NHL game, although he has been called upon on numerous occasions. If the goaltending continues down the course it's on, he'll likely get the call to step in and give their overworked netminders a break.
Item Three: When Will Brown Get His Shot?
There doesn't seem to be a more maligned prospect in the Senators' system than Logan Brown. Fans and analysts have repeatedly called on management to bring up one of the franchise's most talented centers, especially as the team struggled to score goals and stay competitive. On Feb. 7, it looked like they finally got their wish, as Brown was recalled from Belleville and placed on the taxi squad. Then, on Feb. 10, center Artem Anisimov was waived, seemingly in order to make room on the roster for another center. But then, moments later, it was announced Brown was returning to the AHL, and Matthew Peca was returning to the taxi squad.
The move is admittedly baffling. While Brown is no longer regarded as one of the Senators' top prospects thanks to the additions of Norris, Tim Stützle, Jake Sanderson, and Alex Formenton, his arrival has been highly anticipated. Last season, he battled injuries but still played 25 games in the AHL, scoring seven goals and 28 points, plus another 23 NHL games, where he scored eight points. The Senators have also had some major consistency problems on their bottom six, specifically from their veterans. Brown seemed like a sure-fire bet to play his first game in 2020-21 in the near future, especially after giving Derek Stepan back number 21 and switching to 27, despite the vet stating at the beginning of the season that it belonged to Brown.
Thankfully, the AHL's Canadian Division finally has a start date, and the Belleville Senators will play their season opener on Feb. 12 against the Laval Rocket in Montreal. Brown will likely have a prominent role on the team, but one can't help but wonder what his impact would be in the NHL. Coach Smith has repeatedly claimed that everyone has to earn their spot on this lineup, so Brown will have to make sure he comes out blazing on Friday in order to grab a spot in the NHL this season.
Item Four: Andree Joins Belleville on ATO
In more goalie news, on Feb. 5, the Belleville Senators announced that they signed goaltender Cedric Andree to an amateur tryout contract (ATO). The former Ottawa 67 played three seasons in the OHL, splitting duties with the likes of Michael DiPietro and Will Cranley, and recording a career record of 67-21-8, six shutouts, and a .906 SV%. In 2018-19, he and DiPietro helped the team ascend to first in the league, with the pair sitting first and second in league-wide goals-against-average, and nearly captured the championship, but fell to the Guelph Storm in six games.
With Gustavsson and Daccord likely to see significant NHL playing time this season, the Belleville Senators will need to have some more consistency in the net. Kevin Mandolese, who is entering into his first professional season, will be the team's backup and probably play most of 2020-21 in the AHL. That leaves Andree, if signed, to fill in when the Senators shuffle goalies around. While it won't result in much playing time, it gives Belleville a talented, reliable goalie option. it could also result in an NHL deal down the road, although the Senators crease is already quite full.
What's Next for the Senators?
Senators fans should keep their eye on Stützle – at least, more than they have been already. The German phenom has been on fire lately with three goals and five points in the last six games. Should he keep up the pace, there's no question he'll be in the conversation for the Calder Trophy at the end of the season. But he's also gone pointless in his past three games, which could just be a bit of a cold streak for the teenager. Given his production so far, though, he'll get back to scoring goals very soon.
The Senators' schedule won't get any easier, though, as they hit the road again on Feb. 11, first traveling to Winnipeg to take on the Jets again in a two-game series, then taking on the Toronto Maple Leafs three times next week. None of those matchups will be easy, as the Maple Leafs have been surging as of late, and the Jets will finally be getting Pierre-Luc Dubois into their lineup. Thankfully, the team seems to have shaken off most of their early-season rust, and despite the recent losses, have looked evenly matched with their opponents. Here's hoping they can steal another win or two before they return home.
---
---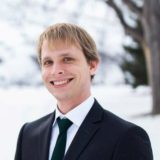 An elementary teacher by day and an avid hockey fan, Dayton joined The Hockey Writers in 2019 and currently covers the Ottawa Senators, World Juniors, and NHL Entry Draft.