Following a tumultuous 2020-21 season, NHL general managers will find themselves forced to choose between players they've seen very little of. The sample size is smaller than ever, thanks to a global pandemic that has greatly limited hockey.
Related: The NHL's Top 100 Prospects – Preseason Rankings
These unnatural circumstances place even higher importance on each chance a scout gets to see these prospects, and it could make for some draft blunders. With that said, it's hard to go wrong if you are a GM with a top pick this year — especially if your team is in the market for a defenseman.
2021 Draft Is Flooding With Defensemen
The top ten of the 2020 Draft was oozing with forwards but boasted very few blueliners. This summer, expect the opposite. This is great for the Kings, who have tons of offensive prospects but lack quality young defenders. Behind Tobias Björnfot, the Kings' top defensive prospect, there is not much to write home about. Taking a defenseman somewhere in the top ten picks of the draft would go a long way in solidifying L.A.'s blue line of the future.
1.) Carson Lambos – Winnipeg Ice (WHL)
Carson Lambos has all the makings of a complete defenseman. The Winnipeg Ice blueliner can hold his own at both ends of the ice and is an excellent skater. Lambos, who turned 18 in January, has a knack for offensive play. However, weighing in at 6-foot-1, 200 pounds, he is no pushover in his defensive zone. Unlike many draft year prospects, he is already a capable defenseman who could hold his own in the AHL right away — and would not need much time to be ready for the NHL.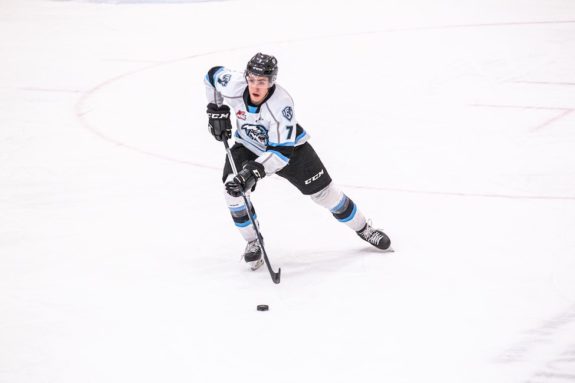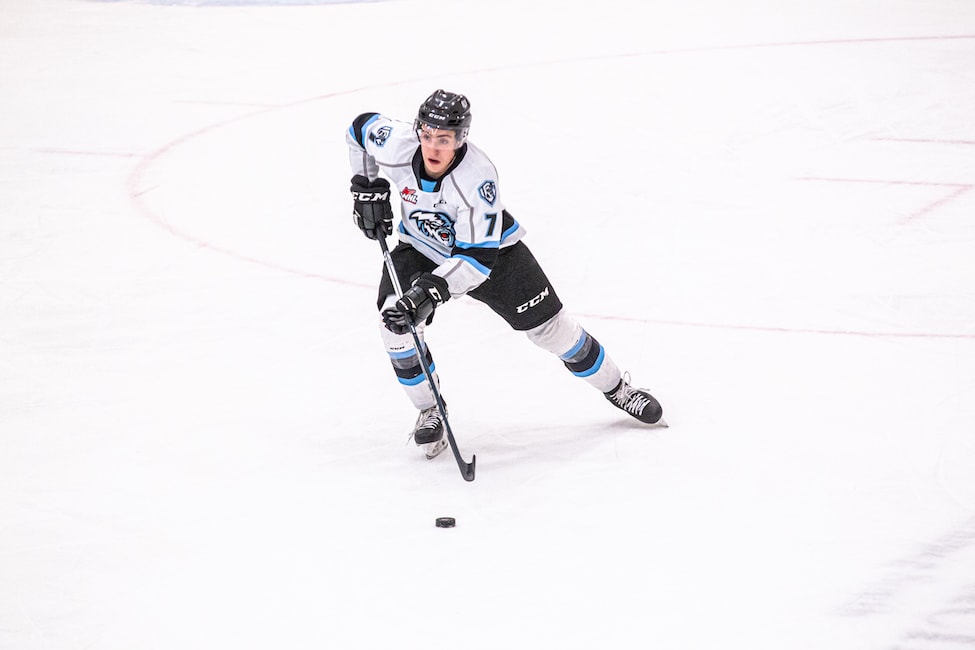 2.) Brandt Clarke – Barrie Colts (OHL)
Brandt Clarke may have the highest upside of any player in the draft, and he could very well be the top pick in 2021. He is a right-shot defenseman who was born in February of 2003.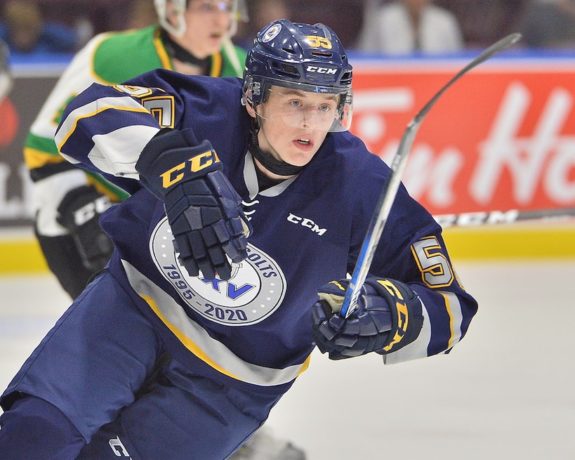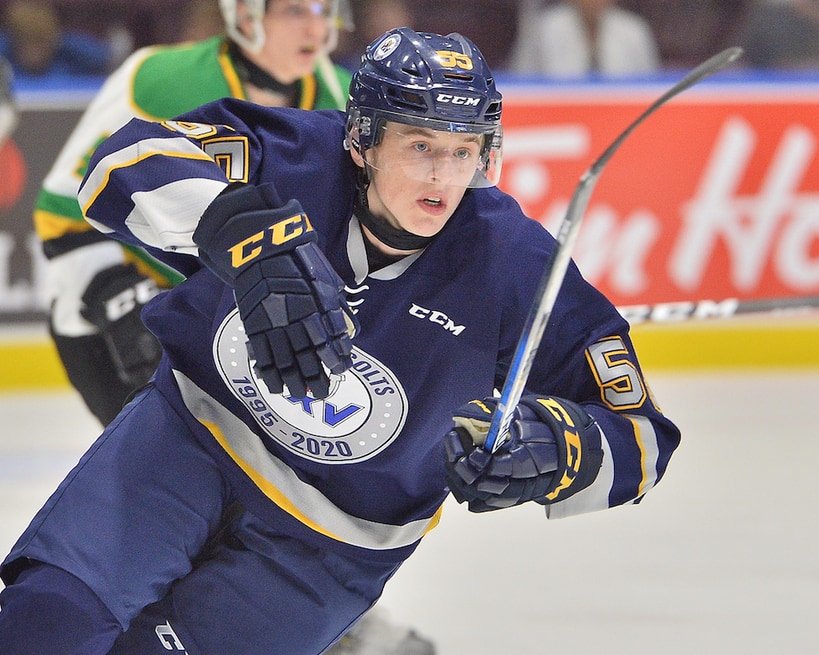 He is tough to beat in his own end and spent a lot of last season shutting down L.A.'s Quinton Byfield back when Byfield suited up for the Sudbury Wolves. Byfield would surely be relieved to be on the same side as Clarke if the Kings got him, as the shutdown D-man can be frustrating to play against.
If Clarke can tap into his offensive game, the sky's the limit for the young man. His scoring upside is underrated, and he shows flashes of Rasmus Dahlin. Don't be surprised if Clarke is remembered as the best defenseman from the 2021 Draft.
3.) Owen Power – University of Michigan (NCAA)
Owen Power plays a big role on a star-studded University of Michigan team. The Wolverines' roster boasts Power, Kent Johnson, and the top forward prospect for the 2021 Draft, Matthew Berniers.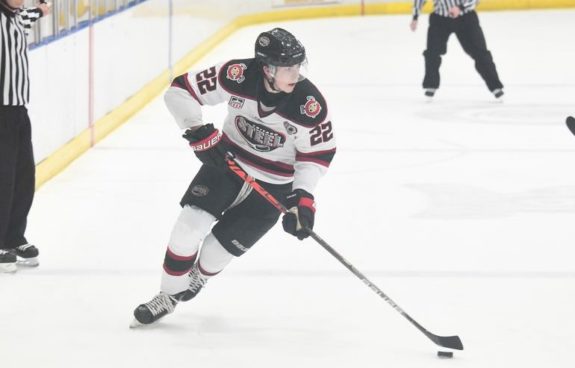 Power will be a top-five pick in 2021 and most likely somewhere in the top three. He figures to be a top defenseman one day and could make a great pairing with Bjornfot if the Kings nabbed him. Before Michigan, he dominated with the Chicago Steel of the USHL, winning 2020 Defenseman of the Year in the league.
When summer hits, these young defensemen will hit "draft mode." But, for now, Power is focused on helping his No. 7 ranked Wolverines win a National Championship — something which would only boost his draft stock further.
4.) Luke Hughes – USNTDP (USHL)
Luke Hughes, younger brother of Quinn Hughes (Vancouver Canucks) and Jack Hughes (New Jersey Devils), has quite a bit to live up to. Quinn went seventh overall at the 2018 Draft, and Jack was selected first overall in 2019.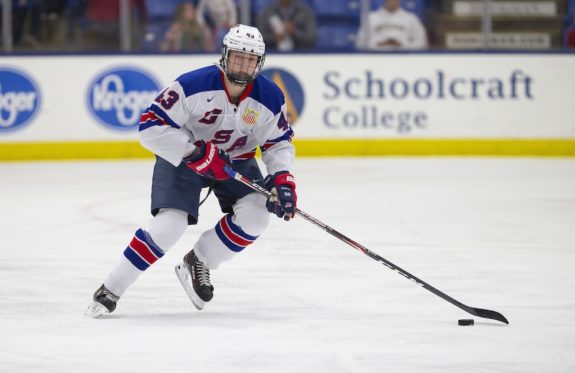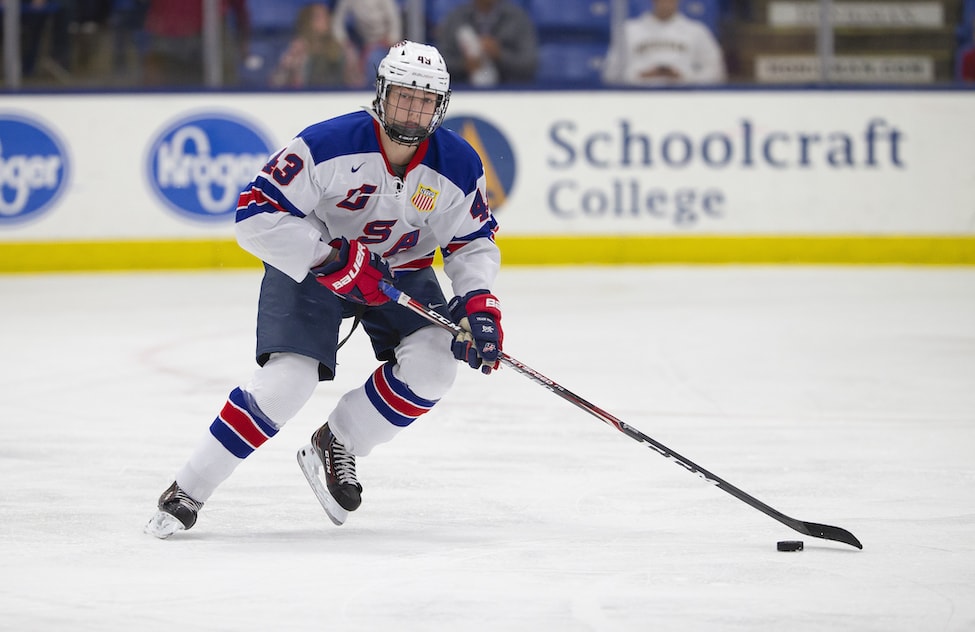 However, it's Luke's turn now— and he's ready. He doesn't have as good of a chance as Power, Clarke, or Lambos to go number one overall. He does have a good chance to be a top-five pick, though, which he'll settle for.
Hughes plays for the USNTDP (United States National Team Development Program) and will join the University of Michigan at the end of the USNTDP's season. His oldest brother Quinn had a dominant career at Michigan, playing there in the 2017-18 and 2018-19 seasons.
Related: Canucks Can Make Quinn Hughes the Team's Cornerstone
Like his older brothers, Luke is a fantastic skater. He projects to be the second-highest draft pick of the three Hughes brothers, but don't be surprised if he ends up with the strongest career.
5.) Simon Edvinsson – Frölunda J20 (Nationell)
Simon Edvinsson could be a sneaky value pick in this draft, as he's no pushover, at 6-foot-5, 203 pounds as a 17-year-old. The big Swedish defender draws comparisons to Victor Hedman, which isn't the worst company.
Edvinsson is a left-shot defenseman and still figures to add some inches and weight before cracking NHL lineups. He could be a terror to play against and would add some serious grit to L.A.'s lineup if the Kings drafted him. Since he is more of a physical presence, he is likely the worst skater on this last. However, his style of play is clearly effective, and any team would be lucky to draft a top tier defenseman as psychically capable as him.
Kings Should Find Defensive Value No Matter What
We are a long way from knowing which pick the Kings will have in the 2021 Draft. However, barring an unexpectedly successful season, the Kings should get a high pick and thus be able to nab a cornerstone defenseman.
If L.A. selects a defender this summer with their top pick, he will likely become their number one defensive prospect.
---
---
Dante Giugliano is a Sport Analytics Major at Syracuse University, set to graduate in 2022. Giugliano has analytical and coding experience, which he blends into his writing. A hockey player since age 4, Giugliano still plays at Syracuse. He previously worked for Rookie Road as a Senior Content Creator.