The 2018 All-Star game was a success for the city of Tampa and the NHL. Players expressed their enjoyment all over social media and it's safe to say everybody had a good time. However, there was someone, in particular, that Tampa Bay Lightning fans noticed having a great time – Ottawa Senators defenseman Erik Karlsson. This led to speculation about Karlsson one day soon slipping on the Lightning jersey.
The speculation began when he seemed to have a lot of fun participating in the Gasparilla Pirate Festival by dressing up as a pirate with Victor Hedman. Bolts fans seemed to think that the Senators defenseman might actually want to relive this experience again next year and accept a trade to the Lightning. Rumors seemed to grow every time the Swedish defenseman would say something nice about the city of Tampa or the Lightning.
Erik Karlsson said he and his pirate hat did go out and experience a little bit of Gasparilla today. "How can you not. I'll never be here for it again. Probably not."

— Dan Rosen (@drosennhl) January 28, 2018
That "probably not" really got people talking. Anyway, there have been rumors in the last couple of months about the possibility of Karlsson not re-signing with the Senators in 2019, or being traded. The Lightning are presumably in search of a good puck-moving, right-handed defenseman – and Karlsson is a little more than just good. Would Steve Yzerman bother to inquire about the Norris-caliber defenseman's availability? I think so, and here's why.
Lightning Have the Pieces to Trade for Karlsson
The Lightning have one of the deepest prospect pools in the NHL. While there's no way of currently knowing the exact price for Karlsson, it's almost certain to cost four or five pieces. Tampa has a surplus of offensive prospects which they could send to the Senators: Brett Howden, Anthony Cirelli, and Taylor Raddysh are some potential options. At least one first-round pick would be involved, which wouldn't really affect the Lightning who are expected to go on a deep playoff run this season and many more times in the future.
If we're looking at potential roster players that could be involved in the trade, it would depend on how many prospects and the quality the Lightning would be giving away. Slater Koekkoek stands out as the most likely to be heading to Ottawa with his name recently appearing in trade rumors linked to the Senators. Ottawa would be losing a defenseman in this trade, so acquiring a roster defenseman in return would make sense.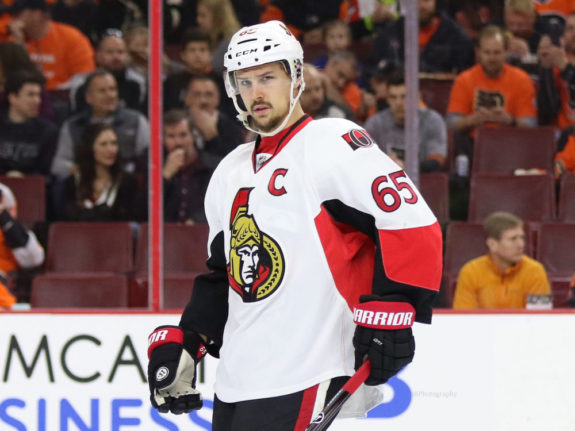 The Senators could be selling some forwards by this year's trade deadline, including centers like Derrick Brassard and Jean-Gabriel Pageau. Perhaps they would want a forward from the Lightning instead. Center Tyler Johnson stands out as the most likely to be traded to me. With the quick emergence of Brayden Point, Johnson has been forced to the wing. Though he has thrived in that position, the undrafted forward is part of a team with a deep center corps and could be the odd one out. His 38 points in 49 games puts him on pace for 64 points and would currently place him second among the Senators' scoring leaders.
When Johnson is at his best, he's got number-one center potential. With a very respectable $5 million cap hit for the next seven years, it would not only be a great acquisition for the Senators but a cap dump for the Lightning. Moving cap space in a deal for Karlsson would put the Bolts in a better spot to keep the Senators' franchise defenseman beyond 2019.
So overall, we're looking at potentially one solid roster player, two or three prospects, and one or two first-round picks in a trade for the two-time Norris winner.
He Could Make the Lightning Unstoppable
With a team loaded with elite players such as Steven Stamkos, Nikita Kucherov and Victor Hedman, the addition of Karlsson could put the Lightning over the top. The Swedish defenseman puts up 70-point seasons consistently. Together with Hedman and a young star in Mikhail Sergachev, the Lightning's defense would be the most feared in the league.
We haven't really seen a team loaded with four elite superstars in a long time. The back-t0-back champion Pittsburgh Penguins are the closest with Sidney Crosby, Evgeni Malkin, Phil Kessel, and Kris Letang. The acquisition of Karlsson is a once in a lifetime opportunity and could make the Bolts unstoppable. It would be similar to Kevin Durant joining the Golden State Warriors.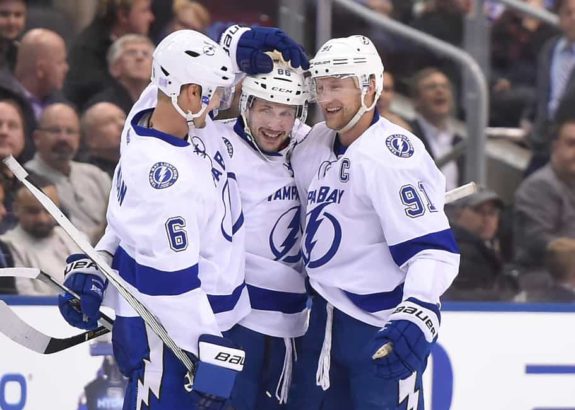 Sure, it would be entertaining to see the two-time Norris Trophy winner playing alongside his Swedish compatriot Hedman and completely dominate the league. However, Lightning fans must be realistic and realize that with the salary cap, it would be difficult to re-sign Karlsson; but can it happen?
Would the Lightning Be Able to Re-Sign Karlsson?
Re-signing Karlsson would be the toughest task Yzerman has yet to pull off. It would require quite a bit of movement for Tampa to keep Karlsson long term, but it is possible. The Lightning currently have $5.5 million in cap space after going through a tough off-season where they had to move forward Jonathan Drouin to save some money.
Several contracts expire for the Lightning at the end of next season. Dan Girardi, Anton Stralman, and Braydon Coburn each need new contracts in 2019. My assumption is that only Stralman stays, but it would have to be at a price less than the $4.5 million he's currently making. This is a start to freeing up some space, however, Yzerman will have big names such as Kucherov, Point, and Yanni Gourde to re-sign next year as well.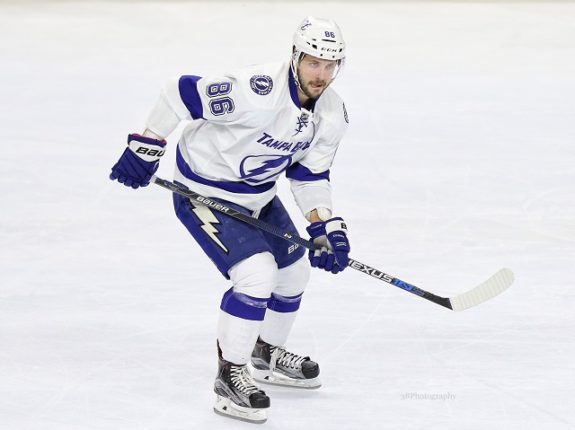 This is where things get tricky. The Lightning would have to find a way to move out a couple bad contracts if they want to keep all those players. With young, talented forwards coming up the pipeline, Tampa could replace Alex Killorn's $4.45 million and Ryan Callahan's $5.8 million until 2020 with younger, cheaper, and more promising players. However, finding suitors around the league for those two contracts is a job in itself. At the end of the day, this is all hypothetically speaking and we can't predict exactly how much Yzerman will have to pay his big free agents in 2019.
Given all the movement that would be required to keep Karlsson in Tampa beyond 2019, it seems more likely that the Lightning would only be acquiring the Swedish defenseman until his contract expires. As of right now, there are no real signs pointing towards the former Norris Trophy winner joining the Lightning, but it's fun to speculate, isn't it?
Tampa Bay Lightning Contributor for The Hockey Writers and Writer for TheSportster.