In taking a deeper look at Alex Killorn after playing in his 800th career NHL game, an interesting fact popped up about the Tampa Bay Lightning forward. During a broadcast on TSN back in December of 2022, their crack research staff posted that no NHL player has played more games over the last 10 years, regular season and playoffs combined, than Killorn. At that point, he had played in 850 games, with the next closest player being Andrew Cogliano. That was an eye-opening statistic, even for someone who has followed his career since joining the Syracuse Crunch in 2012.
This is mostly because the 33-year-old has been an under-the-radar kind of player. For most of his career, he has been that steady, reliable player who contributes 30-40 points in a season and has consistently and quietly been a productive member during the Lightning's recent success. His workmanlike effort has not gone unnoticed by those who follow the Lightning but are generally not that well-known outside of Florida, as teammates Steven Stamkos and Nikita Kucherov are household names.
---
Latest News & Highlights
---
His contribution, of course, is not overlooked by head coach Jon Cooper, who not has been Killorn's coach in the NHL, but also coached him in the American Hockey League. After the night of Killorn's 800 games, Cooper had this to say about his career. "That's a lot of games. I've been with him, I think, every step of the way, or almost a lot of games for both of us. The kid has done a lot of winning, did a lot of winning in the American League, and came here, and he's been a big part of everything we've done."
Killorn Has Improved Each Year With the Lightning
The DobberProspects scouting report on the Lightning's 2007 third-round draft picked stated that "he is a second-line forward who could put up solid point production with the right linemates. As he finishes his career at Harvard, Killorn is still rounding out his overall game and still has some work to do defensively." He did just that during his time in the AHL, and before his call-up to the Lightning on Feb 13, 2013, he was considered someone who was developing into a dependable two-way player and clearly made working on his defensive skills a priority.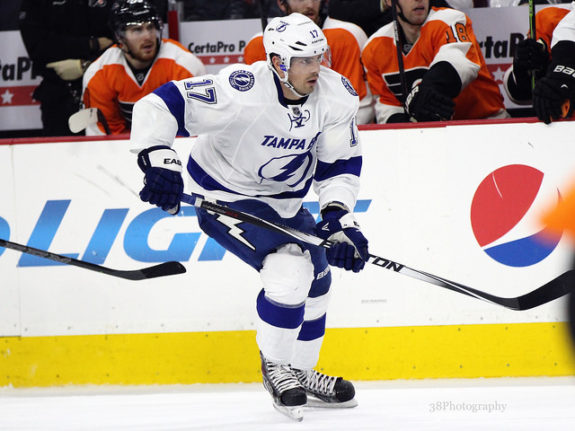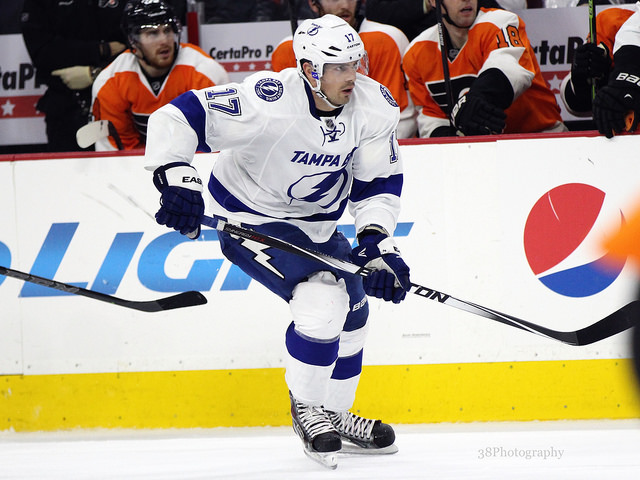 Killorn has made tremendous improvement each season after that, becoming reliable in the regular season and the postseason. He has been a consistent force for the team in the playoffs, starting with his 17 points in the 2014-15 playoffs when the Chicago Blackhawks beat the Lightning to win the Stanley Cup. In the 2016 Playoffs, he appeared in all 17 Lightning post-season games and scored five goals and eight assists for a total of 13 points to go along with a plus-6 rating. This put him in the top five for the team in post-season production. This steady, consistent play in both the regular and post seasons continues to be a trademark for Killorn to this day.
Killorn Becoming More Productive in His Thirties
Killorn has not only improved his skills with hard on-ice work, but he has also done some things off-ice that has helped him as a player. Just over four years ago, he incorporated mindfulness training into his routine and has credited meditation practice for the improvement, a routine he incorporated after Lightning team psychologist Ryan Hamilton recommended he read Tools of Titans: The Tactics, Routines, and Habits of Billionaires, Icons, and World-Class Performers, by Tim Ferriss. Killorn feels that helps keep him balanced and has allowed him to sleep better, especially after games.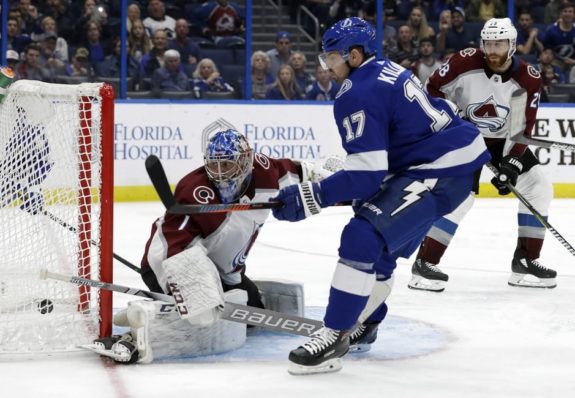 The former Ivy League standout has become more productive within the last few seasons. As the Lightning made roster adjustments due to salary cap restraints, Killorn has picked up the slack and significantly increased his point production. After posting good numbers during the two COVID-19 shortened campaigns, he posted 59 points, a career-high, last season. This season he has already matched that number with five games remaining.
Killorn's Future with the Lightning is Uncertain
Looking a bit ahead, the big question is whether or not Killorn will be skating in Tampa Bay next season. The unrestricted free agent will turn 34 before the 2023-24 season starts, and the Lightning will have an interesting challenge ahead of them to see if they can sign their long-time forward to a cap-friendly contract. His current contract was signed as a 7-year, $31.150 million deal in 2016, which comes with a cap hit of $4.450 million.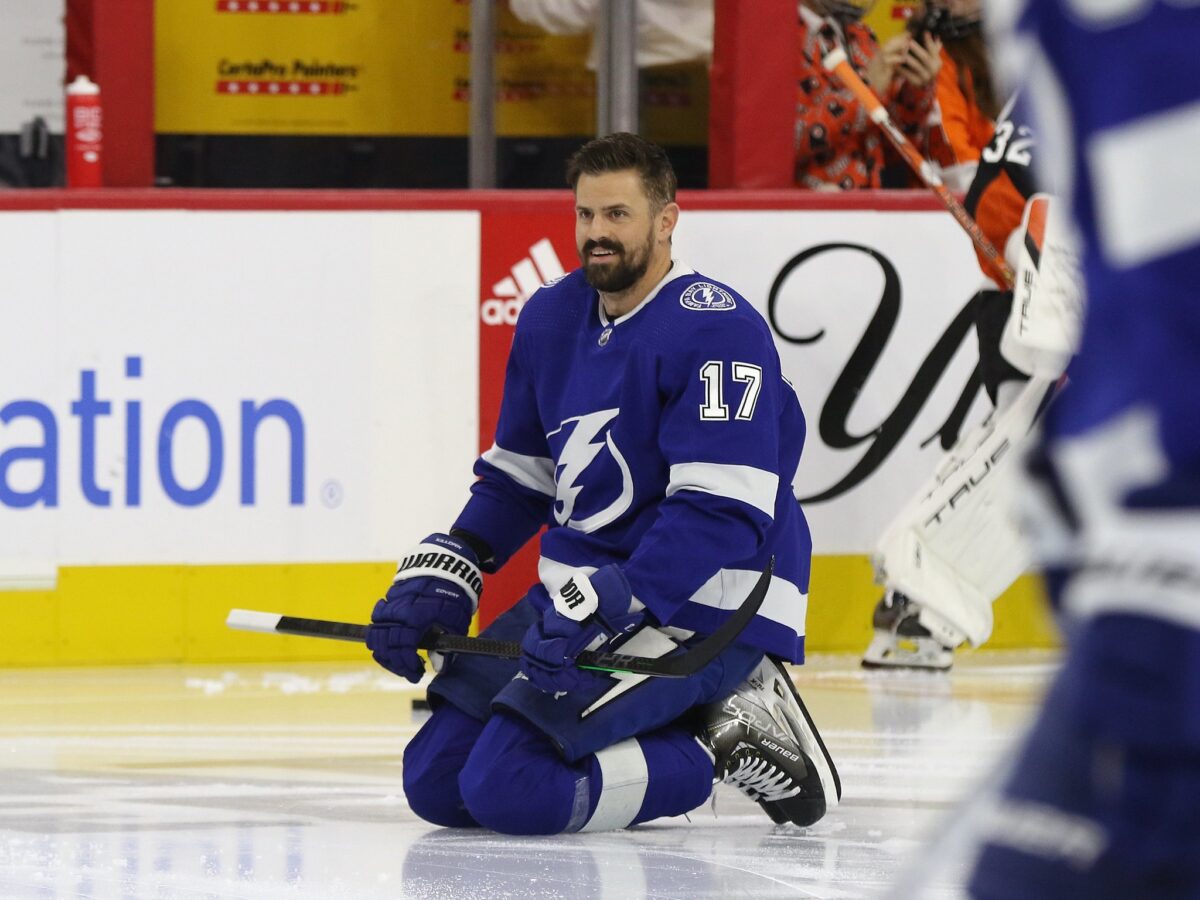 General manager Julien Brisebois has another offseason ahead of difficult decisions. Recently, NHL commissioner Gary Bettman announced there are two potential paths to a salary cap increase of more than $1 million from the current ceiling of $82.5 million ahead of the 2023-24 season. The big question facing the team will be, is that enough to keep players they want, like Killorn, or will he be a cap casualty like former long-time Lightning standout Ondrej Palat was?
Related: 4 Keys to the Lightning Winning the 2023 Stanley Cup
Because he plays the game in such a workman-like way, Killorn is often overlooked when the success of the Lightning is examined. However, after 800 games, the Lightning and their fans do know just how productive and valuable their consummate power forward has been to the organization.
---
---