The Windsor Spitfires have faced adversity all season. Now, the top seed in the Ontario Hockey League's (OHL) Western Conference faces its biggest challenge so far. Following a 6-3 loss to the eighth-seeded Kitchener Rangers in Game 3 on Tuesday, they're down 3-0, staring elimination straight in the face.
Coming into the series, the Spitfires knew this was going to be a battle. While they led the league in goals scored (320), the Rangers boast multiple NHL prospects and a goaltender who went to the 2022 Mastercard Memorial Cup. They weren't going to roll over to anyone. The favourites have been in tough all series and it's not going to get any easier as they look to be a part of history.
Rehkopf Leads Rangers in Game 3
After a 3-0 loss in Game 2, the Spitfires headed to the Kitchener Memorial Auditorium on Tuesday for a pivotal Game 3. The tasks were simple enough — more energy, more presence around the goal, and getting back into the series.
Unlike Games 1 and 2, the Spitfires were able to play strong defensive hockey in the first period while getting a few chances of their own on Rangers' goaltender Marco Costantini. However, like Games 1 and 2, the Rangers struck first when veteran forward Carson Rehkopf scored late in the period for a 1-0 lead.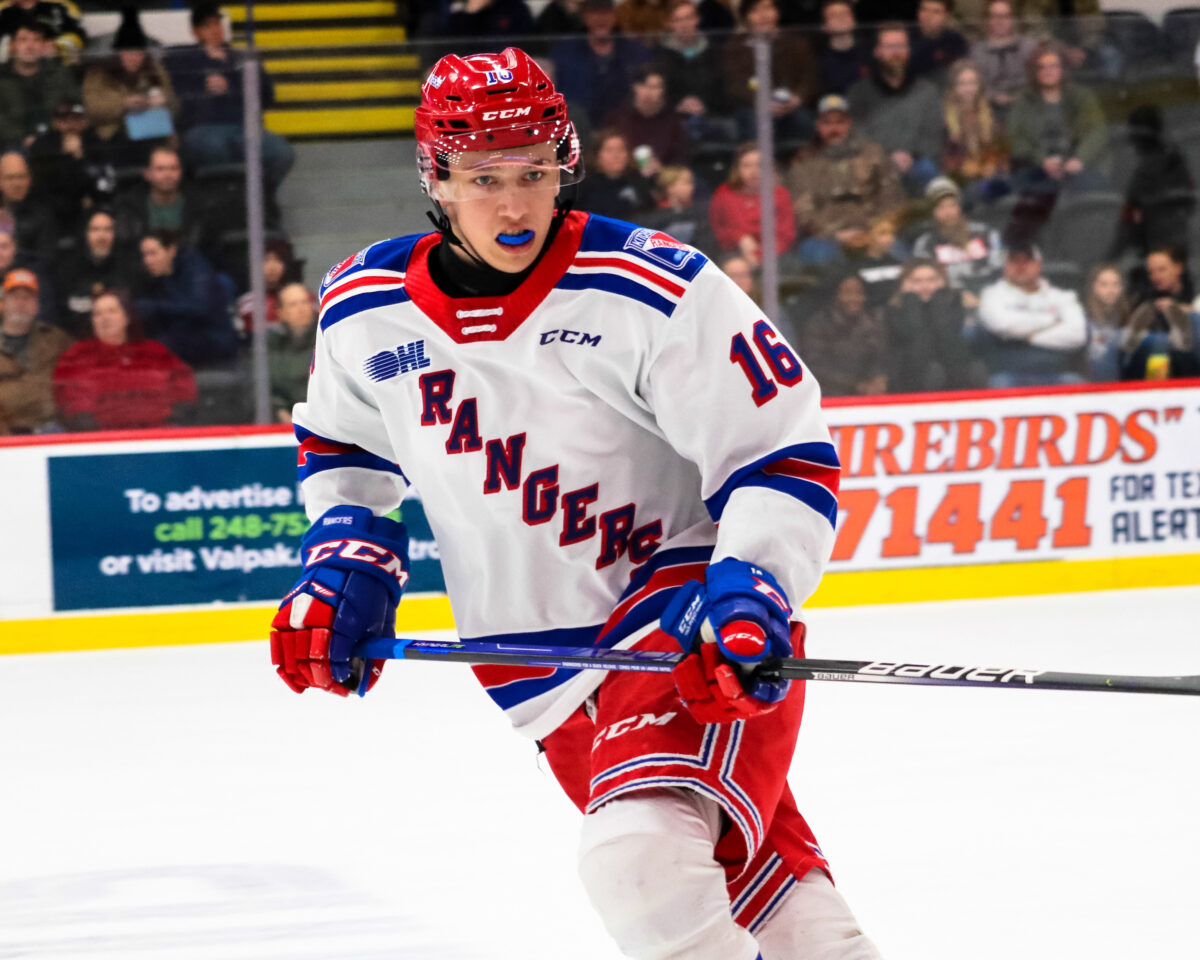 Thanks to strong goaltending from Costantini and Spitfires' veteran goaltender Mathias Onuska, the lead held until early in the third period. That's when Spitfires' forward Alex Christopoulos finally broke the shutout to make it 1-1. From there, they went back and forth until late in the period when Rangers' forwards Mitchell Martin and Francesco Arcuri scored 39 seconds apart for a 4-2 lead.
While Spitfires' captain Matthew Maggio scored his first of the series to get the club to within one late in the game, the Rangers added a pair into the empty net for a 6-3 final. Rehkopf led his club with three points and they now have a 3-0 stranglehold on the series.
Related: OHL: Spitfires' Captain, Isles' Prospect Maggio Joins 50-Goal Club
After Game 2 on Saturday, the Spitfires emphasized wanting more shots on Costantini, more energy, and a stronger overall effort. They got it but they couldn't solve the Rangers' defence, tenacity, and overall drive. Now, they must figure out where to go from here.
Spitfires Face History, Good or Bad
After last season's run to the OHL Championship, seeing the Spitfires face a first-round elimination (in a sweep, no less) is a shock. However, this is why head coach Marc Savard and his staff get paid the big bucks.
With Game 4 scheduled for Thursday, Savard, Maggio, Shane Wright, and the rest of the coaches and leaders have time to solve this chaos. Their power play is just 1-for-12 in the series and four of their big guns — Maggio, Wright, Christopoulos, and Brett Harrison — have just four goals in three games, combined. They have too much talent and something has to give.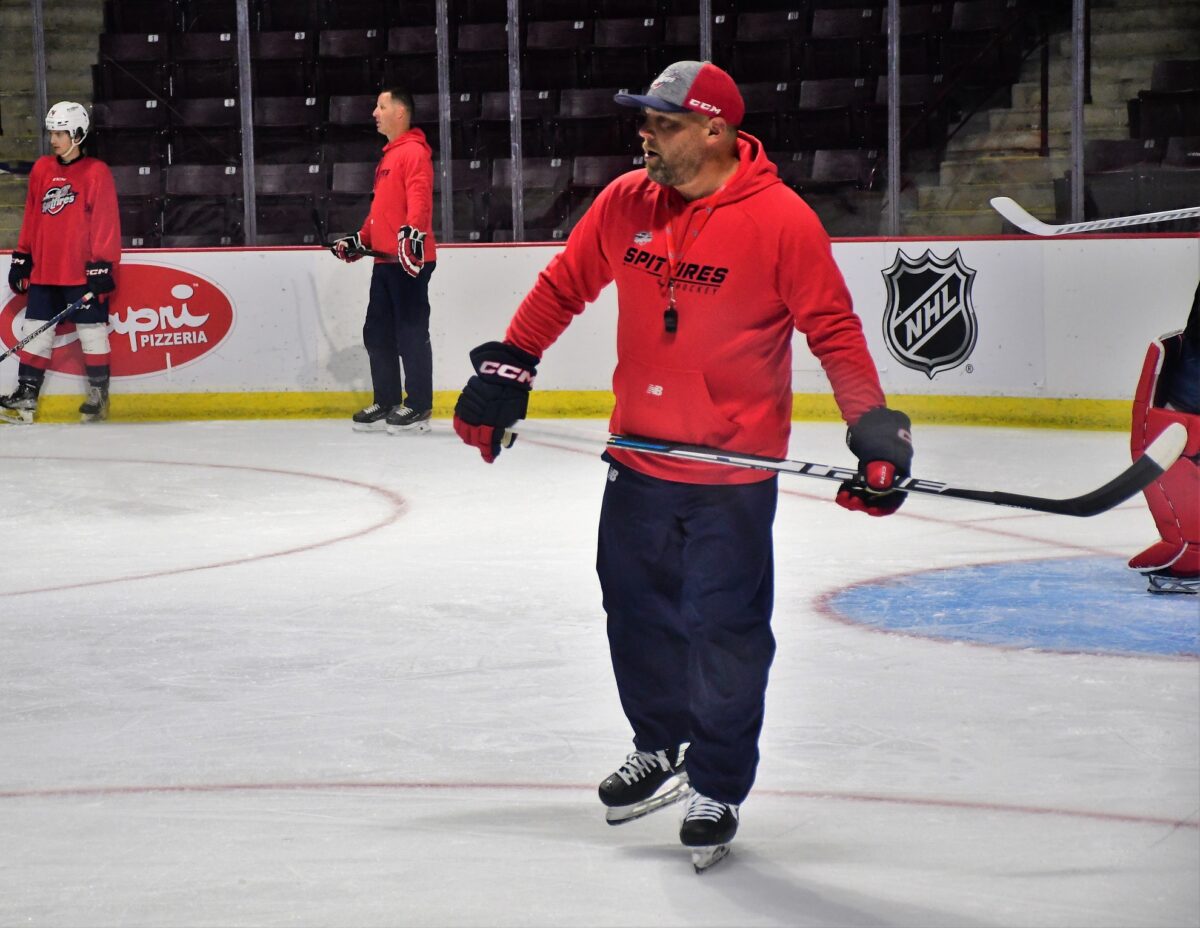 Fortunately, this organization has a history of comebacks. They've come out of 3-0 deficits twice, 2004-05 against the Soo Greyhounds and 2009-10 against the Rangers. It won't be easy but, sometimes, you need a little faith.
The Spitfires may also be making a couple of roster changes in Game 4. Forward Oliver Peer left Game 3 early after being hit by Rangers' captain Francesco Pinelli, who received a five-minute major for Blindsiding and a Game Misconduct. His status is unknown. However, they will see the return of forward Noah Morneau. He was suspended for two games after batting a puck into the stands during a stoppage in play in Game 1.
Game 4 is desperation time for the Spitfires. They were built for a long playoff run, not to be swept in the first round. It's been 18 years since an eight seed lost to a one seed; the Toronto St. Michael's Majors beat the Mississauga IceDogs in Game 5 of Round 1 in 2004-05. History is going to be made again. If Savard's club wants to be on the right side of it, they'll need some magic on Thursday. Game time is 7:00 p.m.
---
---