On June 11, 2017, the Pittsburgh Penguins defeated the Nashville Predators 4-2 to win back-to-back Stanley Cups. The roster was filled with future Hall of Famers, such as Sidney Crosby, Evgeni Malkin, Phil Kessel, and a 22-year-old Jake Guentzel, who was playing in his first NHL season. Meanwhile, Kris Letang, Olli Maatta and Ian Cole fueled their defense.
When the Tampa Bay Lightning won their second consecutive Stanley Cup in 2021 and then advanced to the Cup Final the next season, no one had gone to three consecutive Finals since the New York Islanders in the early 1980s. The Penguins could have reached three consecutive Cup Finals, but with as much success as they have experienced, the team has not been able to sustain any postseason momentum since their last championship. They finished third in their division last season and exited the playoffs in the first round versus the New York Rangers. Even though they reach the playoffs each season, they haven't made it past the second round since 2018, losing in the first round for the past four seasons.
Is this where the Lightning are headed? Competitive enough to keep fans coming back to Amalie Arena, making a small dent in the playoffs each season, and winning enough to garner media coverage outside the local market? Although the Bolts are only one year removed from their last title, let's examine these two teams' post-Stanley Cup season(s) with what may seem like similar trajectories.
Postseason Production from Lightning & Penguins Stars
When Sid the Kid arrived in Pittsburgh as their first-overall pick in the 2005 NHL Draft, he made them an instant contender. In his first season, he started 81 games. Malkin, who was the second-overall pick a year earlier, joined the team in 2006, along with Letang. These three players became the long-standing backbone of the team that would win their first Stanley Cup together in 2009 before winning back-to-back Cups in 2016 and 2017.
Career playoff numbers are off the charts for their two offensive superstars. Having played in 180 career postseason games, Crosby has scored 201 points, while Malkin has played in 177 postseason games and scored 180 points. However, five years removed from their last Stanley Cup, we can see the toll that playing in the NHL has on players, especially as they pass the 30-year mark.
Scoring has steadily declined for both players since their last Cup win. Crosby, who is 35 years old, played in six of Pittsburgh's seven postseason games last season against the Rangers, scoring 10 points. Malkin, who is 36 years old, played all seven games and posted a respectable six points. Letang, who at 35 years old, had a remarkable postseason, scoring four points and adding 21 blocks and 15 hits. Although they played well, the Penguins lost in seven games.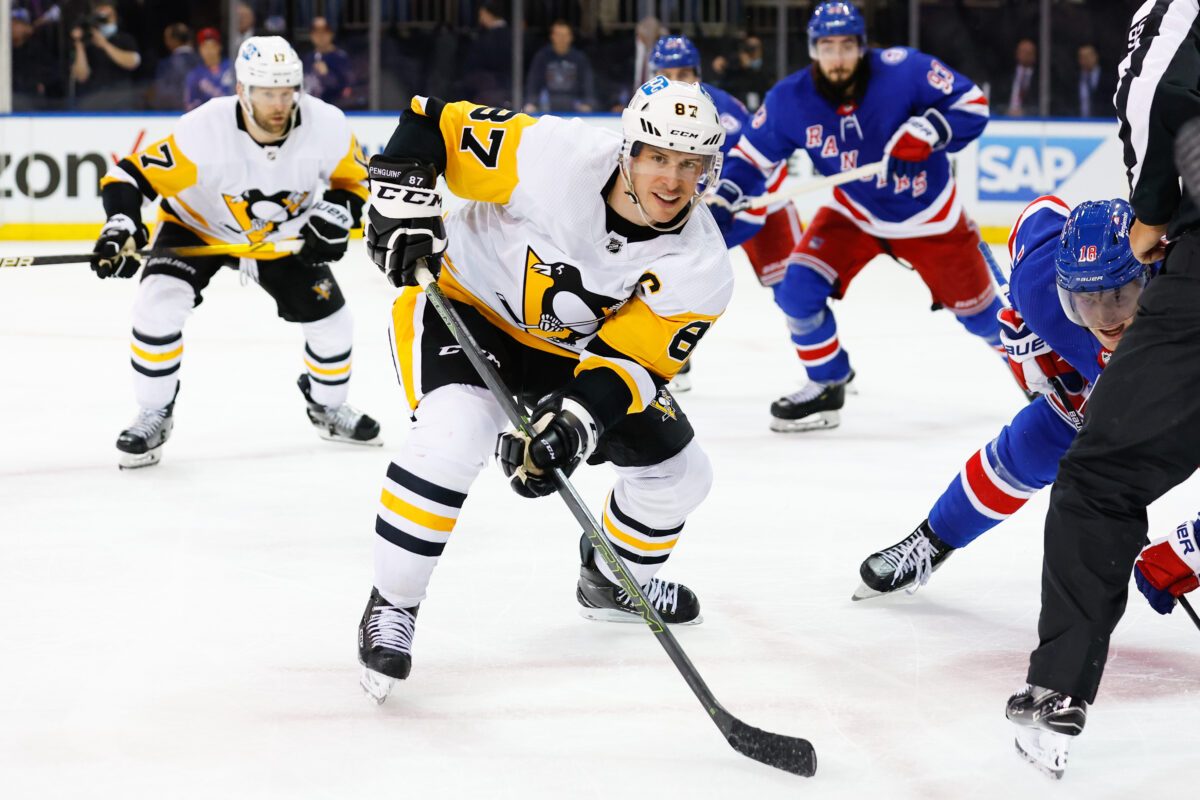 Last season, the Lightning played 23 postseason games on their way to the Stanley Cup Final. Steven Stamkos scored 11 goals and eight assists for 19 points — and blocked 24 shots. Nikita Kucherov's playoff success continued as he posted 27 points to lead the team, while defenseman Victor Hedman posted 42 blocks, 36 hits, and 19 points. Without their speedy star center, Brayden Point, for most of the playoffs, other players stepped up to fill the gap, namely Ondrej Palat and Nick Paul.
When comparing the two teams' most recent postseason, keep in mind that the three Lightning players are younger than their Metropolitan Division counterparts. Kucherov, whose career in the playoffs has already produced 154 points in 136 games, turned 29 this summer. Hedman is 31 and has 155 postseason games in which he has scored 107 points, blocked 296 shots and made 201 hits. At 32 years old, Stamkos is the oldest of the trio but has played fewer postseason games. However, in his 117 career playoff games, he has produced 91 points and has always played a great two-way game with 233 hits and 63 blocks.
Crosby, Malkin and Letang Reach the Magic Age of 33
Injuries are an issue as the regular season grinds on for months. No team is immune to the injury bug. Last season, Crosby and Malkin missed extensive time due to injury, and during his career, Stamkos has suffered some serious injuries. When he missed significant chunks of time starting with the 2019-20 championship run, there were some who suggested that the team should trade him. General manager Julien BriseBois had left him off the list of "untouchable" players for potential trades in 2020. They had just won their first Stanley Cup with him only playing less than three minutes against the Dallas Stars in Game 3 of the Final. However, those three minutes rank high on the list of legendary goals in team history. He is the heart of the team, just as Crosby is the heart of the Penguins.
Related: The Lightning's Stamkos, Kucherov to Face Toughest Challenge Yet in 2022-2023
All sports teams struggle with the dilemma of aging superstars and their hefty salaries, and the NHL is no exception. As a free agent this offseason, Malkin was available for other teams to pick up, but he eventually signed a four-year, $24.4 million contract with Pittsburgh that keeps him with the team through the 2025-26 season, when he would be 40 years old.
With the Lightning, Stamkos becomes an unrestricted free agent in 2024 at the age of 34. Hedman becomes an unrestricted free agent in 2025 when he turns 34. Kucherov's contract expires at the end of the 2027 season when he is also 34. What is it about that magic age? When these players' contracts expire, will the Lightning be in the same predicament that the Penguins' GM Ron Hextall faced with Malkin — pay him or trade him?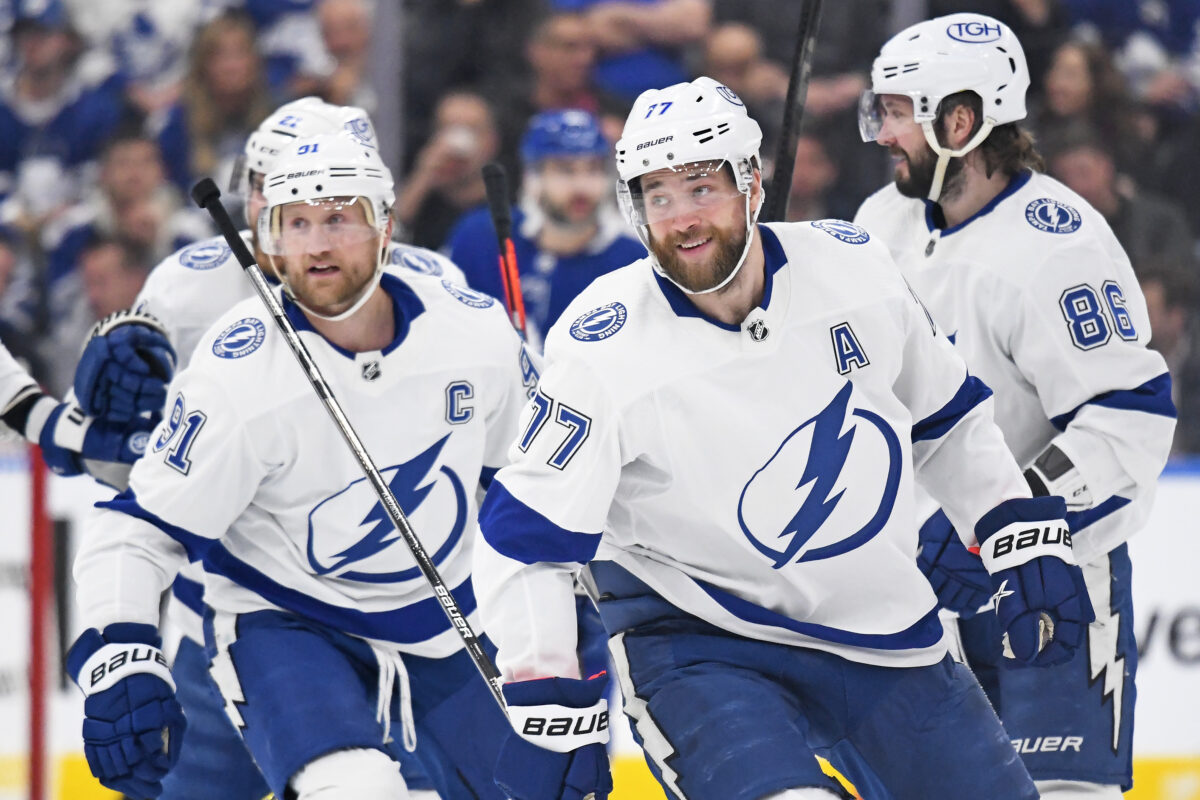 Rob Vollman summarizes the age for when hockey players peak and when they start to decline in his Stat Shot: The Ultimate Guide to Hockey Analytics. According to Vollman, "The average players hit their peak age by age 24 or 25 then decline gradually until age 30, at which point their performance can begin to tumble more noticeably with the risk of absolute collapse by age 34 or 35." While I don't see a Crosby or Malkin collapse, there is no doubt that they are no longer producing as they did in their prime. The average age of the Penguins going into this season is 29.23, ranking third oldest in average age in the NHL. The Lightning are ranked right behind them at fourth, with an average age of 29.09.
What Gives the Lightning an Advantage?
The Lightning's goalie, Andrei Vasilevskiy, is only 28 and should keep the team competitive for many more seasons. Selected in the first round of the 2012 NHL Draft with the 19th-overall pick, he has been outstanding in the playoffs. In his 104 career playoff games, he holds a 2.30 goals-against average, a .923 save percentage and has played every minute of Tampa's postseason games for the past three seasons. The better news is that he is signed through the 2027-28 season, which would make him only 33 years old when his contract expires.
In comparison, the Penguins have used a tandem of goalies over the years. After helping the team win three Stanley Cups, they let Marc-Andre Fleury get drafted by the Vegas Golden Knights in the 2017 NHL Expansion Draft. The team retained their two younger goalies, Matt Murray and Tristan Jarry, the latter of which is their current starter. At 27 years old, he has been solid in net for Pittsburgh with a 2.42 goals-against average and .919 save percentage last season before getting injured at the end of the regular season.
Beyond the talent on the ice, the Lightning have one additional weapon that many teams are lacking: coaching stability. Jon Cooper coached his first game on March 29, 2013, and thus far has a .671 winning percentage in the regular season and .727 in the postseason. He is now the longest-tenured head coach in the NHL.
The Penguins also have a stable head coach in Mike Sullivan, who is behind Cooper as the second-longest serving coach in the NHL and has the most postseason wins in franchise history. He became the head coach in Dec. 2015 and led the team to their second consecutive Stanley Cup. No matter what they say, coaching matters. It's evident every season when teams visit the coaching carousel to check out who's available to lead their team.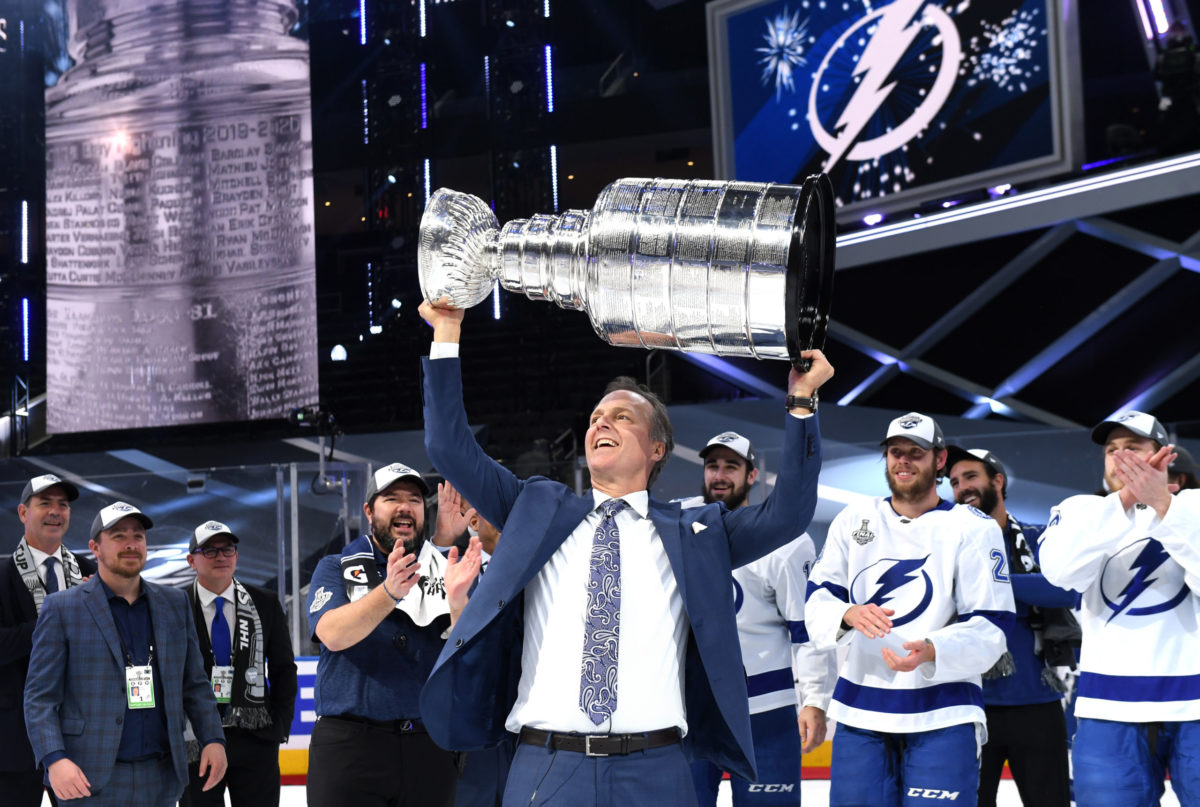 Crosby, Malkin and Letang have been playing together for 16 years and have won three Stanley Cups. Although their core is still together, Pittsburgh has not drafted players and made tough trades to keep them as competitive as the Lightning have been able to do. Stamkos, Hedman, Kucherov and Vasilevskiy have been together for a decade. BriseBois keeps the team contenders through drafting and smart trading, which provide a constant rotation of relevant veteran players and younger players with potential. The trades may not be popular with fans in the short-term, but they are necessary to be cap-complaint and to keep the team competitive enough to make another title run.
The Penguins are still a threat in their division, but it's unlikely that they will win another Stanley Cup with their current team. The Bolts have shown that they are willing to make the tough decisions that could pave the way for the team's fourth Stanley Cup and position them for future success. This is the main reason why they are forging a different path than the Penguins. Their championship window is still open, but Pittsburgh's may be closing quickly.
---
---
---
Latest News & Highlights
---