More than three years have passed since Riku Helenius played the entirety of his, to this point, 6:52 minute long NHL career with the Tampa Bay Lightning.  Helenius came in to relieve Mike Smith on January 30, 2009.  He faced two shots, stopping both, including the nice glove save seen above.
If Helenius' debut seems tough to remember, June 24, 2006 might seem like ancient history.  That was the date the Lightning made Helenius the 15th overall selection in the first round of the 2006 NHL Entry Draft.  Interestingly enough, Los Angeles goaltender Jonathan Bernier was selected just four spots earlier that evening.  While the Lightning have made it no secret the search for a new goalie is on this summer, Helenius may seem easy to forget.
According to the Tampa Bay Times, Tampa Bay general manager Steve Yzerman has not forgotten about Helenius.
"I'm not going to comment on any potential terms of a contract. We do have an interest in bringing Riku back to North America."  Yzerman, in Europe during the recent World Championships, met face to face with Helenius and agent Jay Grossman.  Yzerman added "He's a very nice young man. I had some discussions with Jay Grossman, and we'll continue to talk about it."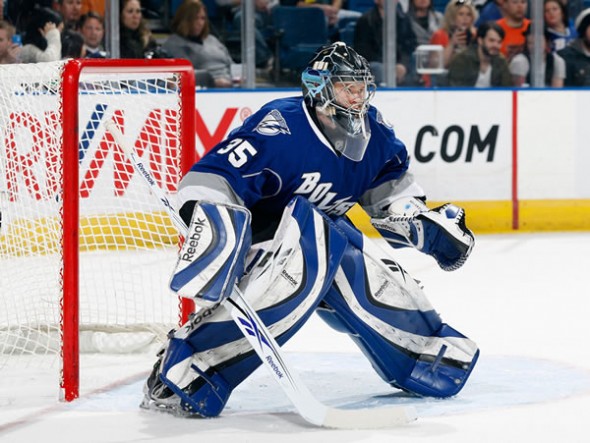 image/ lightning.nhl.com
So what had Lightning management so excited nearly six years ago?
Helenius cemented his rising draft stock with a strong 2006 IIHF U-18 World Championship.  He finished the tournament with a sparkling 1.83 goals-against average and .943 save percentage while helping Finland to a silver medal.  Many teams took notice of his strong play, and the Lightning were impressed enough to make Helenius a first round selection.
Helenius would suffer a shoulder injury and miss the entire 2006-2007 season.  The injury didn't prevent the Lightning from signing him to an entry-level contract on June 1, 2007.  His initial season in North America was considered a success as he appeared in 41 games for the Seattle Thunderbirds of the WHL, posting a 2.42 goals-against average and .915 save percentage.  While his playoff numbers dipped a touch, 2.70 goals-against average and .911 save percentage in nine games, he was performing at a high level with even higher confidence.
In 2008, Helenius began his first professional season in North America.  After battling a rough start with multiple teams in the ECHL, Helenius would make his AHL debut coming off the bench for the Norfok Admirals to stop 11 of 12 shots against Worcester on January 9, 2009.  Helenius would finish 9-15-1 in 25 games with Norfolk recording a 2.72 goals-against average and .918 save percentage.
While the 2009-2010 season did see Helenius appear in an NHL game, it also revealed issues he had been fighting his entire career, injuries and inconsistency.  Helenius would appear in only 12 games for Norfolk posting a 2.75 goals-against average and .896 save percentage.  The decision was made to loan Helenius to Sodertalje of the Elitserien in Sweden to finish out the season.  Helenius would appear in just 27 games during his year and a half stay in Sweden.
Wanting to put injuries along with up and down play behind him, he returned to his native Finland for the 2011-2012 season by joining JYP of SM-liiga.  Helenius wrestled away the starting job and appeared in 33 of JYP's 60 regular season games.  His game, and notably his rebound control, improved as the season went on, helping him to post an impressive 1.36 goals-against average and .936 save percentage.  His playoff numbers were even better.  Helenius appeared in 13 games putting up a 1.73 goals-against average and .947 save percentage, helping to lead JYP to the SM-liiga championship.  His efforts earned him the Urpo Ylonen Award as SM-liiga's top goaltender.
The Lightning will be bringing in a new goaltender this summer.  There have been many names discussed for much of the 2012 calendar year.  While the name Riku Helenius may not be the biggest name out there, it would be wise not to forget it.  The Lightning certainly have not.
I am a Tampa Bay Lightning correspondent for TheHockeyWriters.com. Hockey and writing have been passions of mine as long as I can remember. I have followed the Lightning from the initial puck drop at Expo Hall in 1992 and plan to keep fans in the loop with all things Lightning hockey.