On Tuesday the Dallas Stars announced the signing of 28 year-old netminder Cristopher Nihlstorp to a one year, two-way deal with the club.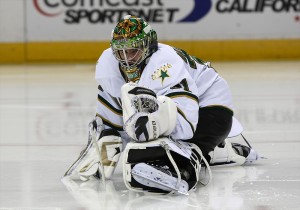 If the name Nihlstrop doesn't ring a bell, don't fret: there hasn't been much reason for anyone on this side of the pond to have heard it. Undrafted and never having played in North America, Nihlstorp has spent the last ten years playing on various teams in Sweden.
He was strong playing for Farjestads of the Swedish Elite League last season, posting respectable 2.04 G.A.A. and .923 save percentage numbers, along with five shutouts.
The big question now is what this move means for the Stars, and where the 6'2″ Swede fits into the current goaltendng outlook for the team.
Overall, this move is a safe and smart one that could potentially benefit the Stars, and comes with little risk attached to it.
Kari Lehtonen, obviously, will be the de facto number one stopper heading into training camp, but has a long history of injury problems. He left this year's World Championships early with an injury, but is expected to be fully recovered in time for training camp.
The team's #2 gig will be an intense subject of much competition.
Richard Bachman, 24, is expected to be the front-running candidate, after impressing in a short NHL debut last season en route to an 8-5-1 record and .909 save percentage. But Bachman is far from a proven commodity, especially as a relied upon goalie in the case of a potential Lehtonen injury.
Expect Nihlstrop, who's been playing against men in Sweden's top leagues for the last decade, to put up a good fight for the #2 spot. At 28 he'll be in the prime of his career, and will need to impress a lot of people if he is to show that he is ready for an extended stay in North America. If he doesn't perform well, Dallas is only on the hook for one year of salary, and he could surely return to the SEL at a later date.
In the AHL, highly touted prospect Jack Campbell will be a lock to see plenty of ice time with the Texas Stars. He impressed in a late season AHL promotion last year, and will be given plenty of ice time and every chance to succeed as the Stars slowly and carefully groom him for NHL duty. He could potentially steal the#2 job in Dallas with an outstanding performance in training camp, but will likely spend the season in the AHL so that he can get more starts against opponents closer to his current level of play.
Tyler Beskorowany, a former second round pick of the team, struggled heavily last season for the Texas Stars, with a 3.39 G.A.A and a .886 save percentage. He landed the #1 job there after Bachman was promoted to the bigs, but was the victim of poor defensive structure in front of him and lost his confidence as the season went on. If Bachman heads to the AHL next season, or if Beskorowany has a poor training camp, it's almost a guarantee that Beskorowany will be sent to the ECHL to regain his confidence. The team still has vested interest in the 6'5″ netminder, but his stock is surely lower than where it stood a year ago.
If Bachman gets the #2 job in Dallas as anticipated, then Nihlstorp and Beskorowany will battle it out for the other job in Texas next to Campbell, with the loser likely heading to the ECHL.
Heading into next season, there are a few potential risks in net for Dallas: will Lehtonen be healthy for the whole season? Will Bachman be able to continue the success he displayed as a rookie? Will Beskorowany bounce back from a rough year? If one or more of these scenarios unfolds in the wrong way, having five goaltenders in the system now after the signing of Nihlstorp is sensible insurance for the Stars.
Derek Neumeier primarily covers the Dallas Stars, but also other various topics related to the sport of hockey. A Journalism graduate of Mount Royal University, Derek also writes for Defending Big D, and has done previous work with the Edmonton Oilers as a communications intern and Hockey Canada as a freelance writer. You can follow him on Twitter at @Derek_N_NHL