On the brink of elimination and showing no sign of being able to come up with a solution to Los Angeles Kings goalie Jonathan Quick's incredible play, the New Jersey Devils were all but dead. A questionable boarding penalty called on David Clarkson at 8:52 in the third period led to a Los Angeles power play goal, and suddenly it appeared what little momentum New Jersey had gained was gone. Enter Adam Henrique.
Like he has so many times throughout these Stanley Cup Playoffs, the rookie center scored a huge goal, burying a wrist shot at 15:29 of the third, giving the Devils the lead and sending the series back to Newark while helping the Devils preserve their streak of 43 postseason series without being swept. Ilya Kovalchuk added an empty net goal later in the third period to seal the 3-1 victory for New Jersey.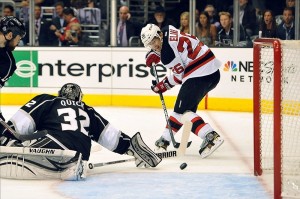 "You know, everybody wants to be out there in those situations," Henrique, the Calder Trophy finalist, said after the victory. "You want to be counted on by your teammates, your coaches. It's nice that they have that trust in me to put me out there in those certain times of the game. I just play.  I'm not thinking about what's going to happen if I score, if I don't score. I'm just a kid playing hockey, having some fun."
Assisting on the game winner was Clarkson, who perhaps benefited from 'hockey karma' as the boarding penalty he was called for was borderline, at best.
"I'd be lying if I said I wasn't sitting in the box with a bit of a sore stomach," Clarkson said of the penalty. "People didn't feel it was a penalty, players were letting me know right away, and that's the type of guys we have on this team, the leadership we have."
Aside from the late-game heroics from Henrique, New Jersey was carried by Martin Brodeur, who out-dueled counterpart Jonathan Quick, making one spectacular save after another and keeping the Devils in the game, even as they continued to be frustrated by Quick's play.
"Marty had to make some great saves to give us a chance," said Patrik Elias. "It gives us a confidence, gives us momentum."
Brodeur, who has played remarkably well throughout the playoffs for a man who recently turned 40, turned away 21 of 22 shots, including key stops of a Simon Gagne breakaway with the game scoreless in the second period and a huge poke check on Trevor Lewis in the third to deny a 2-on-1 opportunity.
"He does those things when he feels like he can be aggressive, and he's been doing that for 20 years so he knows when to do it," Elias said of the crafty old goaltender. "Most of the time it works. He has to do that, otherwise, we're done."
They're not done yet. Game 5 is Saturday night at the Prudential Center in Newark.